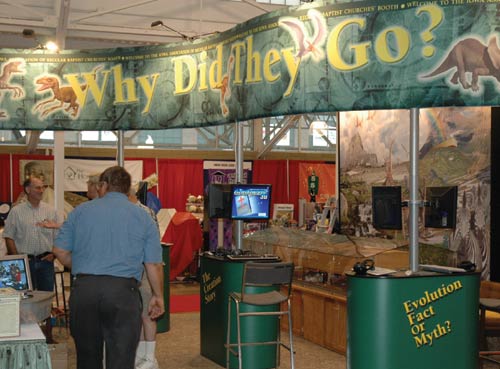 State fairs offer fertile soil for evangelism. Creation evangelist Roger Bishop discovered this when he and the association of churches to which he belongs sponsored a booth devoted to defending God's Truth about creation and Noah's Flood.
Every year since 2001, Roger and the association of churches to which he 
belongs sponsor a booth at the Iowa State Fair, which greets nearly 1 million people over 11 days.
The most unique features of this evangelistic booth have included a 9-foot plastic, puzzle-like dinosaur, a 9-foot-long model of Noah's Ark, and two trains that circle underneath the Ark.
Over the years they expanded the booth to also include banners with high-end graphics and computer monitors that run a creation-based game. Many conversations have been generated as a result of handing out thousands of pieces of literature, including flood cards and the booklet Was There Really a Noah's Ark and Flood?

Through this unique outreach, many people have learned that Jesus Christ is the "Ark of Salvation."