When Christians talk about the gospel, they are presenting the good news of Christ's death and resurrection. As Paul states in 1 Corinthians 15:1–4, "Moreover, brethren, I declare to you the gospel . . . that Christ died for our sins according to the Scriptures, and that He was buried, and that He rose again the third day according to the Scriptures."
The Bad News. Paul doesn't end his explanation of the gospel here. Later he explains: "For as in Adam all die, even so in Christ all shall be made alive. . . . And so it is written, 'The first man Adam became a living being.' The last Adam became a life-giving spirit" (1 Corinthians 15:22, 45).
In explaining why Jesus died, Paul went to Genesis and its account of Adam and the Fall. One cannot really understand the good news in the New Testament until one understands the bad news in Genesis.
We need to understand that we are all sinners because we are descendants of the first man, Adam. Because there was a literal first Adam, there was a literal Fall, which was a literal rebellion.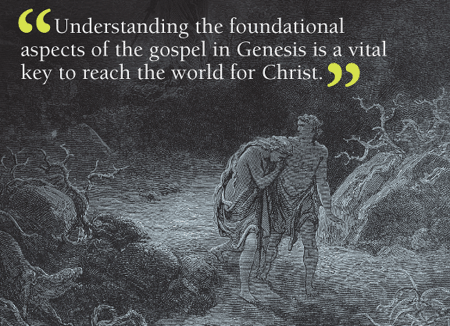 The Good News. In explaining the gospel in Colossians, Paul points out clearly that our Savior is the Creator: "In whom we have redemption through His blood . . . . For by Him all things were created . . . and He is before all things, and in Him all things consist" (Colossians 1:14–17).
Our Creator became our Redeemer! This was necessary because all humans are sinners. We needed a perfect man to die for sin. The only solution was for the perfect, sinless Creator to become a man so He could be our Savior! The doctrine of Creation is vital to understanding the gospel.
The Future Hope. In 2 Peter 3 and Revelation 21 and 22 we're told the third element of the gospel: there will be a new heaven and earth. There will be no more death. And the Curse (imposed because of sin in Genesis 3) will be no more.
In countries where there is no Christian basis, how could people ever understand the gospel without knowledge of the Creator, sin, and the need for salvation?
Understanding the foundational aspects of the gospel in Genesis is a vital key to reach the world for Christ.