Are you sometimes tired to see a small minority of America setting the moral standard? Are you heartbroken over the fact that this small group has been trying to push Jesus out of the public arena and lock Him up inside church buildings? Well, what are you doing about it?
If you look at history, God has often used the individual—one person—to change the course of history. I'm asking you to stand up and bring Christ back into our communities where He also belongs.
Acts 5:42 (KJV) says, "And daily in the temple and in every house they ceased not to teach and preach Jesus Christ." Galatians 6:9 (KJV) declares, "And let us not be weary in well doing: for in due season we shall reap, if we faint not."
If you don't mind me signaling out one individual, Mr. Ken Ham [AiG–USA president] is one of those individuals that God has used to change the course of American history—he understands that Christians are not called to complacency, but to engage the culture (see Hebrews 11:32–40). Also, 1 Corinthians 9:26 (KJV) says, "I therefore so run, not as uncertainly; so fight I, not as one that beateth the air."
My question to you is this: are you willing to stand and fight?
AiG runs with certainty, as we all should. AiG has boldly stated that it wants to rally Christians to "take back" what has been stolen from them by a small percentage of Americans.
The secular world, as Ken has said, has taken the dinosaurs for itself, and so Christians should be taking them back … and so much more. My question to you is this: are you willing to stand and fight?
God has given us organizations like AiG and individuals (such as pastors and teachers) to prepare us to engage the battle with confidence, but we all as Christians need to join AiG in reclaiming the culture for biblical truths. Just as AiG is taking back the dinosaurs, so too do we need to take back our communities. My prayer is that Christians throughout America (and other western nations that still have some vestige of biblical thinking) will stand up and take back what was stolen from us as we sat in the comfort of our churches. Let's take our communities back one at a time—in our own Jerusalem, if you will (Acts 1:8).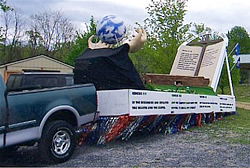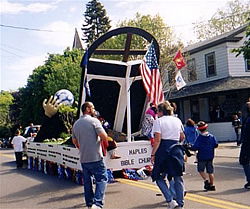 Our church has been doing just that at Naples Bible Church in Naples, New York. Our quest is to restore God's name and rightful place first and foremost in everyday conversation. We have witnessed the future of 70 people changed for eternity last year because we are taking Jesus to them (and using "creation evangelism"—see AiG's new booklet Pocket Guide for Effective Evangelism.)
Also, we are doing public things to draw our community's attention to the gospel. One such idea was a Memorial Day float we created last year to present Christ as Creator and Redeemer (see photos).
Either in one-to-one contact or in public activities, we are not waiting for people to come to us. We're taking back our community one individual at a time, as He blesses.
In Matthew 10:16 (KJV) Jesus tells us: "Behold, I send you forth as sheep in the midst of wolves: be ye therefore wise as serpents, and harmless as doves" (see also 1 Peter 3:15). Even though we are in a battle, we are to be harmless as doves and full of grace. Two times in John chapter 1, verses 14 and 17, it says that Jesus came full of grace and truth. Grace should always precede the truth, but never be watered down.
Let's take back our communities!