We've made some changes at AiG, and I believe you will support them. First, I want to give you some background and to mention what we often say: if we lose the coming generations, we'll lose the culture!
Did you know the Creation Museum vision was birthed out of my burden as a high school science teacher to reach youth with the truth of God's Word, instead of the lie of evolution they were being taught? It also came out of a spiritual legacy my father and mother passed on to me. As I grew up and watched my parents, I saw the burden the Lord laid on them to reach children with the gospel.
In the Creation Museum near Cincinnati, we feature an exhibit of my late father's Bible, a wooden Noah's Ark he built for me many years ago, and a photo of my father and mother. This small but powerful display has challenged many guests as to what kind of legacy they're leaving their children—and the culture.
Similarly, on opening day at the Ark Encounter in 2016, the AiG board and founders put 12 stones in place (based on the 12 stones of Joshua's day recorded in Joshua 4). The stones were a reminder that the truth of God's Word and the gospel need to be proclaimed to our children and to all the world. At the Ark's grand opening, I stated that the Ark was our "12 stones"—to remind the world of vital biblical truths.
After we published the book Already Gone, which detailed why there is such a huge exodus of the younger generations from the church, I was so burdened that we produce an evangelistic apologetics Sunday school program. This curriculum was designed to help churches reach the coming generations and give them a solid foundation in God's Word. Already, around 10,000 churches are using this kindergarten through adult Answers Bible Curriculum!
Because I never had apologetics resources when I was growing up (though, praise the Lord, I had a father and mother who taught me never to knowingly compromise God's Word and to be able to answer skeptics), I've always had a burden to produce as many resources as possible for all ages. That's another big part of what Answers in Genesis does.
All this to say, my burden to reach the younger generations is stronger than ever. It saddens me to see how the truth of God's Word is being censored from so many kids today. And it distresses me to watch so much rampant compromise with evolutionary beliefs in many of our churches and Christian institutions.
Of course, building two attractions with the quality of Disney was, for me, a way to reach kids, teens, and adults with the truths they needed to hear.
So let me explain the changes we have made recently.
In pioneering the AiG ministry from its humble beginnings in our house in Australia to where it is today, I've always been mindful of the fact that all through Scripture there's a balance between man's responsibility and God's sovereignty.
Yes, we step out in faith (they call it "risk taking" in the secular world), but we do it responsibly, understanding we need to do all we can from a human perspective to ensure that needs are met. For example, before I resigned from school teaching to go full-time into the beginning of this apologetics ministry, I wrote to friends and asked if they would commit to supporting us financially and prayerfully.
Back then, we had no guarantees. But enough people said they would support us (though we had no idea how many) that we believed the Lord was leading me to resign and go full-time into running the ministry. After we launched, I began sending regular letters to inform our supporters what we were accomplishing as God was blessing.
We had our struggles and lean times, but we've never looked back! And just see where the ministry is today! I had no idea God would do what we've seen happen! I stand in awe of how he has provided—and he matured us through many battles and other struggles (at times very difficult ones).
While building the Creation Museum over 10 years ago, and subsequently the Ark Encounter, we recognized that not only did we have to raise the money to build these facilities, but we had to be realistic about the daily costs of running them. Most people probably don't understand how much it costs to run these attractions each day, including maintenance and repair, and the expenses to refurbish technology and exhibits over time. It's enormous!
We also wanted to make sure people respected the quality of these facilities and recognized their value—we didn't want them to be looked on as cheap, not to be valued highly.
Putting all this together, we knew we had to come up with admission prices to these attractions that would not "cheapen them" but allow us to fulfill a business plan for responsible day-to-day management. As part of this effort, we also concluded that we would need to raise funds through donations to design and build new exhibits, make expansions, conduct upgrades, and so on. Yes, "responsibility plus sovereignty"—the message we see repeated throughout Scripture.
In addition, we've listened to feedback from our supporters and other visitors. Quite a number of people have asked us if we could consider helping out families with the cost of visiting the museum and Ark. Now, we are a ministry that understands that the family is the first and most fundamental of all human institutions. God established the family when he created Adam and Eve and told them to be fruitful and multiply.
We are living in a time when many children are being killed through abortion. Yet there are many families God has blessed with children to be raised for the Lord, and we want to encourage them.
So we've made some changes to ticket pricing at the Creation Museum and Ark Encounter that favor families with children and youth. We have added a youth pricing level which is unlike most major attractions that charge adult pricing above the age of 12. In addition, we allow kids 4 and under to come free—many attractions charge for children 2–4 years old and above.
I pray you will support this important pricing change to help us reach the coming generations.
Effectively, we are now offering "group pricing" for students and children. Instead of offering select discounts for Christian school groups, homeschool groups and others, we decided to give all young people and kids a "group price," so to speak. We did increase adult and senior prices, but the annual combo passes for the Ark and museum are more than generous!
In addition to announcing our new pricing, we want to highlight a price comparison with Disney. Yes, we have been told by many of our guests that our two attractions are equal to (or even above) Disney in quality in many ways. I have included our pricing structure and Disney World's so you can compare them.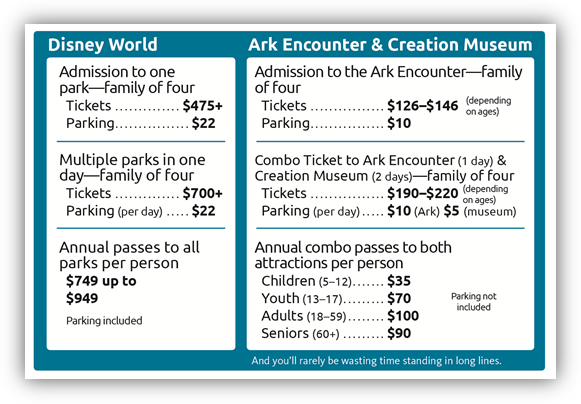 Now, as I've said to people, comparing the Creation Museum and Ark Encounter to Disney is like apples to oranges in many ways. Disney is mainly about entertainment—mostly thrill rides, shows, and profits!
The Creation Museum and Ark Encounter are what we call "edu-tainment," and the return is eternal in value! You can spend days at the Ark and Creation Museum with so many experiences all day long and rarely stand in long lines—and you get equipped with biblical answers and hear the saving gospel.
Now, this price change is part of that balance between human responsibility and God's sovereignty. We want to help more families bring their kids and youth, but we need to cover costs, too. And compared to other national attractions, AiG's ticket prices are generous. So, we will need to rely on God's sovereignty to burden others to help us financially, for example, to build new exhibits, replace ones that have served their purpose, and upgrade technology when needed.
Right now, we are raising funds to provide for key equipment and elements inside the new auditorium at the Ark Encounter that will be known as the Answers Center. The Answers Center will feature a 2,500-seat auditorium and eventually workshop/breakout rooms in the large basement. This will allow us to reach more kids, youth, and adults with vital, live teaching opportunities.
We are also beginning to design and build new exhibits to upgrade the first third of the Creation Museum, to be done by 2019. This upgrade will highlight the sad changes that have occurred in our culture, so that our displays can more effectively equip Christians and challenge non-Christians.
We have many more exciting projects to come. We're certainly not short on vision!
Well, I've shared my heart with you. Quite a number of AiG staff have met for long hours and have prayed much about how we can help even more families, while being responsible for charging admission to our attractions. I believe you see our heart and our generosity, but also our stepping out in faith as we do each day.
Will you help us reach the next generation by supporting our effort to add live teaching from our excellent speakers at the Ark Encounter's Answers Center?
Your support and prayer for our core ministry and AiG's attractions will be a great blessing! Thank you for being a part of our ministry to reach the next generation with the gospel!