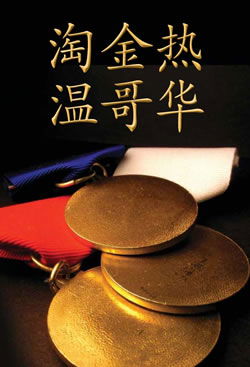 Stillwood Camp, the "home" for the Answers in Genesis witnessing team (110 volunteers) that gathered for a special outreach at the Vancouver Winter Olympics became suddenly still over the weekend, as I was the last person to board the bus that left our team's ministry haven. I reflected on the 10-day mission, where people coming from 16 states and three countries bonded as a team to take the message of the gospel to the streets of Vancouver, host of the Olympic Games that had just concluded.
The local residents and the international sports fans who assembled in Vancouver were very hospitable to our witnessing team. Over 92,000 people stopped to take our specially produced evangelistic booklets, "The Gold Rush," and many paused to hear a gospel message from our team members. Our group included over a dozen teenagers, plus many young adults in their twenties. Also, six team members were veterans of five Olympic Games outreaches. The "rookies" who came with some timidity—and perhaps some fear—found that those feelings did not last long as they hit the streets on Monday morning. God gave them what I would call "a holy boldness" to speak with sports fans who came to beautiful Vancouver from all over the world.
Each evening our team gathered to share the day's witnessing opportunities. These testimonies lasted over an hour every night. We especially celebrated those who were saved. Only eternity will reveal the full fruit harvested in the province of British Columbia, especially for those who read the "Gold Rush" booklet later and responded.
We discovered that each person developed his or her own strategy of ministry. And on the last day of the Olympic Games, one group (three teens and one adult) distributed 5,000 booklets! Many Christians stopped us to say that they had been to our Creation Museum in Northern Kentucky and assured us of their prayers.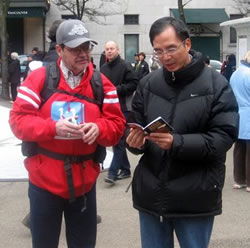 A local paper, The Vancouver Sun, covered the Answers in Genesis outreach in an excellent article (with photo). Many people told us they had seen that nice article or watched a TV report about us that was aired on a local station. One lady first walked by a volunteer and refused to receive one of our booklets, but then turned around and said, "Oh, I saw you guys in the newspaper. Give me a booklet!"
One of our team members was approached by a police officer and asked what she was doing, and she somewhat nervously gave an explanation. The officer said, "Oh, that's good. My wife and I would like copies of your booklet."
A teenager in our group prayed that God would lead her to a German person because of her love for the country of Germany. Not only did she meet a nice German lady, but this person returned the next day to talk to our volunteer.
The booklets in different languages were a surprise to many people who had come from around the world and did not expect to find their language represented in the booklets we distributed in Vancouver. We had them translated and printed in German, French, Russian, Japanese, Chinese, and Spanish (and English, of course).
On the last night of our stay at Stillwood Camp, people from local churches and those associated with the area's creationist group drove out to the camp to put on a closing celebration for our team. They thanked us for coming to their city. A music team sang, and a PowerPoint presentation was given of many of the photos taken during our wonderful time in Vancouver.
Our team also enthusiastically shared about a Christian youth group from Russia that sang and distributed Christian literature in Vancouver. What sweet fellowship we enjoyed with these Russian young people.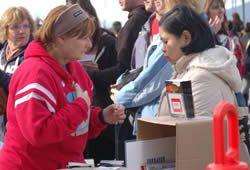 For the exciting U.S. vs. Canada gold medal hockey game on Sunday, we watched the match on a giant TV screen at the airport. There were hundreds of Canadians also watching, and their celebration at the end of the game was deafening.
Two years ago we earnestly prayed that God would bring many supporters to be part of a witnessing outreach at the Winter Olympics—people who were committed to the authority of the Word of God and who took the Great Commission seriously. God brought us an amazing group, including many Canadian friends. Each person gave a testimony about how much they had learned about the Bible through Answers in Genesis and how that emboldened them to talk about God with people on the streets.
I could not help but think of the new Answers in Genesis campaign "I am not ashamed" (2 Timothy 2:15; Romans 1:16), which is showing up in ads in the national newspaper USA Today over the next three days. Indeed, there were 110 supporters who gathered in Vancouver to demonstrate that they were not ashamed of the gospel of Jesus Christ.
As we departed, the cry was "onward to London" and to the Summer Olympic Games in England in 2012. Many team members have already indicated they plan to join us for a London Olympics outreach, and we will keep you informed about its planning on this website.