Please keep the following verse in the back of your mind as we begin our study of two sermons in the Book of Acts (Acts 2 and Acts 17).
But we preach Christ crucified, unto the Jews a stumbling block, and unto the Greeks foolishness (1 Cor. 1:23).
In this section, we are going to look in detail at the meaning of the first part of the phrase, 'unto the Jews a stumbling block.'
A tremendous example of successful evangelism in the first century is what happened on the day of Pentecost, as recorded in Acts 2.
Ye men of Israel, hear these words; Jesus of Nazareth, a man approved of God among you by miracles and wonders and signs, which God did by him in the midst of you, as ye yourselves also know: Him, being delivered by the determinate counsel and foreknowledge of God, ye have taken, and by wicked hands have crucified and slain: Whom God hath raised up, having loosed the pains of death: because it was not possible that he should be holden of it.

For David speaketh concerning him, I foresaw the Lord always before my face, for he is on my right hand, that I should not be moved: Therefore did my heart rejoice, and my tongue was glad; moreover also my flesh shall rest in hope: Because thou wilt not leave my soul in hell, neither wilt thou suffer thine Holy One to see corruption. Thou hast made known to me the ways of life; thou shalt make me full of joy with thy countenance.

Men and brethren, let me freely speak unto you of the patriarch David, that he is both dead and buried, and his sepulchre is with us unto this day. Therefore being a prophet, and knowing that God had sworn with an oath to him, that of the fruit of his loins, according to the flesh, he would raise up Christ to sit on his throne; He seeing this before spake of the resurrection of Christ, that his soul was not left in hell, neither his flesh did see corruption. This Jesus hath God raised up, whereof we all are witnesses.

Therefore being by the right hand of God exalted, and having received of the Father the promise of the Holy Ghost, he hath shed forth this, which ye now see and hear. For David is not ascended into the heavens: but he saith himself, The LORD said unto my Lord, Sit thou on my right hand, Until I make thy foes thy footstool. Therefore let all the house of Israel know assuredly, that God hath made that same Jesus, whom ye have crucified, both Lord and Christ.

Now when they heard this, they were pricked in their heart, and said unto Peter and to the rest of the apostles, Men and brethren, what shall we do? Then Peter said unto them, Repent, and be baptized every one of you in the name of Jesus Christ for the remission of sins, and ye shall receive the gift of the Holy Ghost. For the promise is unto you, and to your children, and to all that are afar off, even as many as the Lord our God shall call. And with many other words did he testify and exhort, saying, Save yourselves from this untoward generation. Then they that gladly received his word were baptized: and the same day there were added unto them about three thousand souls (Acts 2:22–41).
I have had seminary and Bible college students tell me that their professors told them that they should pattern their method of evangelism after Peter's sermon here in Acts 2. In fact, most modern evangelism in a sense is based on this approach. We read that Peter boldly preached the message of the Cross and the Resurrection, and commanded people to repent. Thousands were saved. What a phenomenal rally this was in the history of Christendom!
Actually, this account in Acts does remind us of some of the great crusades of past generations. There's no doubt that there were times when multitudes of people heard some famous evangelist or Bible teacher preach the message of the Cross—and thousands were converted. We can think back to the days of Whitefield, Wesley, Moody and others.
But let's look at this sermon from Acts 2 in more detail.
First of all, we need to carefully consider to whom this sermon was preached. Following on from our last chapter on communication, we need to understand the background of the people who heard this message. We need to be asking ourselves the question, 'Why was Peter so successful in communicating the message of salvation to this group?'
There were really three groups of people in attendance at Peter's sermon:
Jews who lived in Jerusalem and its surrounding area.

Jews of the dispersion who had come to Jerusalem from other parts of the world because of the Feast of Pentecost. This is why Acts 1:8 states that the apostles were to preach in Jerusalem first, and then spread out.

Jewish proselytes who were not Jews by race, but Gentiles who had been converted to the Jewish religion.
There is no doubt that the people Peter preached to already had the foundational knowledge of the gospel.
Now, even though there were three different groups of people, they all had one thing in common. They all had an Old Testament background. Let's consider some of the doctrines they would have all understood from the Scriptures:
They believed in the one true Creator God.

They understood God was the lawgiver and that there were absolutes. Therefore, they knew what was right and what was wrong.

There was an understanding of Adam's Fall and thus that all humans (being his descendants) were sinners under judgment by their Creator.

It was understood that the penalty for sin was death. They knew of the thousands of animals that had been sacrificed in their history because of sin. Actually, they were in Jerusalem to sacrifice animals for the same reason.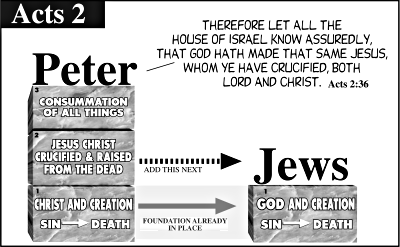 We could say that the culture Peter was speaking to was a creation-based (Genesis) culture. Consider again the three main parts of the gospel we discussed in chapter 2.
There is no doubt that the people Peter preached to already had the foundational knowledge of the gospel. They believed in the Creator God and understood sin and its penalty of death. Yet these people, by and large, did not believe that Jesus Christ was the Messiah.
Peter didn't have to convince them concerning the truth of creation. He didn't have to convince Jews that there was such a thing as sin. He didn't have to convince them that the Holy Scripture was God's infallible Word. The problem they had was not accepting that Jesus Christ was God manifest in the flesh and was the Messiah. This was their stumbling block.
From a human perspective, Peter, therefore, had to convince the Jews that Jesus was the Messiah, and that His death and resurrection were vital to their salvation. It was only by accepting what Christ did on the cross that they could have their sins forgiven.
Let me digress for a moment. In this and the next chapter, I will discuss how Peter needed to convince the Jews of some point, or Paul needed to convince the Greek philosophers concerning biblical truths. However, even though these men would do all they could to convince their hearers of truth, from God's perspective we know that He is really the One who opens their heart so that they will listen and understand.
For instance, concerning Paul's preaching, we read words like: reasoned, disputing and persuading (Acts 17:2; Acts 18:4,19; Acts 19:8–9; Acts 24:25); proving and alleging (Acts 9:22; Acts 17:3); disputed (Acts 9:29); and mightily convinced (Acts 18:28).
Paul used every argument he could to convince his hearers of God's Word, knowing that ultimately, of course, it wasn't Paul who did the convincing. Nonetheless, as God's Word states in Isaiah 1:18: 'Come now, and let us reason together, saith the Lord.'
This is why in 1 Peter 3:15, Christians are commanded to: 'Sanctify the Lord God in your hearts: and be ready always to give an answer to every man that asketh you a reason of the hope that is in you with meekness and fear.'
From a human perspective, we need to diligently attempt to convince people of the truth of God's Word, using reasoned arguments and explanations that make sense to the hearer.
Over and over again, the prophets, apostles, and Jesus Christ himself called upon people to come to God in repentance. The word 'repentance' literally means 'to change one's mind.' At the same time, the Scripture plainly states, 'As it is written, There is none righteous, no, not one: There is none that understandeth, there is none that seeketh after God' (Rom. 3:10–11).
And in Ephesians 2:1 we read, 'And you hath he quickened, who were dead in trespasses and sins.'
The word 'dead' in this passage is the same word used when Lazarus (John 11) is described as being dead. Dead persons can't do anything on their own. Therefore, of ourselves, we can't do anything to come to Christ.
But Romans 10:9 states, 'That if thou shalt confess with thy mouth the Lord Jesus, and shalt believe in thine heart that God hath raised him from the dead, thou shalt be saved.'
There are, of course, many other passages that we could examine. Personally, I don't think any of us will ever fully understand the above paradox. We are sinful finite beings, trying to understand the mind of the infinite Creator.
We do know that we are commanded to preach (Rom. 10) and that 'it pleased God by the foolishness of preaching to save them that believe' (1 Cor. 1:21).
To summarize: The Bible makes it clear that human argument alone is definitely insufficient to bring unbelievers to a knowledge of the truth. One could say that apart from the intervention of God's Holy Spirit, people are not just waiting until the first Christian comes along with an explanation of the gospel, telling them that it's true, so then they'll believe.
I once heard someone say that 'faith is not created by reasoning—but neither is it created without it.'
All of this discussion brings up another important point. We can't just take clumps of Scripture that we have learned and throw these out hoping that people will respond. We need to heed the lessons from the prophets, apostles, and Jesus—God's Word and the meaning of the gospel must be carefully explained and 'argued.' And this must be done in such a way that the people hearing the message will understand. Jesus certainly made frequent use of illustrations people were familiar with from nature and agriculture to help them comprehend vital truths.
It is true that God's Word will not return unto Him 'void' (Isa. 55:11)—but at the same time, we must present God's Word the way God indicates in Scripture. Human responsibility and God's sovereignty go hand in hand.
Now in returning to the situation with Peter on the day of Pentecost, we could say that Peter didn't need to deal much with the foundations of the gospel message. He could assume that the foundational knowledge of creation, sin and death was understood and accepted by his hearers. He could also assume that when he used the word 'sin,' his audience would have the same understanding as he did. They had the same law, and believed in the same Lawgiver. They knew the Ten Commandments. Thus, in their minds, they all understood that adultery, murder, stealing and idolatry were sin.
That is why Peter's generation was so readily 'pricked in their heart' (Acts 2:37). They already knew they were sinners in rebellion against God's law. Peter went on to explain that now they needed to understand that Jesus Christ was their Creator and lawgiver. He was the Messiah. It was His death on the Cross that paid the penalty for their sin.
Also, notice that Peter used familiar Scriptures as part of his argument. In Acts 2:25–28 he quoted from David (Ps. 16:8–11) regarding his prophecy concerning the Messiah. Earlier in Acts 2 he quoted from Joel 2:28–32 in relation to the day of Pentecost. Peter spoke to them beginning where they were in their own thinking. He knew what they accepted and understood, and their respect for the Scriptures. In his preaching, he was able to get directly to the main issue concerning their salvation.
The following analogy helps us in summing up Peter's approach.
I have noticed in the rapidly growing subdivision where we live, the builder of a new home takes quite a long time preparing the foundation and basement of the house. Once this foundation has been laid, the rest of the house goes up fairly quickly.
When Peter was preaching to the Jews, it was like building a house, knowing that the foundation was already there. Peter didn't have to spend time building the foundation. He could go straight to the structure to be built on the foundation. I believe that this was the situation generations ago in nations like America and England. Evangelists could assume a foundation upon which the gospel could stand. I also believe, however, there has been a major change—and the church has sadly missed it.
Are our nations more like the model in Acts 2 or are we in reality more like the very different situation in Acts 17?