A new museum dedicated to the 3,000-year-old king has opened in Tel Aviv.* The museum emphasizes that Israel's history far exceeds the current nation's 63-year age, and it includes genealogies showing the names of King David's descendants who are living today—many of whom may not even realize that they have royal blood in their veins.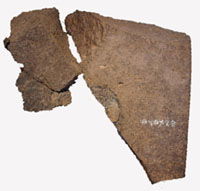 The Tel Dan stele is now on display at the King David Museum.
Until recently, "minimalists" (scholars who believe only a minimal amount of the Bible's history is true) doubted that King David ever even existed. That was until an inscribed stone monument (called a stele) was found at Tel Dan in northern Israel almost twenty years ago. The text records the Syrian army's military victory over "Israel" (the ancient northern kingdom) and the "House of David" (the southern kingdom of Judah).
This was the earliest known (and a nearly contemporary) extra-biblical reference to King David. It demonstrated to scholars that the ancients knew who David was. Time and time again God's Word has shown itself to be a trustworthy field guide and history book for Holy Land archaeology.
* Elad Benari and Yoni Kempinski, "King David Museum in Tel Aviv: 3,000 Years of Jewish History," Israel National News, January 10, 2012, http://www.israelnationalnews.com/News/News.aspx/151577#.TxAYwIl5mc0