With an adult length of less than 1.2 inches (30 mm), Brookesia micra is among the smallest vertebrates on record.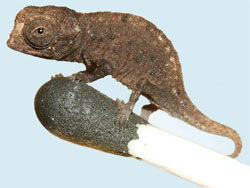 Less than 1.2 inches long, this chameleon discovered on Madagascar is among the smallest vertebrates on record.
How did it get there? The first chameleons to spread out from the Ark must have been much larger to be able to survive the ocean journey to Madagascar, floating on debris. As the original creatures spread out over the island, however, chameleons diversified into many species. Almost 80 species still survive on Madagascar, and about 185 chameleon species exist worldwide. God the Creator programmed into their genes great variability that has allowed them to adapt to different environments. Brookesia micra is one of the most amazing extremes that created kinds can produce.
* Glaw et al., "Rivaling the World's Smallest Reptiles: Discovery of Miniaturized and Microendemic New Species of Leaf Chameleons (Brookesia) from Northern Madagascar," PLoS ONE 7 (2): e31314.