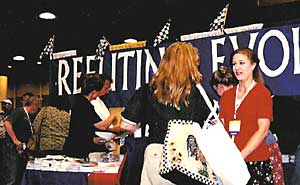 During 1-3 July 2003, nearly 10,000 teachers and other education professionals met at the National Education Association's (NEA) annual meeting in New Orleans, Louisiana, USA. There, ready to meet them, were eleven representatives of the Creation Science Educator's Caucus (CSEC), who handed out over 11,000 pieces of literature.
This is the 8th year that AiG has been able to distribute resources at this venue. We are grateful that the Lord has opened this door for "front-line" creation evangelism. In the midst of many booths that were lobbying for unbiblical values (such as the "Gay/Lesbian Caucus"), the CSEC booth could accurately be described as "a city that is set on a hill" (Matthew 5:14).
Mockers will come with their mocking …
As expected, responses varied widely from impassioned anger to passive indifference. Of the persons whom the Lord brought across our path, the vast majority (several thousand) took the booklets or CDs that were offered and seemed appreciative. (Although in a few cases we saw them drop them in a garbage can a short distance away.) Others politely refused. Some looked the other way as they passed by our booth.
Most colorful were the comments of those who, after reading our 20 ft x 3 ft "Refuting Evolution" sign, shook their heads, rolled their eyes and tossed out remarks such as:
"Charles Darwin is my hero!"
"You are a threat to education!"
"You guys are crazy. You don't belong here."
"I am so totally convinced of evolution-I'm tolerant of everything but what you believe."
"I'm a science teacher. You guys ought to get a life."
"Go back to school and get an education!"
"We're educators, not magicians."
"Do you believe in gravity?"
"I don't believe in faith."
One man said, "I heard that you guys are like the Taliban, so I had to come over here and see!" Another, when asked for his best evidence for evolution, cited the "smell of fish" as evidence of their common ancestry with humans. One especially mature antagonist exclaimed, "Get real!" and then made a vulgar gesture with his hand as he passed by the length of the booth.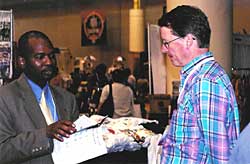 Thankfully, most were not so closed-minded.
Many stopped to engage in conversation, including many Christians who were not aware that such creationist literature exists. It was encouraging (to them and us) to be able to share the information with them and equip them with books and DVDs. Other Christians who already understood the issue stopped by, anyway, to express their appreciation of our presence there.
As expected, non-Christians tended to be argumentative. Many had erroneous, preconceived perceptions of the creation model; but as we patiently dealt with their questions and objections, we could see that it caused them to think, and many genuinely thanked us for the literature and discussion. Some even said, "This will give me something worthwhile to read during the convention meetings."
Join us in praising our Lord for the many opportunities to share the glorious gospel of grace. By the grace of God, we shared the gospel with evolutionary humanists, Mormons, Christian Scientists, Jehovah's Witnesses, and many others. Changing people's minds from evolution to creation was not the ultimate goal, rather it was to humble the proud and call on people to repent and believe the gospel to be saved, so that God might be glorified for His mercy and grace.
Prayer points
We will never know-at least on this side of Heaven-the impact of the conversations and distribution of literature. But we are confident that the seeds planted will bring forth fruit. Pray that God would use the information to change lives and move people to know their Creator and Savior, Jesus Christ.

Pray for those within the NEA who were/are antagonistic to the creation caucus. Pray that they would see the value of presenting an open debate on this issue and that their trust in materialism would be replaced by confidence in God and His Word.

The NEA delegate who has organized the booth for the past eight years just retired. But God has raised up another teacher to carry the baton. Lord willing, we are making plans to "enter the fray" again at next year's NEA convention in Washington, D.C. Pray that God would open this door and bless the preparations.
If you would like to give to help us cover the costs of providing this free literature to this strategic group of educators, you can mark your gift "NEA outreach fund."
For more information