Bon Voyage
As you make vacation plans for 2013, think beyond beaches or mountains, museums or amusement parks. AiG's Creation Vacations is a little-known but valuable section of our website that helps families infuse their vacations with a biblical worldview.
Think the kids will balk at the idea of an educational trip? It will be far from boring! Just click through the list of creation destinations to ignite their enthusiasm. You could watch Old Faithful blow at Yellowstone National Park and learn how the hot springs and other geological features were formed during the Flood. (Tip: Take along this new creationist guidebook.) Feed dolphins at Sea World and be amazed at how their agility and echolocation display God's design. Gawk at the dinosaur skeletons of Fossil Hall in the Smithsonian National Museum of Natural History as you read the Bible's description of the behemoth and discover where dinosaurs fit in the biblical timeline. Or be starstruck at the Kennedy Space Center and praise the omnipotent Creator who holds the universe together "by the word of His power" (Hebrews 1:3).
Each of these destinations and many more listed on the Creation Vacations site can provide a unique avenue to discovering God's handiwork. Rather than giving credit to a mindless natural force, you can prepare to share with your family how creation exhibits the Creator (Romans 1:20).
For example, at the Grand Canyon, you might often hear about how the layers were supposedly deposited over millions of years. But with a little homework through resources like the AiG store and articles or even a creationist raft trip, your family will learn how the formation of the Grand Canyon fits in the biblical history of the worldwide Flood. A discussion of the Flood helps remind us of God's judgment on sin and our need for Jesus to save us from that judgment. Together, your family can defend the biblical worldview, give glory to the Creator, and share the gospel.
Don't forget to consider planning your vacation around the 2013 Answers Mega Conference. In the shadow of the Smoky Mountains of Tennessee, your family will hear from inspiring speakers, the children may participate in the exciting new Kingdom Chronicles VBS, and activities abound in the area for family fun. We covered the details on this exciting conference in last month's InSite.
So visit the Creation Vacations site today, and start brainstorming. You may even find a destination close enough for a day trip. While planning a creation vacation takes some forethought, discipleship is worth the effort. Let's follow the admonition of Deuteronomy 6:7 to make God's Word a central part of our family conversations wherever we journey.
The Complete Creation Vacation Package
It almost goes without saying, but if you're planning a creation trip, don't miss the Creation Museum. You won't have to refute a naturalistic worldview here, but instead your family will be built up in the biblical worldview. The Creation Museum is not a one-time destination; keep bringing your family and friends back for the changing exhibits, activities, and events. Interact with Dr. Danny Faulkner during a Stargazer's Night at our newly constructed observatory, or check out the holographic Lucy exhibit, added in May of 2012. The latest exhibit is Verbum Domini ("The Word of the Lord"). This collection of rare manuscripts—including one dating back to the fourth century AD and a Tyndale New Testament with woodcut illustrations—demonstrates how God has preserved His Word through the centuries. All sorts of special programs are happening on any given day during the busy summer season, or you can plan to beat the crowds and visit before the summer rush.
In Store: The Genius of Ancient Man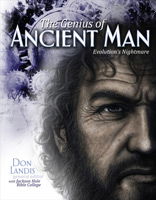 "Grunt. Grunt. Grunt. Woman, make fire. Grunt. Roast venison." When you think of ancient mankind, do you picture uncivilized brutes wielding clubs, or perhaps the loveable but primitive Flintstones? These caricatures come from an evolutionary worldview where man evolved from an ape-like ancestor, slowly advancing in intellect and socialization.
In contrast, the Bible teaches that God specially created man in His image, so we would expect ancient man to have a high IQ and engineer great cities. The new book The Genius of Ancient Man demonstrates just that.
Don Landis, AiG chairman and president of Jackson Hole Bible College, led a research and writing team to demonstrate how archeology and anthropology are consistent with the biblical portrait of ancient man. As early in history as Genesis 4, the Bible describes skilled men who built cities, raised livestock, invented musical instruments, and practiced metallurgy. Throughout the world, ancient civilizations show innovative sophistication in areas from astronomy and technology to government and communication.
Your family will be fascinated with the book's intriguing images while tying together the commonalities of ancient cultures around the world to figure out mysteries like these:
Why have structures echoing the Tower of Babel been recreated on almost every continent and major culture?
What do artifacts and archaeology, technology and innovation, really reveal about the origin of mankind?
Why were many biblical symbols (rainbows, human sacrifice, mountains, the Son/sun worship) distorted in pagan religious practices?
What does the historical record reveal about Satan's "counterfeit" of God's plan for humanity?
Let's not be duped by the evolutionary idea of prehistoric man. Jesus Himself said that God created male and female at the beginning of creation (Matthew 19:4). While accomplishing stunning feats, ancient man also showed the awful effects of sin passed down from Adam. No matter what technological advances are yet to come, we should not boast in skill, strength, or affluence, but in knowing our Creator through His redemptive work at the Cross (Jeremiah 9:23–24; John 1:1–18).
Question of the Month
Our family is planning a visit to the Creation Museum next month. Do any hotels offer special rates for Creation Museum guests?
Yes! Many hotels in the area offer discounted rates for Creation Museum guests or packages that include tickets to our museum. To find these deals on the Creation Museum website, you can visit the Lodging and Attractions page. It lists many local hotels and motels, including some with discounted packages for museum visitors, plus unique lodging options such as Deborah's Guesthouses.
This page is also a great resource for learning about other attractions to visit near the Creation Museum. These local attractions include the Cincinnati Zoo, Dagaz Zipline Adventures, Newport Aquarium, and Kings Island amusement park. Enjoy your visit to the Creation Museum and the Cincinnati area!
(Have a question for InSite? Let us know! Be sure to mention that your question is intended for InSite.)
Did You Know?
Front-page articles on the AiG website remain in the spotlight for a few days, but they don't just disappear after that into a black hole. Once those articles retire from being prominently displayed on the homepage, they find a permanent home in our article archives. As site visitors hover their mouse over "Get Answers" on the main navigation bar near the top of every page, they can click "Article archives" on the dropdown menu. Or they can always use our search engine at the top-right of every page to find nuggets they may have missed.