Mega Fun, Facts, and Fellowship
Plan an unforgettable family vacation this year around the 2013 Answers Mega Conference. Enjoy four action-packed days near the Smoky Mountains of Tennessee on July 22–25, 2013. God-honoring music will be provided by two talented musicians—John Elliot and AiG's own Buddy Davis. Every day of the conference, you will be edified and challenged by solid biblical teaching. Ken Ham and your favorite AiG speakers will be joined by Tony Perkins from the Family Research Council, Todd Friel of Wretched Radio, and Eric Hovind of Creation Today. They will answer questions like the following:
How can we defend the genetic and theological reality of Adam and Eve?
What should you know about abortion policy in the U.S.?
How can you prove God exists?
What is the great delusion of our time?
How should you respond to the homosexual agenda?
What is the distinction between law and gospel?
How has evolution fostered racism?
What are the basics of bioethics?
How should you defend the inerrancy of Scripture?
Can man be good without God?
How can we rescue our kids from the lies and evil of this world?
This year's conference features an exciting children's program. All princess and knight wannabes are invited to gallop back in time for the Kingdom Chronicles VBS. They will learn how to stand strong in the battle for truth, putting on the armor of God.
Teens have several sessions designed to help them deal with key questions and critical issues in the culture. Teen sessions will be led by Bill Jack—a captivating apologetics speaker with a gift for communicating to youth—and passionate creation evangelist Eric Hovind.
You'll get a chance to pocket your notepad and pen for some fun activities, such as stargazing with telescopes, joining Dr. Andrew Snelling for a geology field trip in the Smoky Mountains, and fellowshipping at a family picnic. Time is also provided to enjoy the area's created wonders and man-made attractions with discounted tickets to the Dollywood theme park, the Dixie Stampede show, and WonderWorks.
Find out more and register for the conference on the new website, www.AnswersMega.org. It includes the complete conference schedule and discounts on travel and lodging. On the homepage, check out the short video introducing the conference! The website features a responsive design (similar to our new online store), so it will adjust to whatever device you use—smartphone, computer, or tablet. Register for the conference before April 30 and receive the early bird special.
So start planning now to come to the Answers Mega Conference for biblical worldview training, encouragement, and family fun!
In Store: So Much More Than a Story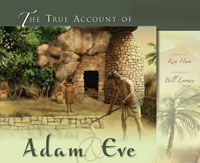 AiG's theme for the new year is "Standing Our Ground and Rescuing Our Kids." Our children are growing up in a society that attacks the authority of the Bible, especially its beginning. Even in Christian academia, some are questioning whether Adam and Eve were real people. Ken Ham wrote The True Account of Adam and Eve to help ground your family in the truth of God's Word regarding these first two historical people.
This family resource is filled with captivating illustrations. The fold-out panorama shows the paradise of Eden contrasted with life under the Curse. As you read about Adam and Eve, you'll discover key concepts, such as what makes humans different from animals, what we can learn from the Bible's genealogies, and why a young earth makes better sense of the current world's population. Learn why marriage should be defined as one man and one woman for life, how the fossil record gives evidence of a worldwide Flood of judgment, why mankind is all one race, and how paradise will one day be restored.
Most importantly, you'll find out why the historicity of Adam is crucial to the gospel. Several Bible passages outside of Genesis show how sin and death came into the world through one man—Adam—but forgiveness and eternal life come through the last Adam—Jesus Christ (Romans 5:12–18; 1 Corinthians 15:22, 45–49).
Question of the Month
Does the donation bar on the Ark Encounter website include boarding passes, or is it only donations? Oh, and do you have an estimated date for breaking ground?
Both donations and proceeds from boarding passes are included in the "thermometer." An article on the Ark Encounter website announced the inclusion of boarding passes in the thermometer, raising the bar over $1.8 million. After generous year-end giving in 2012, the current grand total is over $11 million. We are almost halfway to our goal of $24.5 million to build a full-size Ark!
So when will we break ground? That depends on when various aspects of the funding reach the level where we can be confident the Ark Encounter can be completed and opened. We pray that the beginning of construction will be sooner rather than later, but everything is in the Lord's timing. We will make an announcement about a planned groundbreaking date several months in advance. Stay tuned!
(Have a question for InSite? Let us know! Be sure to mention that your question is intended for InSite.)
Did You Know?
One of our top translation projects in 2012 was making Ken Ham's Foundations series available in Russian, with the help of the Slavic Gospel Association. This translated video set is a top-quality production—perhaps the best we've ever been able to offer. If you know any Russian-speaking people or missionaries who could benefit from this free translated resource, please refer them to our Russian video page. The Russian Foundations series is also available on DVD in our online store. Through this new series, Ken Ham delivers his key messages, weaving in current events to show how to reach a culture that has drifted from its biblical moorings.