Today's generation of young believers desperately needs to be inspired to live pure lives—to be a remnant of purity in their generation and bring glory to their Creator and Savior. One organization encouraging teens to do just that is Happily Ever After.
Julie Hintz, Happily Ever After's founder, has seen the consequences of impure living. She served as executive director for a pregnancy help center for 10 years and led a Bible study for women who had abortions. Determined to help teens, she began giving abstinence talks in schools and youth groups.
In March 2002, Julie felt God calling her to start a ministry specifically to inspire teens to save sex for marriage.
Pressure to Conform
Happily Ever After's programs, customized for a variety of ages and audiences, address the pressures that teens face when trying to stay pure in a sex-crazed world. Julie uses the account of the very first temptation—the serpent with Adam and Eve in the Garden—to help teens recognize the principles of temptation.
Today, young minds are pounded with explicit images and messages at every turn—television, movies, magazines, and even cereal boxes. Sexual flirting (with words, the eyes, clothing, and body movement) and sexual participation before marriage are glamorized and presented as the norm. Meanwhile, like lifeguards asleep on the beach, parents have become desensitized to the impact this behavior has on their teens.
Even the most committed Christian experiences pressures to trade purity for popularity.
"We're gradually getting used to more and more ungodly and unhealthy stuff, and we don't even realize how gravely ill we are," says Julie.
Even the most committed Christian experiences pressures to trade purity—of thoughts, media choices, conversations, and actions—for popularity.
"The extraordinary Christian can feel quite alone and begin to question his or her convictions," Julie says. "Without a strong vision and support, the pressure to compromise godly standards is intense."
Beyond the Birds and the Bees
Julie sees that young people's convictions are not being reinforced by strong and consistent messages for purity. She says that parents and youth pastors often unwittingly reinforce unhealthy media messages by their silence.
Parents are sometimes squeamish about talking to their teens about sex. So, Happily Ever After offers workshops that give parents the information they need to protect their children's hearts, health, and future fertility. They also learn facts that will establish them as the experts on sex for their children, and they leave with biblical guidelines against which to weigh decisions.
Going Public with Purity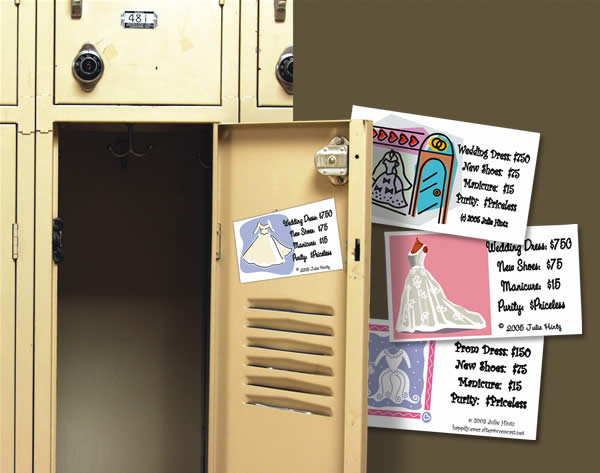 Julie Hintz, founder of Happily Ever After, gives these magnets to students to display inside their school lockers as a reminder of the priceless value of purity.
When she gives abstinence talks at public schools, Julie shares the principles of Bible-based purity, but she can't mention that those principles are God's standards. While the abstinence message has been well-received by students, teachers, and parents, the biggest difficulty has been getting into the public school district initially. Julie says there is much disagreement among reproductive health committees about what should be taught, plus lengthy approval processes for curricula. However, because she is a guest speaker, her curriculum doesn't have to be approved.
In addition to in-school, co-ed presentations, Happily Ever After programs also include Girls Night Out events and Mother/Daughter Teas. Parents complete an assignment based on Genesis 49 prior to these events, and the girls are given an assignment to complete with their parents as a follow-up after the events.
The Genesis Connection
Since purity is the foundation for a God-honoring marriage, it should be no surprise that much of Julie's teaching comes from Genesis, where God outlines the foundation for marriage.
She uses the story of Cain in Genesis 4 to teach a basic principle of Scripture: If we live life God's way, we will be blessed, but if we stubbornly insist on living it our own way, sin will have its way with us.
The story of Esau found in Genesis 25:19–34 and Genesis 27 illustrates the ability to look ahead and anticipate the consequences of our actions. Esau impulsively "despised his birthright" as a young man and deeply regretted it once he understood that he could not regain it. In the same way, adolescents often "despise their virginity because they do not understand how precious it is until after they have squandered it," Julie says.
Julie also uses the story of Joseph found in Genesis 37–50 to show that God blesses patience and obedience.
"Joseph's story gives encouragement to the young man who is being called 'gay' because he has chosen to exercise sexual restraint. It also encourages the young woman who is dumped by her boyfriend because she will not give him what belongs to her future husband," says Julie.
Time spent teaching future husbands and wives about God's design for sex, beginning with Genesis, is surely a priceless commitment.
Pam Sheppard earned her B.Sc. degree in journalism from Ball State University and has written for numerous Christian publications. She worked at Answers in Genesis-USA as a researcher and writer before becoming the national editor for Answers magazine.
Julie Hintz offers the following suggestions to parents:
Become educated. For many, when it comes to sex, trying to guide our children toward a healthy future is like the blind leading the blind.
Share the blessings you have received from abstaining or the consequences you have suffered from partaking. If you did partake, ask God to show you why He has placed sex within the protection and exclusivity of marriage. Fully understanding the blessing that obedience brings will motivate you to regain those blessings for your children.
Have a vision for your child, grandchild, youth group, etc. Paint a picture of a healthy future for him or her. Keep that vision squarely before your eyes and weigh every decision against it. Be strong for your children by developing a reminder such as "Hate me now, thank me later." They will thank you.
Speak up against pornography and promiscuity. Speak up for the beauty of sex as God intended. Applaud television shows that promote married, monogamous sex. Turn off television shows that promote unmarried sex.