With the rapidly changing coronavirus situation, Answers in Genesis (AiG) announced over the weekend that it had to temporarily close its two attractions, the Creation Museum and Ark Encounter. While the museum and Ark are closed, AiG will be offering special programs streamed live from the attractions, providing programming for families. With so many students and parents remaining at home right now, they will be able to view free livestreams of science labs, behind-the-scenes tours, live animal encounters, lectures, and more.
With millions of Americans essentially confined at home, AiG will provide them and others a livestream four times a day on CEO Ken Ham's Facebook page, every weekday, with some special programs on the weekends.
10 a.m. ET—Science experiments for kids at the Creation Museum's laboratory with Roger Patterson and others
12 p.m. ET—AiG speaker to give a Bible/science presentation from the museum
3 p.m. ET—Live animal encounters from either the Ark zoo or museum zoo with a specialist zookeeper
7 p.m. ET—Ken Ham will conduct special behind-the-scenes tours to reveal places and information not normally available to the public and give sneak peeks of new exhibits being planned.

*Times are subject to change, as are speakers
Ham, founder of Answers in Genesis, the ministry behind the Creation Museum and the Ark Encounter, said, "With so many children, teens, and adults staying at home during the coronavirus situation, viewers will receive wonderful online teaching, right into their homes." Ham added: "Since people can't visit us during the temporary closing of our two attractions, we can come to them, via the great technology tool of Facebook Live. We will also give kids an opportunity to ask questions during each broadcast."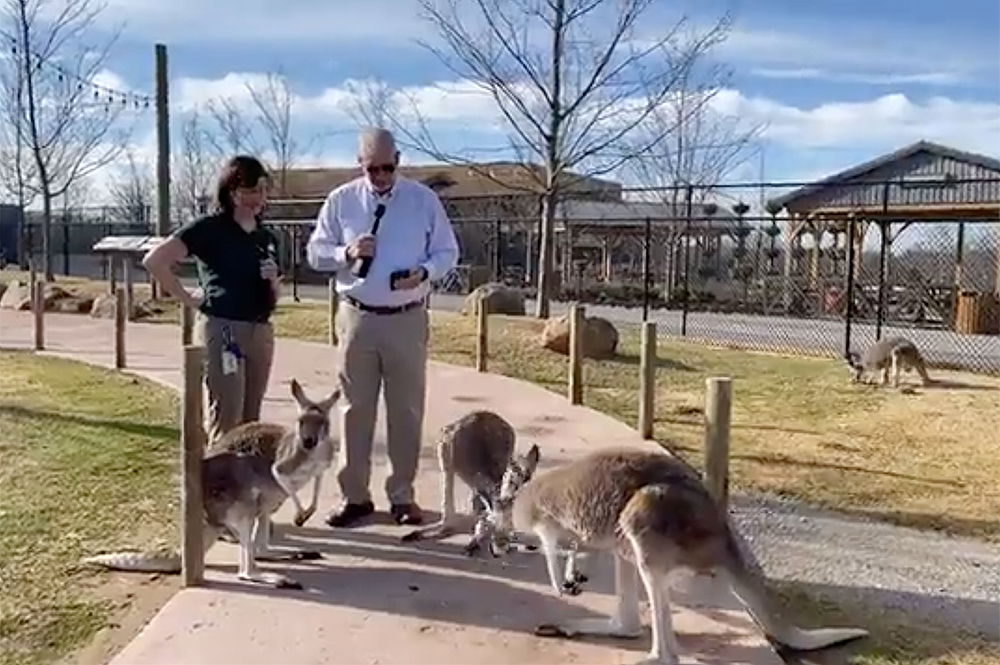 On Ken Ham's Facebook Live tomorrow, Friday, March 20, at 3 p.m., he will be visiting the Creation Museum's zoo to showcase Boomer the wallaby. At 7 p.m. tomorrow, museum designer Allen Greene will walk Ham through the stunning mezzanine of the new "relevance" exhibit inside the museum, showing Ken some of the items that have hidden meanings that touch on the fascinating history and teachings of AiG. People can just go to Ken Ham's public Facebook page at the times above. To be reminded of the upcoming programs, people can "like" the page and then switch on "notifications" or watch the sessions later when they are archived on the same page.
Ham further stated: "We encourage people who watch these special Facebook Live programs from the Creation Museum and Ark Encounter to share them with friends and family through social media."
Answers in Genesis is an apologetics (i.e., Bible-defending) ministry based in northern Kentucky, near Cincinnati. The Ark Encounter in Williamstown opened in 2016 and features a 510-foot-long Noah's ark. West of the Cincinnati Airport and next to the AiG headquarters, the Creation Museum has also become a major family attraction in the Midwest. For more information on the two world-renowned attractions, visit http://www.creationmuseum.org and http://www.arkencounter.com.