I'm sure you have read a book or watched a movie about war. I remember seeing a film with an actor playing the part of British Prime Minister Winston Churchill as he and others planned military strategies for World War II in London's War Office.
God's Word uses a lot of war terminology to illustrate the spiritual war raging around us. The Bible teaches us that we need to know how to "battle," learn to be well equipped as "soldiers" for our King, and be able to train others in this ongoing strategic battle for the hearts and minds of people. For example:
For the weapons of our warfare are not carnal but mighty in God for pulling down strongholds. (2 Corinthians 10:4, NKJV)
Put on the whole armor of God, that you may be able to stand against the wiles of the devil. (Ephesians 6:11, NKJV)
Answers in Genesis is not a static organization. Our staff, volunteers, and board of directors don't want to see AiG just maintain its ministry (though it's important to keep current programs going).
AiG understands that we are in a war.
AiG understands that we are in a war. And as soldiers for our King (our Creator God) in this spiritual struggle, we need to plan our strategies as we prepare to do battle. We seek to push the battlefront forward—to move into "enemy territory" so we can see hearts and minds captured for the Lord. Yes, we are "active duty soldiers!"
I see the AiG headquarters as a "war office." Like Churchill's War Room, our staff frequently meets in in our "war rooms" to plan strategy. We pray to our King for wisdom and direction as we strategize for the battle to proclaim God's Word and the gospel.
The Lord has enabled us to create many weapons. Through them, we use the "sword of the spirit" (the Word of God) to see hearts and minds changed and captured for the Lord. Many of you use these "weapons"—our popular website, the Sunday school and VBS curricula, books, DVDs, radio and TV, and so on.
A few months ago, we met again to discuss the war raging around us. We were burdened that the people who war against God have captured many "prisoners" in their anti-Christian campaign. So many in the church, especially our young people, have succumbed to their humanistic indoctrination. The casualties have been enormous.
One of the most visual representations of the humanists' propaganda effort in this battle involves billboards. Here are some recent ones that have appeared across America: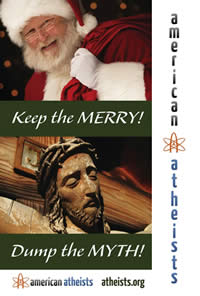 You can view photos of other atheist billboards at www.AtheistBillboards.com.
Even of deeper concern than billboards is the incredible attack by secularists through lawsuits. They have gone to court to have Christian symbols removed from the culture. It's part of the secularists' effort to impose their religion of atheism on the culture.
At Answers in Genesis, we believed it was time to respond in a public way to these atheist billboards. Our staff then met with consultants to open another "battlefront."
Well, this past month, a number of billboards produced by AiG appeared in California and Times Square in New York City: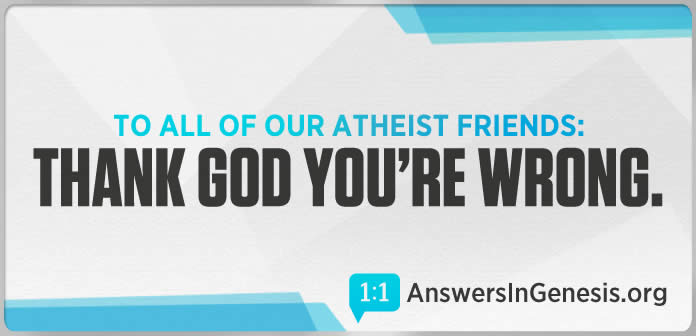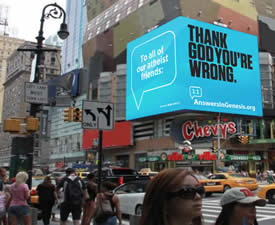 What is the purpose of such billboards (many of which are still up)?
Atheists have not just become much more aggressive in promoting their religion. They have also attacked and denigrated Christianity in many ways. That includes an increasing number of billboard campaigns.
At Answers in Genesis, we wanted to reach out to atheists. We are burdened for the lost and want to see them captured for the Lord. And we also wanted to make a very public statement to the nation.
So we decided on running the billboard campaign as an outreach: "To all of our atheist friends: Thank God you're wrong" in high profile places for a month. As we pray that atheists and agnostics go to the AiG website that is displayed on the boards, we trust the billboards will also give many Christians an opportunity to witness.
We pray that the billboards, placed in strategic spots, will prompt discussion among God-doubters and see them go to the AiG website, where we have provided many resources for them. And for the Christians who go to the website, they will see many "weapons" (thousands of articles, free videos to watch, etc.) to use to counter the Enemy's efforts.
When asked by the media how we chose the billboards' wording, I replied:
We are not angry at the atheists—there is no hate or scorn heaped on them. We are burdened for them as people who will be lost for eternity, unless they receive the free gift of salvation. We want atheists and all unbelievers know that as Christians, we love them as humans made in the image of God, yet sinners in need of salvation.
Atheists should thank God that they can receive the free gift of salvation and be saved for eternity. Yes, they need to thank God that they can know, through God's Word, that they have been wrong—but that they can turn to the truth and if they "confess with your mouth the Lord Jesus and believe in your heart that God has raised Him from the dead," they will be saved (Romans 10:9, NKJV).
Those of us who have received the free gift of salvation and are truly born again can thank God the atheists are wrong—we thank God for our salvation.
I urge Christians to be bold for their faith. We need to be more enthusiastic and active than the atheists. After all, we have the message of Truth the world needs to hear.
This billboard campaign has been a big step of faith for us, including financially. But as we continue to reach more and more people with the truth of God's Word and the gospel, we want to see as many battlefronts started . . . and then supplied.
And the national media are watching. America's "newspaper of record" has covered our striking board at Times Square. The New York Times, the day after the large board went up, had the headline: "A Friendly Jab at Atheists." The opening line was: "If the evangelical organization Answers in Genesis was looking to take its message to a secular audience, it would be hard to do better than the heart of Times Square at noon on Monday."
Later in the Times' article (which overall was fair), the reporter noted: "In recent years, atheist groups have paid for a number of provocative billboard advertisements that were obviously meant to prompt a reaction from Christian groups, often succeeding." The article concluded: "Whatever one thinks of his message, Mr. Ham has shown a knack for spreading his views."
With your prayers and financial support AiG is able to produce many "weapons"—new museum exhibits, the Ark Encounter, books, DVDs, and billboards—to turn many hearts to Him.
I trust you have been encouraged to learn more of how dynamic AiG is. AiG is making sure we are on the front lines, pushing ahead for the purpose of seeing God's people equipped and fired up—and challenging non-Christians with the gospel.