I know your deeds and your toil and perseverance . . . and you put to test those who call themselves apostles . . . and you have found them to be false. . . . But I have this against you, that you have left your first love (Rev. 2:2–4).
As stated in the last chapter, the first component of a godly legacy is a compelling conviction that leads us to prioritize training up a godly generation. Before we get too far into the "do's" of building a legacy, it is critical that you clearly understand a foundational truth of the Christian faith . . . one that is vital to your success as a parent and as a follower of Christ. The second essential component for building a godly legacy in your children is your personal relationship with God through Jesus Christ. That love relationship with our Creator is the means, the end, and the model of all you desire to pass on to your family.
It's All about Relationship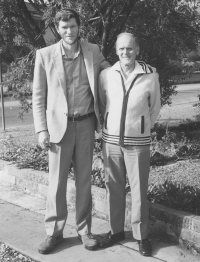 Correct teaching and consistency in discipline and instruction is foundationally important in the Christian home. It is equally important to connect this foundation with the personal and relational implications it has for our children. In his book Beyond Belief to Convictions,1 Josh McDowell spends a number of chapters identifying this need. McDowell makes the following statements:
The core of Christianity is far, far more than a set of true propositions; it is the news of a God who is passionate about His relationship with you.

The incarnation says to you that despite your sin, Jesus valued you enough to die for you.

You can realize your true identity as a son or daughter of your Father God who relationally accepts you unconditionally, loves you sacrificially, understands you intimately, and relates to you continuously.
Every essential biblical principle has relational truth, from Genesis to Revelation. It is truly necessary to help our children see that the authoritative biblical instruction they receive has important relational ramifications for them. For example, in relation to the incarnation of Jesus, the truth about the incarnation has massive consequences to our relationship with God. Not only is the virgin birth and incarnation of Christ real, but so is the reason for it; and the reason is a relational reason—one that causes us to contemplate where we stand in our personal relationship with Jesus as our Savior. It is not just the truth of the incarnation that is important, but the relational reason as well; and that brings me to my main point of this chapter:
God has no grandchildren.
We are all individually responsible to God. When saved by His awesome power, we are adopted as His personal sons and daughters. Not one of us can claim the faith of our father or mother as our own. There is no such thing as a "spiritual grandchild" of God. We each must come to Him on our own. If we don't have our own faith, we have no faith. Even though it is the same faith as others (because it is faith in Jesus), it is not our faith, until we own it in our hearts and minds. That was true for our parents; it's true for our children, and it is true for each of us.
I'm uniquely privileged to have my mother live with us in a "granny flat" (a separate living unit attached to our home). This gives my family the opportunity to pop in on a regular basis and have a chat about anything and everything. Mum enjoys it, because she misses the closeness of the relationship that she had with Dad. I enjoy it, because I regularly find out things about them that I never knew.
I recently learned about a conversation that my mother and father had before they had children. Mum sat down with my father and put forward to him that she didn't care how smart the children would be, what position in life they would have, or how they would look. No matter what, all she wanted was for them to have their own personal relationship with God. (You might think that this is a "no-brainer," but you have to understand that my father as a school principal was very interested in our academic grades.) My mother essentially said to him that grades and academia are unimportant compared to an individual relationship with Jesus Christ.
Ken has said, "I would rather my children be ditch diggers and go to heaven than a famous scientist or sports star and go to hell." Ken and Mally certainly believe in the value of education (they have four college graduates as children), but they know that the destiny of the soul has infinitely more value.
Mum, Ken, and Mally are absolutely right. Your personal relationship with Christ must take precedence over other highly important things—even over your relationships with your earthly family.
This is obviously a book about family heritage and family legacies—which Ken and I feel are very important, but it's not the most important thing. Our words could be misinterpreted by some as saying we can rely on our family heritage for our salvation—and this can be a trap for some. There is no doubt that God loves to save people through the avenue of family because family is His construction. We do need to know, however, that we have nothing to boast about other than our Savior, the Lord Jesus Christ; and each of us must come to Him as an individual, regardless of our family's influence. Paul makes this totally clear when he writes in Galatians 6:14, "May I never boast except in the cross of our Lord Jesus Christ, through which the world has been crucified to me, and I to the world" (NIV).
John the Baptist also made this brutally clear in Matthew 3, as he was preparing the way for Jesus. People from great distances were going to John, confessing sins, and being baptized. In one of the most confrontational statements said to anyone in Scripture, John turned to the Pharisees and Sadducees and rebuked them in verses 7–10:
You brood of vipers! Who warned you to flee from the coming wrath? Produce fruit in keeping with repentance. And do not think you can say to yourselves, "We have Abraham as our father." I tell you that out of these stones God can raise up children for Abraham. The axe is already at the root of the trees, and every tree that does not produce good fruit will be cut down and thrown into the fire. I baptize you with water for repentance. But after me will come one who is more powerful than I, whose sandals I am not fit to carry. He will baptize you with the Holy Spirit and with fire. His winnowing fork is in his hand and he will clear his threshing-floor, gathering his wheat into the barn and burning up the chaff with unquenchable fire (NIV).
Apparently, certain Jews felt they held special favor with God because they had a unique religious family heritage to cling to. "We are sons and daughters of Abraham," they boasted. They misunderstood that it is not the family heritage that provides salvation. Salvation comes only through personal faith in our Savior Jesus Christ. (That's the good news.) John made it very clear to the Jewish leaders that they are responsible for their own repentance, and anyone clinging on to the faith of their forefathers, rather than accepting God's regenerating work in their own lives, will be thrown as chaff to the fire. (That's the bad news.)
If you are a believer and have not come from a Bible-believing Christian home, then you are testament to the fact that God saves from both inside and outside the family. John the Baptist looked at the pride of the Jewish leaders, called them "vipers," and then explained that God can raise up His family from the rocks. It is a clear and present warning to us all: We are individually responsible for our faith in Jesus right now, and there is no room for boasting, except for boasting in Him and His mighty work on the Cross.
It is important to realize that we were born into a physical legacy of sin left by our forefather Adam. Our natural family inheritance from Adam is one of lawlessness, suffering, and death. If you are a Christian, however, and have received Jesus as your Savior, you are now part of His spiritual legacy of grace, freedom, and life. If someone depends on the lineage of their physical ancestors (the lineage of Adam), only spiritual death awaits them in eternity. Those who have personally received Christ as their Savior have been adopted into His lineage (Rom. 8:14–17) and are now sons and daughters of God (in the lineage of Christ himself!).
This does not happen automatically just because you are a part of a Christian family or because you go to church or live a religious life. God created the world perfect and pure, and He created humans to rule the world in intimate fellowship with Him in harmony with all He made. Regrettably, however, Adam "fell" when he disobeyed God. Since then, men and women everywhere are born with a fallen nature that cannot do what is right. Now, each of us rejects God by doing things our own way with a rebellious, self-sufficient attitude—that is what the Bible calls "sin." In rejecting God and sinning, we make a mess not only of our own lives, but of our society and the world. God's punishment for our sin is death—the death we see all around us in the physical world and the spiritual death that separates us from our perfect Creator. Because of His love for us, God came to earth as Jesus Christ and paid for sin and death when He died on the Cross.
Then God raised Jesus from the dead to prove He had the
power over death, and gave us a personal invitation to
have a personal relationship with Him.
What I'm trying to say is that there needs to be a personal response to that invitation. It doesn't matter if you are the dirtiest heathen from a completely lost lineage, or if you come from a squeaky-clean church family. From a human perspective (knowing it is God who saves), you must respond yourself. God lays before you two ways to live:
You can continue living your own way, rejecting God, and trying to run your own life; resulting in condemnation, judgment, and eternal death.
You can submit to God and rely on the death and resurrection of Jesus Christ to pay for your sins; resulting in forgiveness, eternal life, and the receiving of God's Holy Spirit into your heart—giving you the capacity (in Him) to live righteously according to the truths of His Word.
If you have never confessed your sinfulness to Christ and received His free gift of forgiveness and grace, please consider doing so right now. We cannot overstate the eternal importance of this. A gracious, merciful Father wants to know you and live through you. An active personal relationship with Jesus Christ is to be paramount in all you do. Mum was right. A relationship with the Creator is more important than education, wealth . . . anything. It is also a prerequisite to raising godly children, lest they rightly perceive you to be a hypocrite by trying to force them to be something that you are not.
If you've never responded to His invitation, confess your sinfulness to Him now, thank Him for dying on the Cross for you, and praise Him for forgiving you. Then invite Him into your life as your Lord and Savior.
Role Models of Eternal Truth
The role of a parent is fundamentally an evangelistic one. We have been entrusted with a gift from God, and He has equipped us with His gospel. There is no greater charge to a parent than to deliver this great and momentous news. There is no greater equipping than the good and perfect revelation of God's Holy Word.
Most of all, we need to realize that we are being watched. We are the most important role models and examples our children will have on this earth. Every word and every action is being processed by those who are looking to us for guidance. We have the distinct privilege of actually showing our children how the truth of God's Word is relationally affecting our lives. In short, we get to show our children a passion for Jesus in real and relational ways.
Every time I witnessed my father picking up other children for Sunday school, I saw his passion for them to know Jesus. Every time I witnessed my father reading his Bible and in silent prayer, I witnessed his intimate relationship with his Savior. Every time I had a spiritual conversation with my dad, I was able to see how truth had personally affected his life.
Certainly, we are the most important role models of salvation to our children—yet no matter how much we apply ourselves to these biblical truths, God expects us to seek Him for the outcome in our children's lives. This is why prayer is the essential ingredient for all of these steps. Both of our parents would attribute all glory to God for our salvation. Their heart-wrenching and pleading prayers have been answered, and all six children have an individual, personal relationship with the Savior. While I am grateful for my heritage, I was not saved by my parents, nor were my brothers and sisters. We were saved by the gracious mercy of an all-powerful, saving God—and so were our children. All a parent can do is give themselves to Christ, diligently apply the fruit of the Spirit in their role as parents, teach and instruct according to the truth and authority of God's Word, and pray, pray, pray.
We Should Be Called the Sons of God
Matthew chapters 5–7 record the most popular sermon this world has ever heard: the Sermon on the Mount. At the beginning of this sermon are "the Beatitudes"—nine of the meatiest verses you will ever read. In these passages, Jesus taught His disciples and the masses about the fulfillment of the salvation process as the gospel is worked out in individuals' lives. In the seventh beatitude (Matt. 5:9), He teaches about the relationship between peace and being sons and daughters of God:
Blessed are the peacemakers, for they will be called sons of God.
Nowhere in the realm of humanity can this verse be taken more seriously than in parenthood. As parents, we are the image to our children of what it is like to be a son or daughter of God. Jesus tells us that sons and daughters of God are to be peacemakers. How fitting it is to be given such a directive when we all strive to produce peaceful homes. What type of peace is Jesus talking about? In the Beatitudes, every verse is related to our condition as humans in respect to our God and the gospel. Paul explains this relationship between the gospel and peace in Romans 5:1–2:
Therefore, since we have been justified through faith, we have peace with God through our Lord Jesus Christ, through whom we have gained access by faith into this grace in which we now stand. And we rejoice in the hope of the glory of God.
The first real peace experienced by the Christian is peace with God. Notice that Paul does not talk about having the peace of God or in God, but talks of peace with God. This implies that before being in Christ, we were not at peace with God, but were enemies of God and thus against God. Paul explains that we only access this peace through Jesus Christ and faith in Him alone. Faith in Christ not only reconciles us to peace with God, but also extends to us the hope of a glorious future with Him. It is this hope, worked out in our life, which brings great internal peace.
As children of God, Christ is telling us that we are responsible for being peacemakers, and that the only true peace that can be known in this world is through Jesus Christ. God the Son has reconciled us to the Father who has adopted us into an eternal inheritance. That is scriptural truth, and with that comes incredible relational realities!
This peace from God is in great contrast to the world's understanding of peace. The world is willing to seek peace with other men through a warped sense of tolerance; and then they demand that we simply accept the lifestyles and views of others. That is not something we can do. For example, if we, as Christians, tolerate the teaching of Islam, we tolerate a teaching that is at war with God. When we tolerate the homosexual lifestyle, we tolerate a lifestyle that is absolutely contrary to the design of God. When we tolerate Darwinian evolution, we tolerate a philosophy that denies God. We are commanded to attempt to be at peace with all men (Rom. 14:19; Ps. 34:14), loving them in the name of Christ, but we are never commanded to tolerate the lies that are raised up against the things of God—in fact, we are called to go to war against these lies and to destroy them (2 Cor. 10:3–6).
This peace from God is in great contrast to the world's understanding of peace.
The world wants a peace, but it is an "at any cost" sense of peace . . . and they seek to find this peace through compromising God's truth. The Christian understands that there is no such thing as peace "at any cost." There is only one peace, and it is in Jesus Christ. We need to let the world know about this peace, as well as our Father's discipline to those that remain in disobedience. In His time, our God will bring eternal peace on this earth, and it will be at the greatest of cost to those who remain in His judgment—a judgment that will result in an eternal relational separation from God in a place where there is no peace.
Jesus tells us that peacemakers are blessed and will be called sons of God. As these sons and daughters, we need to understand the enormous task He has given us—especially as parents. In today's terms, Jesus is telling us that we will live a fulfilling and joyful life when our passion as parents is in introducing our children to the only peace they can possibly know. This is peace with God through a personal relationship with Jesus Christ, accessed only through faith in Him (not the family). As Christian parents we have been adopted by God as His children. When our children personally know God as their Heavenly Father, they too are adopted by Him, and our children then become our brothers and sisters in Christ! Our new brothers and sisters in Christ then have their own responsibility as sons and daughters of God, just as we do before Him as well.
There is no doubt that God holds the family unit in high importance. He created the family unit, instituted it, and works powerfully through it. His Word gives clear and real guidance to parents and children alike. The family is the primary unit God uses to transmit His knowledge from one generation to the next and to the world around us. He uses the Christian family and His wider church to be the salt and light of the community abroad. Yes, it is very significant that God has given you children. Yet it is infinitely more important that our children become our brothers and sisters in Christ. Since the parent is the strongest model in a child's life, a parent's greatest responsibility is in being an authentic son or daughter of our great Father God. That's the second key component for building a godly legacy, because God has no grandchildren.
Key thoughts from this chapter:
A parent's greatest desire should be for his or her children to have a personal relationship with the Savior. Therefore, it is essential that our children understand the relational impact of God's Word and the truth it contains.
No one can be saved through the faith of their family. We each have our own responsibility to know and receive Christ. This must be clearly taught.
The role of every parent is foundationally evangelistic to their children.
Worldly peace comes with compromise at great cost. The peace of God comes only through Jesus Christ and the price He paid on the Cross.
Questions to consider:
In what ways do you see the connection between "truth" and "relationship" being exhibited in the lives of those around you? Would you say these examples are positive or negative?
In modeling an authentic relationship with Jesus Christ to our children, we must believe and live what the Bible says is truth about who we are as His children. Contemplate the following passages:

Galatians 2:19–20
2 Corinthians 5:17
Galatians 4:4–6
1 Corinthians 3:16–17
Romans 8:1–2

How would it affect your family if they saw you truly living by these relational truths?
How could you convey these same truths to your children? What kind of statements could you use to communicate the truth about who they are as God's children?
Resources and tools:
Ken Ham, From Creation to Bethlehem, booklet (Petersburg, KY: Answers in Genesis, 2005), 2nd printing.
Josh D. McDowell and Bob Hostetler, Beyond Beliefs to Convictions (Wheaton, IL: Tyndale House Publishers, 2002).
Bill Ewing, Rest Assured Faithworks (St. Louis, MO: Real Life Press, 2004). In this scripturally based book, biblical counselor Bill Ewing further investigates what the Word of God says is true about us as sons and daughters of God, and the phenomenal impact these truths have in everyday life.