And according to a recent poll of Tulsa residents (conducted by CBS affiliate, KOTV and Tulsa World), Hicks is not alone in his desire to see the Genesis display added to the zoo's other religious symbols, which include Ganesha, the Hindu god of wisdom, Tlaloc, the Central American rain god and various New Age displays. On November 9 the Tulsa World published the results of that poll which found that most Tulsa residents surveyed said they wanted a Bible-based exhibit at the Tulsa Zoo.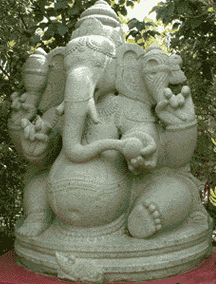 Ganesha display
Tlaloc display
Of the 500 people who responded to the poll, which asked the question, "Do you approve or disapprove of efforts to add a display on the biblical story of creation to the Tulsa Zoo?" nearly 59% of the people surveyed said they favor an exhibit at the zoo which explains the earth's origins according to the Bible.
Hicks, an AiG friend who spearheaded the efforts to get the Genesis display added to the Tulsa Zoo, offered his opinion on why the park board reversed its earlier decision in June 2005 that approved the display.
"I believe the park board bowed to financial special interests rather than respecting the creationist view held by the majority of Tulsa taxpayers," Hicks said in the Tulsa World article (November 9).
He added, "Many Christians see the hypocrisy of allowing Hindu idols, New Age philosophy, African theology, and Naturalism (evolution) while singling out the Genesis display for censorship as a slap in the face." He added, "The problem is that the Tulsa Zoo is run by a group of individuals who hold a radically different worldview than the majority of Tulsa taxpayers who happen to own the zoo."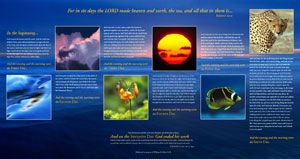 Genesis display (click image to enlarge)
While this issue seemed to have disappeared from the agenda of the park board's public meetings after the board had reversed itself and rejected the Genesis display, momentum among supporters had been picking up. Tulsa Mayor Bill LaFortune, the only board member to consistently support the Genesis exhibit, and several large Tulsa churches are among the display's supporters.
In a KOTV web article (November 16), Hicks said he hasn't given up the fight to include the display at the zoo. He added that when the "Christian community recognizes how foundational this is to their faith; they'll demand that this [the Genesis display] be included."
Christians who want to help get the creationist perspective equally represented at the Tulsa Zoo are encouraged to sign the online petition at www.CREATEzoo.org. For more information about the Genesis display, including images of the current idols and religious images on display at the Tulsa Zoo, see the Southern Plains Creation Society's website.
For a progress update on the Genesis exhibits being built inside the future Creation Museum by AiG–USA near Cincinnati, Ohio, go to www.CreationMuseum.org.