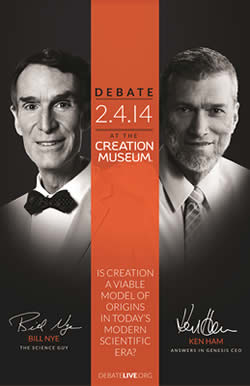 I am encouraged to hear of several Bible colleges and other groups planning to host live web streams of my February 4 debate with Bill Nye "the Science Guy" at the Creation Museum. I have also heard of many churches and even some Bible study groups that are going to use big screens in their auditoriums to show the stream coming from the YouTube website—and in high definition. This free web stream is utilizing the wonderful technology that is now available from Google+ Hangouts on Air, through YouTube. The website to watch the free debate is debatelive.org.
Why not arrange to have this debate shown in your college—Christian or secular—and make it an outreach to the student body, faculty, and the community? Or perhaps your church or Bible study could hold a Tuesday evening outreach on February 4. It could help build up the faith of the Christians you know, and it could also reach out to non-Christians who might be struggling over the question of biblical authority in today's modern scientific age.
Live Stream at Maranatha Baptist University
Here is a wonderful email that I received from a person associated with Maranatha Baptist College in Wisconsin, which will be hosting the two-and-a-half-hour live stream in the school's auditorium:
Ken, we at Maranatha Baptist University are excited to see the live streaming option for the upcoming debate . . . as well as at our three learning centers located in California, Maryland, and Lousiana.

As noted on your Facebook page, you are making the live stream option available to churches and organizations. We would urge you to emphasize Christian colleges—especially [those listed on] your Creation colleges list.

Maranatha Baptist would like to lead the way in this area. We have begun by posting your debate banner on our website and sharing it on our Facebook page (over 10,000 strong) and through Twitter and other means. We are confident that our student body would rally behind this event and would help us draw a crowd to our campus on your behalf.

We believe it will take one college to step forward with this idea and others will follow suit.
Other Christian Schools Participating
Liberty University
Dr. David DeWitt, chair of the biology and chemistry department at Liberty University (Virginia), told us, "We've reserved a room for the live stream of Ken's debate with Bill Nye, and we're heavily promoting it to our science majors and to students in creation studies classes, as well as to non-majors. We expect a great turnout, probably around 500–1000 students."
Piedmont International University
My friend Charles W. Petitt, president of PIU, wrote to us, "Please let Ken know that we are praying for him and all at AiG as the big debate approaches."
This person added the following:
Your college student audience grew up with Bill Nye "the Science Guy." They grew up reading [your book] "D is for Dinosaur" too. We need this generation of college students to be ready to carry the torch for biblical creation and we are doing our part in preparing them for the task.

We trust that many Christian colleges would consider the opportunity to support you by live streaming this debate on their campuses.
That was a real blessing and encouragement to read.
I have already heard of other colleges where the debate will be live streamed for students, faculty, and maybe outside guests. You can see the Maranatha Baptist banner advertising the debate on the top of the school's website.
Easy to Show in Your Church, School, Home, or Other Group
Because today's technologies are remarkable yet rather simple to use, most church sanctuaries, school auditoriums, and many homes can go right to YouTube and put the live stream into a projector, and then show it on a big screen—in high definition. Encourage your school, church, Bible study, or any group to make this a special outreach to the community.
If you attended a Christian college or have a family member who did, please contact the alumni office and urge the school to host a showing of the live stream (and then let us know). You can direct them to debatelive.org. By signing up now at debatelive.org, they will have the ability to test the streaming and receive any instructions to help in the setup process.
Your group is welcome to use the different promotional resources we have made available to help promote the live stream of the debate. While there, you can download high-res promo images to your computer and then print them out. In addition, you can post the presentation slides to your Facebook and other places.
Three of the most AiG-supportive churches in our area—Grace Fellowship, Calvary Baptist Church, and Florence Baptist Church—have been using these promotional resources to invite people to visit their churches on February 4 and watch the live stream of the debate. They have already been promoting the event and encouraging people to invite non-Christians as well. Here is what Calvary Baptist Church has as its web banner—maybe your church could do something like this, too.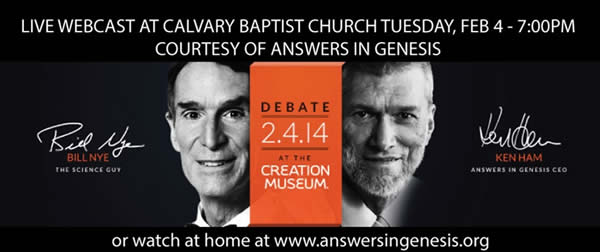 Watch and Pray
Again, the website for the February 4 debate is debatelive.org.
This debate has attracted wide national and international media attention. Christians and non-Christians alike are showing incredible interest in watching what Bill Nye and I will present. I am also asking my friends to be praying that God will use this time to challenge many people concerning the truth of His Word and the saving gospel.