The AiG team is currently in Hyderabad, India. Our purpose here is for me to give a number of presentations that will be videoed and translated into Hindi and Talagu so that the basic AiG messages will be available to the Indian people.
POPULATION
The population in India is over 1 billion people! Think about it—around four times the population of the USA in about one fourth as much land! There are people everywhere! Having been experiencing Hyderabad, I can't imagine what much-more-crowded cities like Calcutta and Bombay must be like.
Once the AiG videos are produced in the Indian languages—and now that we already have them in Spanish and Chinese—we will be able to potentially reach a significant proportion of the world's population (Japanese next year, Russian the year after).
RELIGION
The main religion of India is Hindu (with a lot of Muslims) and about 2.5% Christians (which is a bigger percentage Christian than my homeland of Australia).
LEADERS MEETING
On Thursday evening I spoke to a gathering of Christian leaders, some of which are in quite high positions of authority in the State—one being in legislature and another who was the top security person for the state, having supervised the security for President George Bush when he visited.
MESSAGE IS VERY NEW
From comments I have heard already, the basic AiG "relevance" message is very new to the church in India. One well-connected leader, on entering the place where I spoke, said that because of all she had been taught previously, her faith in the Bible, in her own words, "was shattered." She responded extremely positively to my message and asked for more resources to be sent to her.
CONFERENCE BEGINS
I write this blog the day I will commence the main conference (Friday evening). It is being held in a church, and those who will be attending will primarily be Christians. A number of seminaries and Bible colleges are bringing their entire student body and faculty. People are coming from all across the nation. This is being considered a very significant event in the Christian church in India.
CREATION GROUP IN CALCUTTA
On Thursday evening, I met a man who heads up the ONLY creation organization in India that we're aware of (based in Calcutta). He was inspired to form this group because of Dr. Andrew Snelling of our staff. It is quite a story about how this came about, which he shared with me. Andrew may not know the legacy he is leaving in India through this man.
SUNDAY SERVICE
On Sunday morning, I will speak to 2500 people (through a translator) at the morning service of this church. Most people will never have heard a message like the one I will give on the relevance of Genesis and answering some of the most-asked questions.
SAME PROBLEM IN INDIA
The same problem exists in India as it does in the rest of the world—students at public schools and universities are being taught evolution and millions of years. The younger generation is asking questions about these topics, but the church by and large here doesn't have the answers.
UNIVERSITY PROFESSOR
On Thursday night I met a university professor of zoology who is thrilled I am here. He said the church needs to be told what is wrong with their Sunday school teaching and other things. It is the same problem as in America—kids learn Bible stories but don't know how to defend their faith, and yet these kids all know about evolution and millions of years. They don't have answers.
FREEDOMS IN THE PUBLIC SCHOOLS
It is amazing to me that prayer, the Bible, Christianity, etc. have total freedom in the public schools in India (along with Hinduism, Islam, etc). It appears there is MUCH more freedom to share the Christian faith and teach the Bible in public schools in India (a pagan country) than there is in America (a supposed Christian country). Some of the Christian church and state leaders I met on Thursday expressed utter dismay at what they see as the lack of Christian freedom in America. They know all about it from the TV news they watch, and they can't believe this is happening in America. They can't understand why a pagan country like India has such freedoms in the public schools yet America doesn't.
DON'T DRIVE
Frankly, I could never drive in India. (Overall, this is a very, very different culture.)  The traffic, motorcycles, three-wheel taxis (motorized rickshaws), and the congestion on the roads was a culture shock. I have no idea how our driver has managed to get where we were going.
This is all something I can't fully explain. You have to experience it—I have NEVER experienced anything like it.
PLEASE PRAY
Please pray for the meetings today, Saturday, and Sunday. Pray for the equipment to be in good working order. Here are some other prayer points:
Pray for the weather. It has been raining heavily, and many people coming to the conference will be riding bicycles and scooters and may have challenges getting here (it is a different world here).
Pray for available electrical power. Because of a drought, the hydro power stations have not been running all the time. The power kicks in and out. Also the power is not consistent. Our video crew rented a generator to use at the church for the videoing equipment because the normal power can't be trusted. Also, they had to purchase a few hundred extra gallons of diesel, as diesel is in short supply right now. There are all sorts of things we would not even think about in the USA to ensure a successful conference in India.
Pray for the health of the team. We are all doing well right now—but very careful to drink only bottled water and eat at the right places.
Pray for the people coming to the conferences that they will understand the messages.
Pray for our translator. Initially, I was going to give my talks only in English, but after arriving, the decision was made to have a translator translate into Talagu (though most people will understand English). This may change depending on who is at the conference—things change daily (hourly sometimes!). I am kept on my toes! I have already reworked my talks twice to accommodate different circumstances, and this may happen again once or twice!
The people who are taking care of us are wonderful. Please pray for them and for their witness in India.
PHOTOGRAPHS
I have included a number of photographs just to help you understand where we are right now:
1. The AiG group and our Indian contact—and his helper—after we arrived at the hotel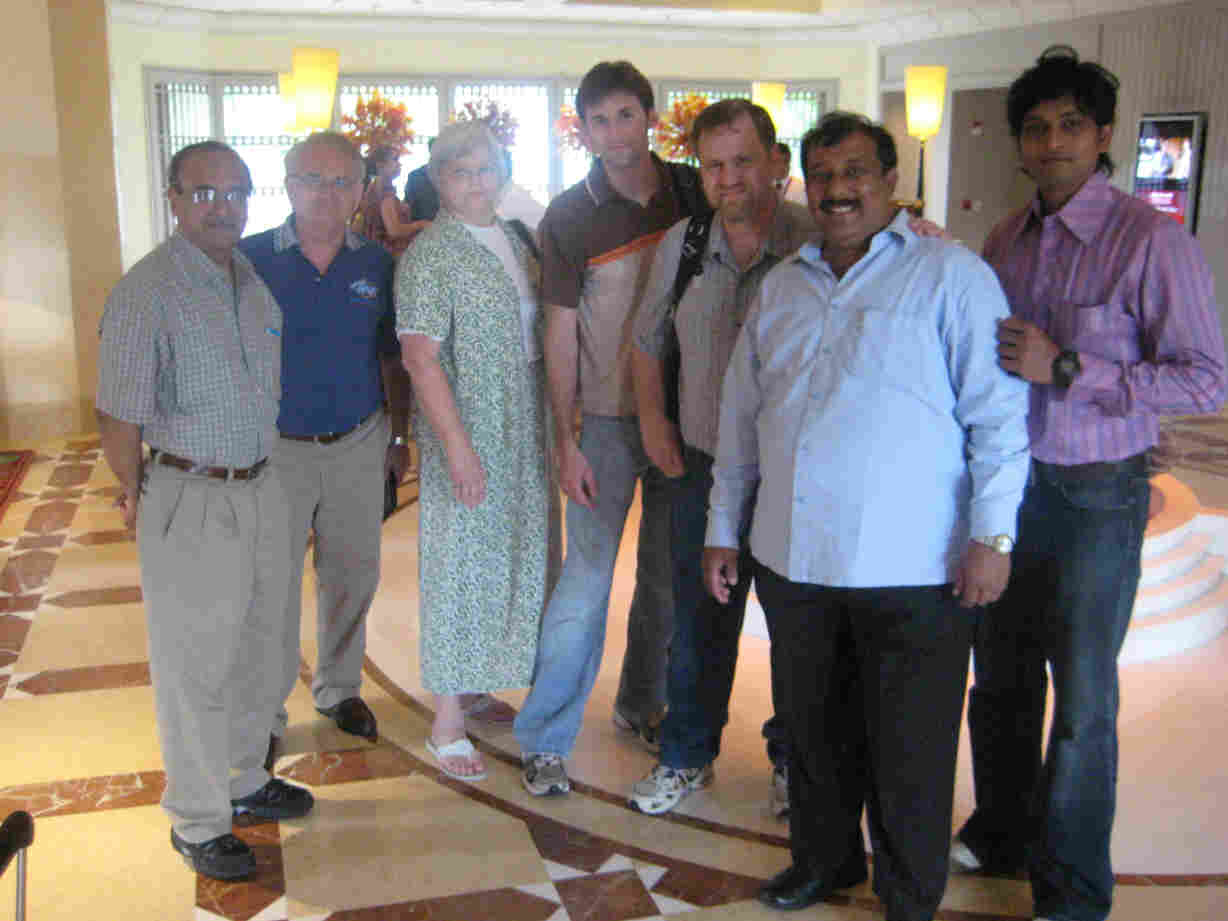 2. This well-dressed man helps me in and out of the car.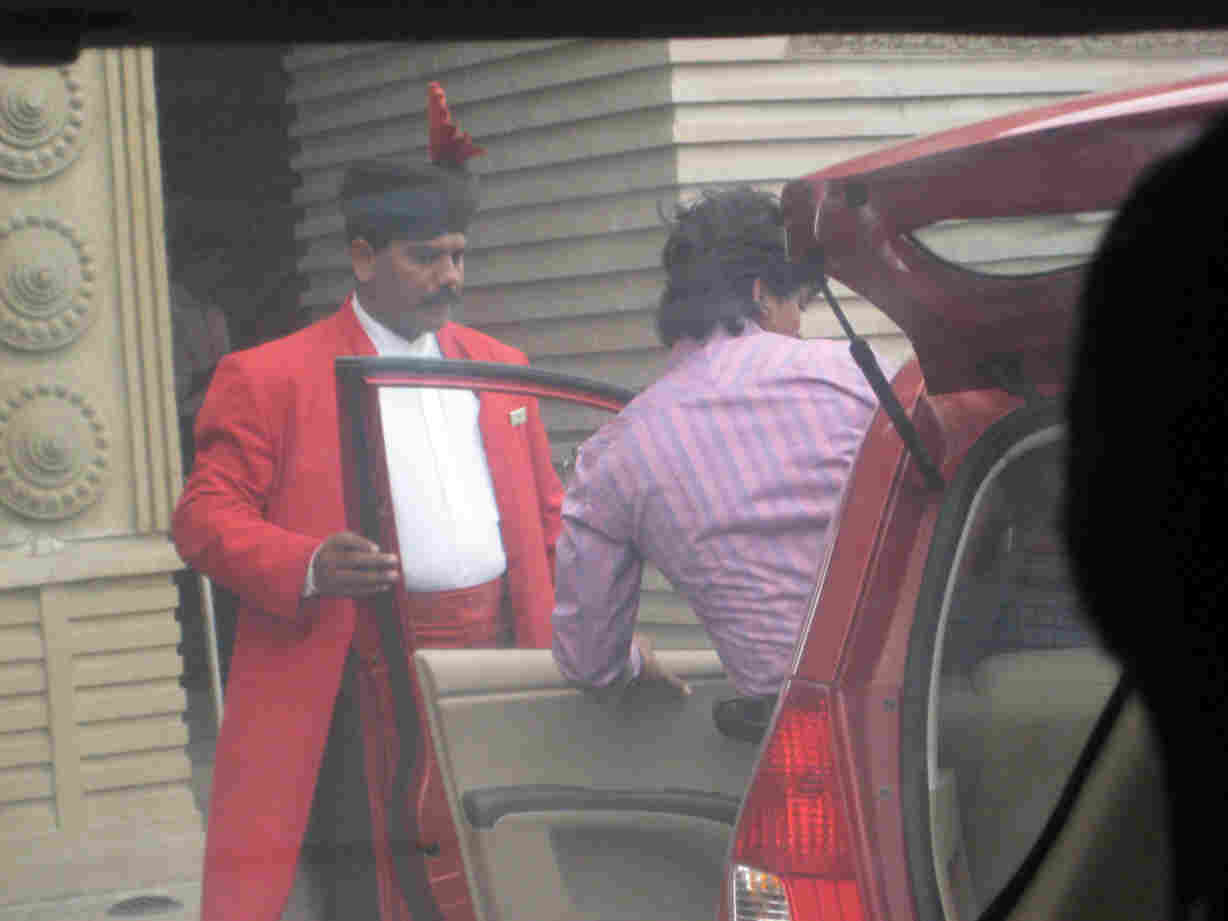 3. Interesting to see this sign about migrating to Australia (in a number of places in the city)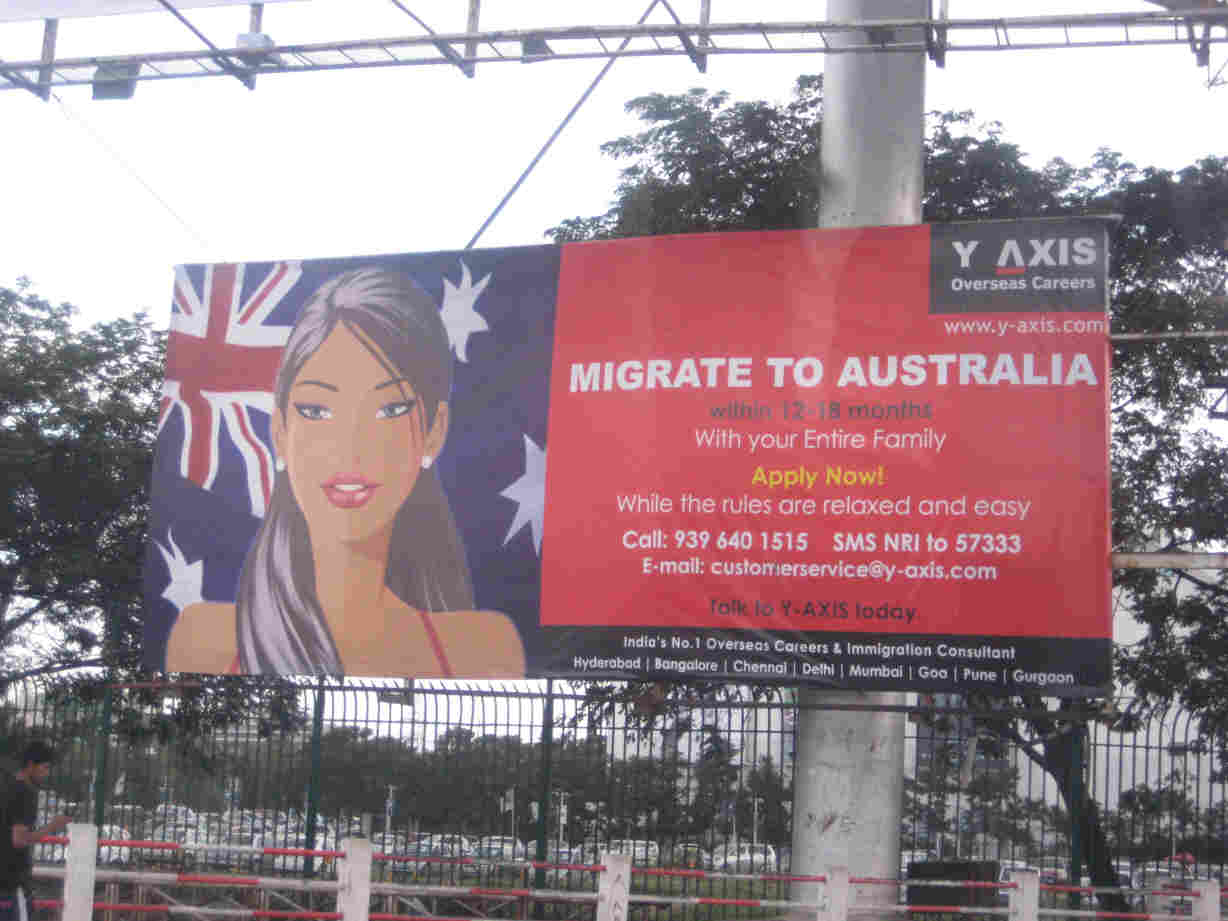 4. Look at this TINY bit of traffic and multiply it many times over to get a feel for what it is like as we drive.
5. The church where we will hold the conference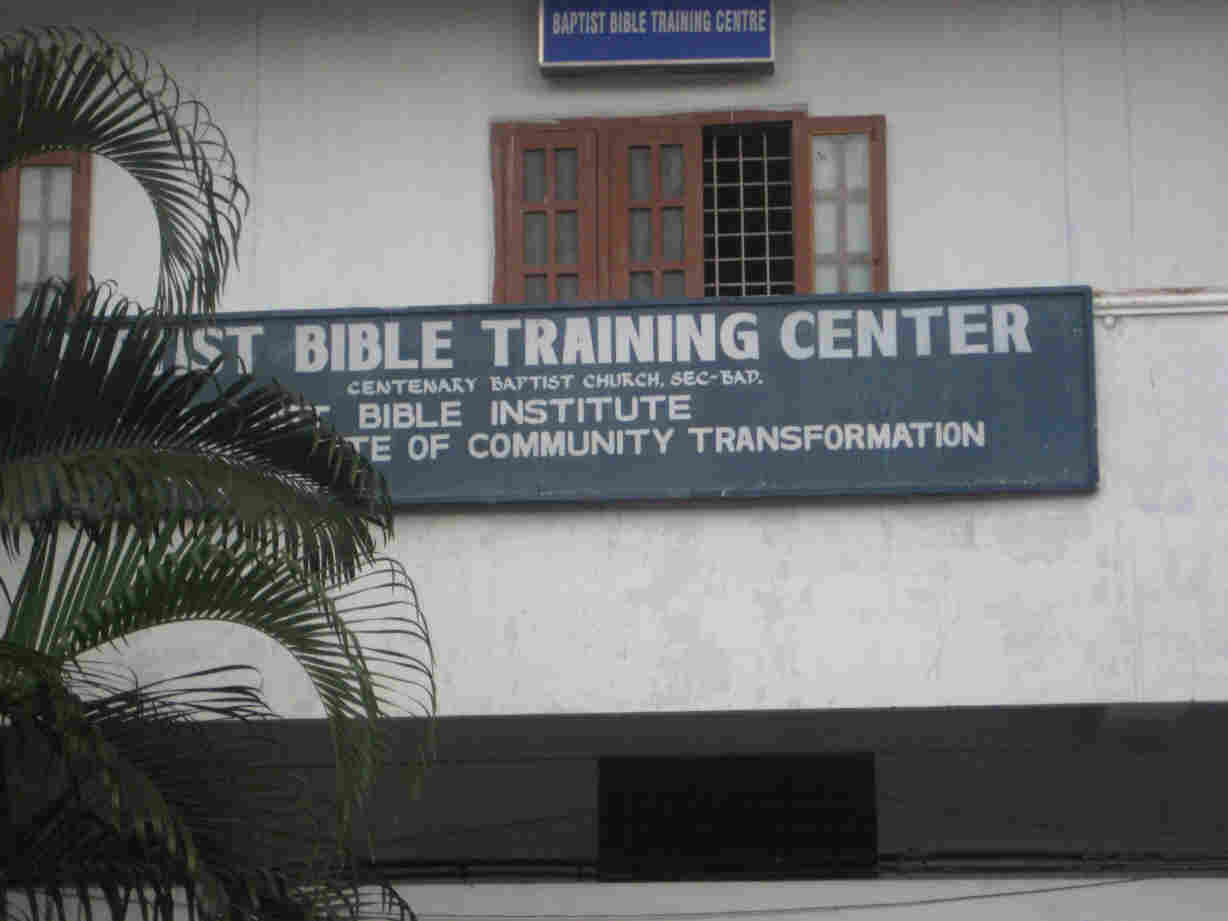 6. The church cross stands as a witness to this pagan culture. While we met with the church leadership for two hours, we had to put up with loud Hindu music blaring from across the street—it never let up.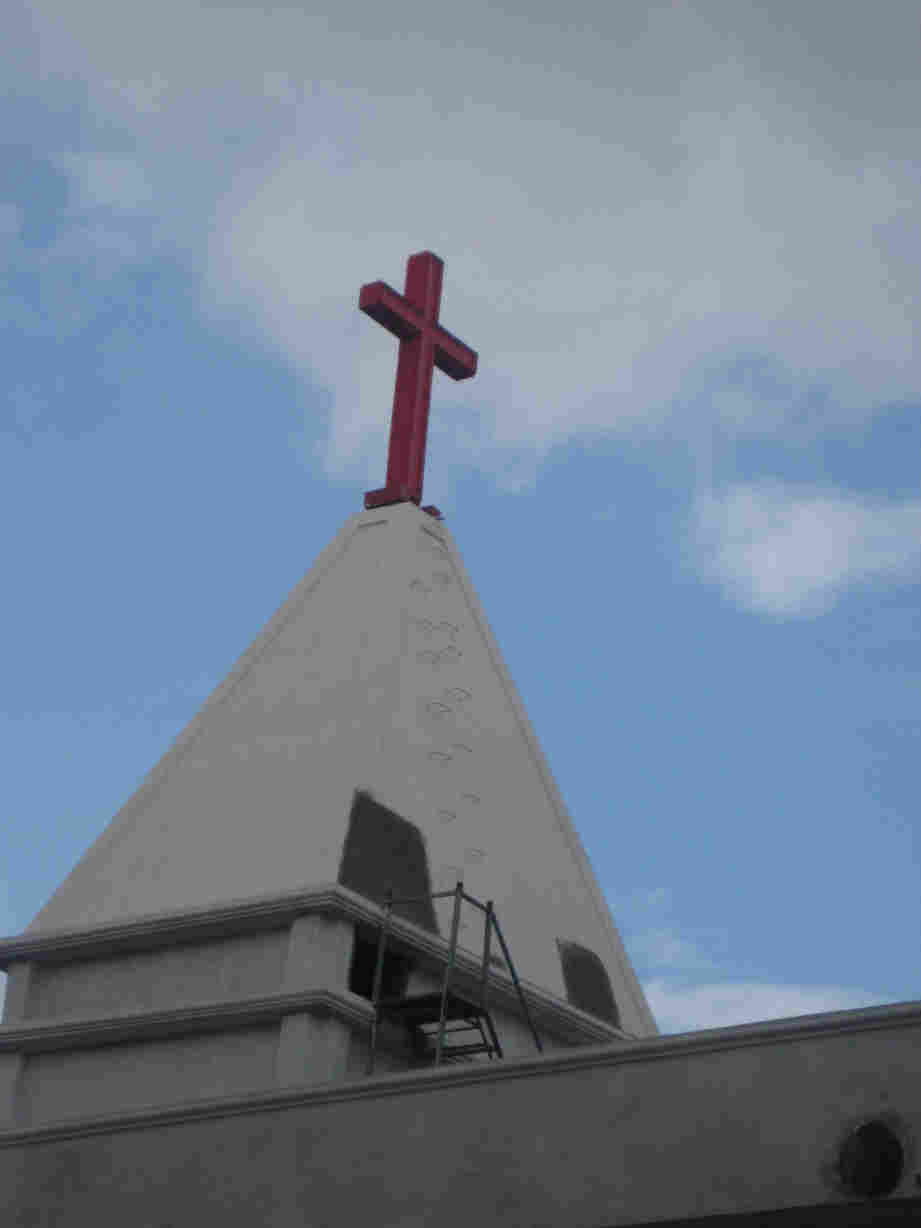 7. The church's bookstore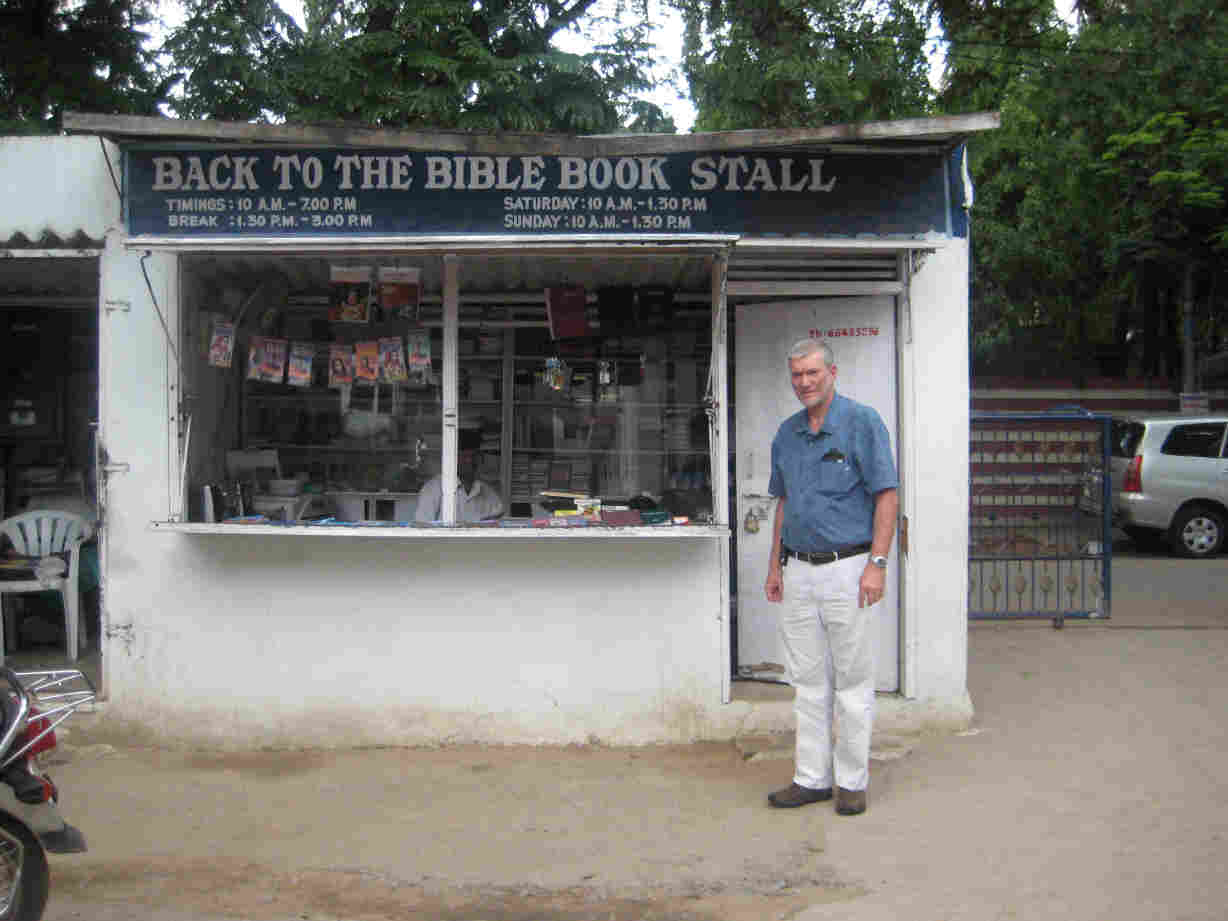 8. A close-up of the bookstore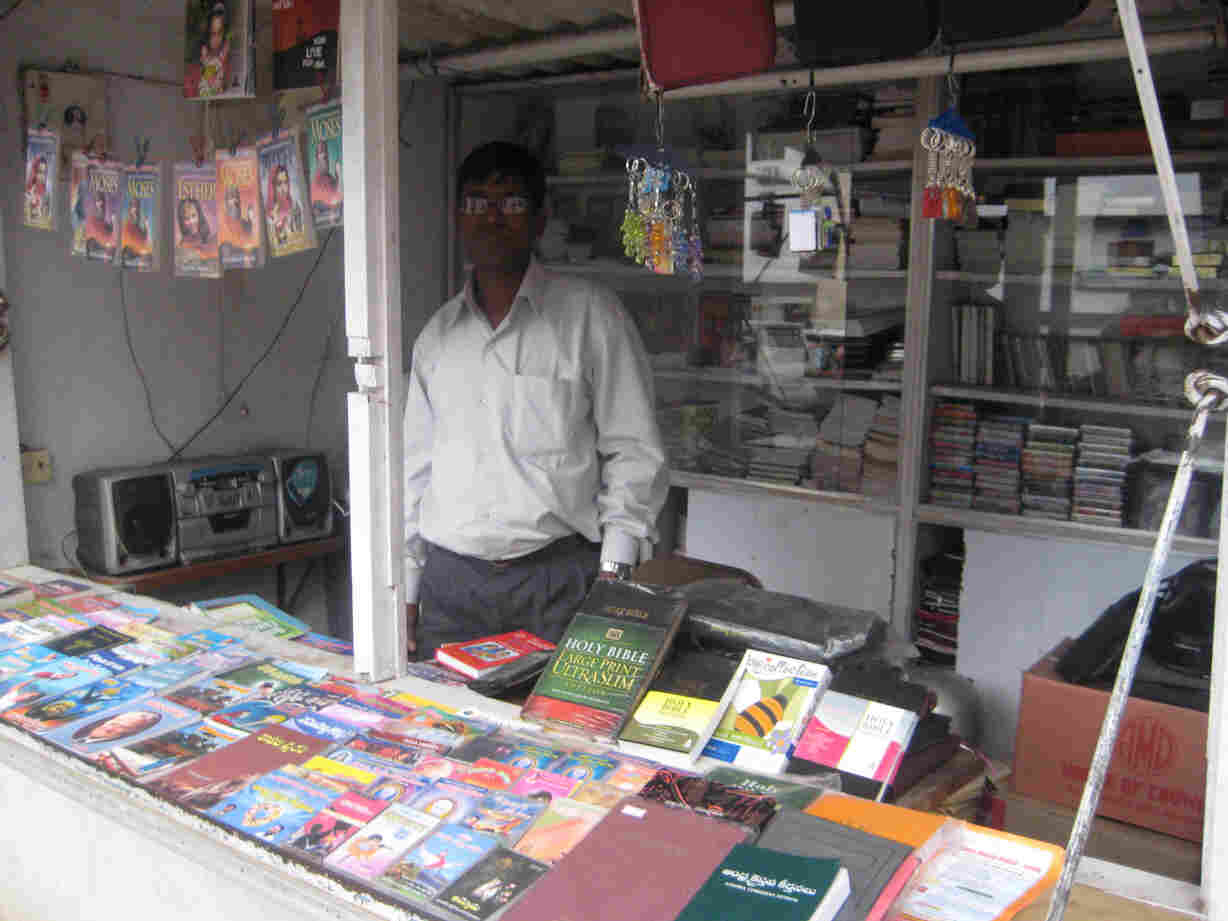 9. The advertising poster on the outside wall of the church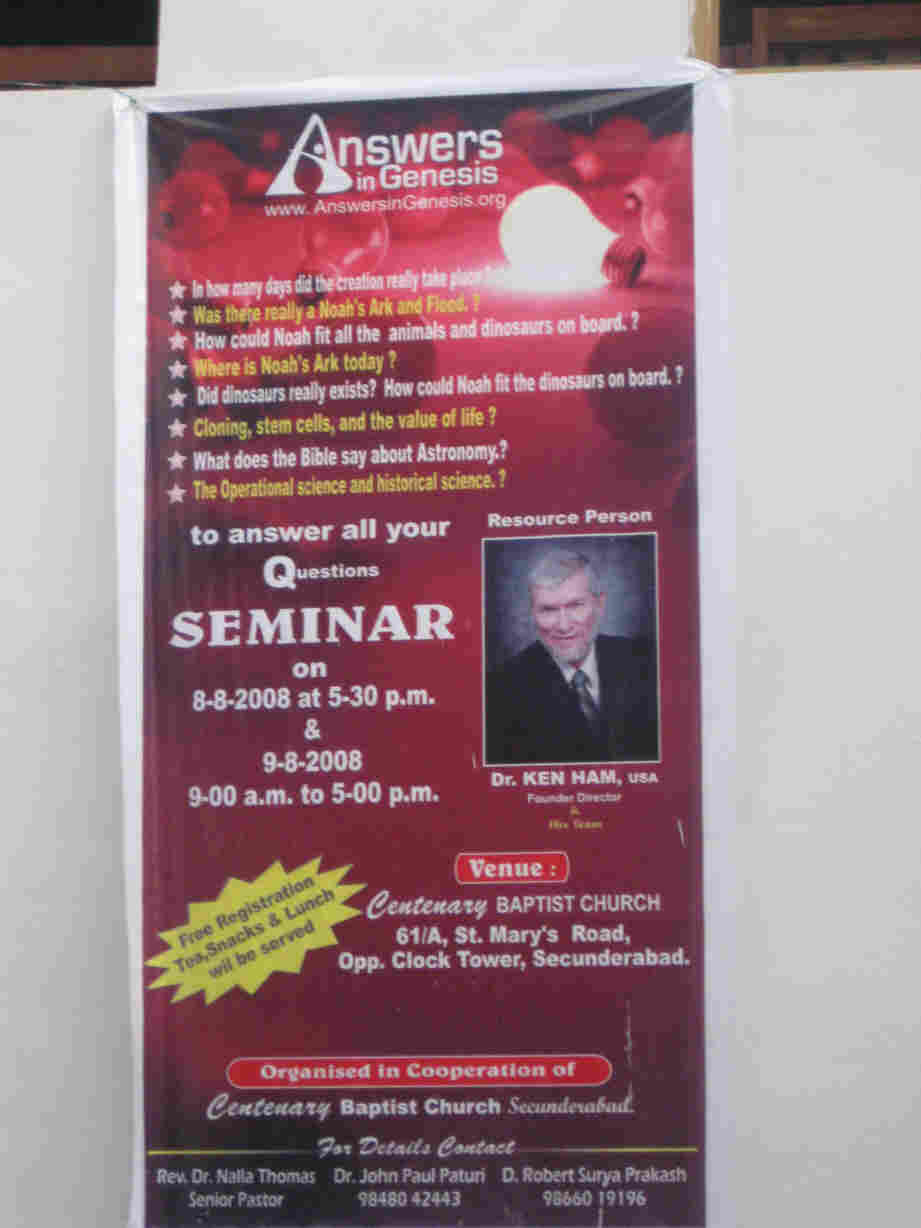 10. Painting the lectern for my lectures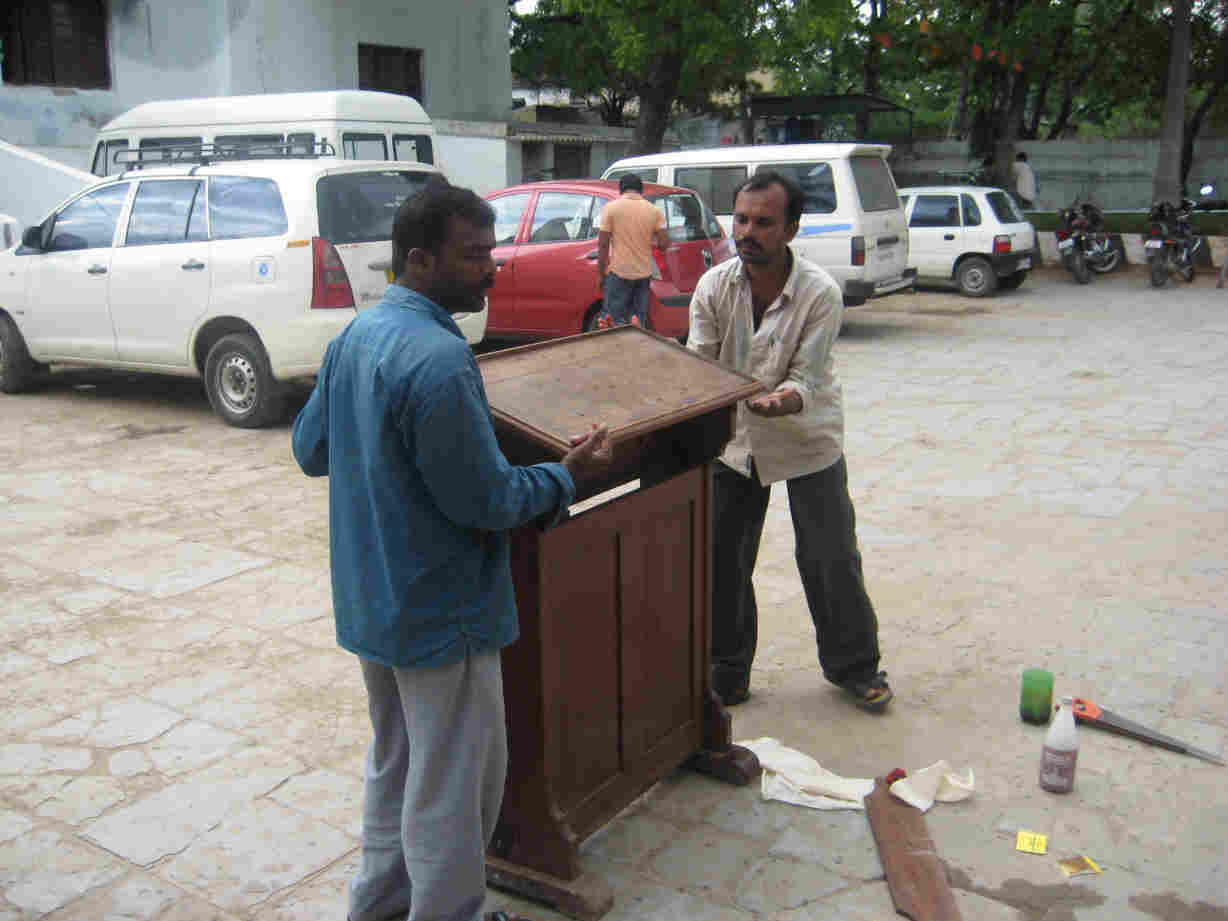 11. The sign in the auditorium for the Thursday evening presentation to leaders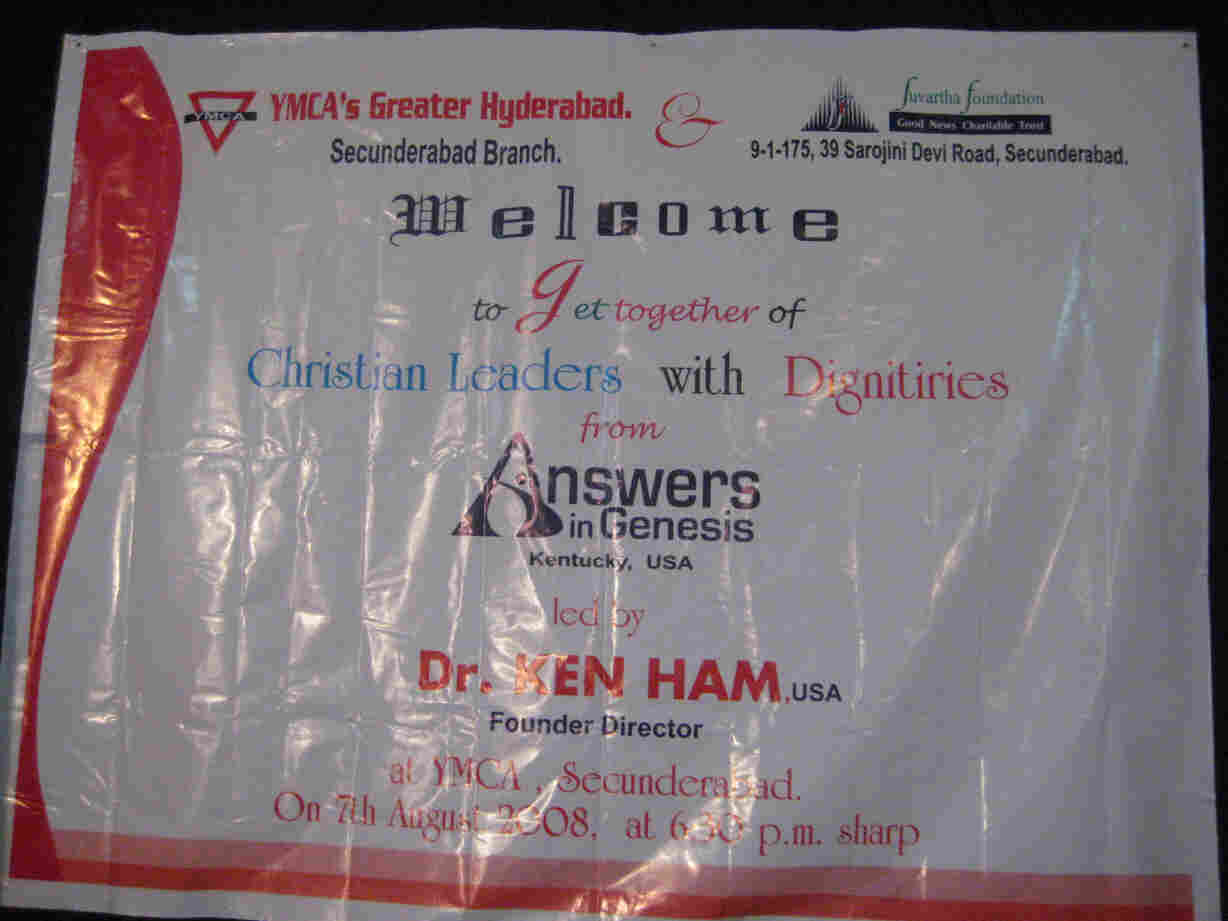 12. Note the sign said the meeting started at 6:30 p.m. sharp—we started at 7:15 a.m., Indian time!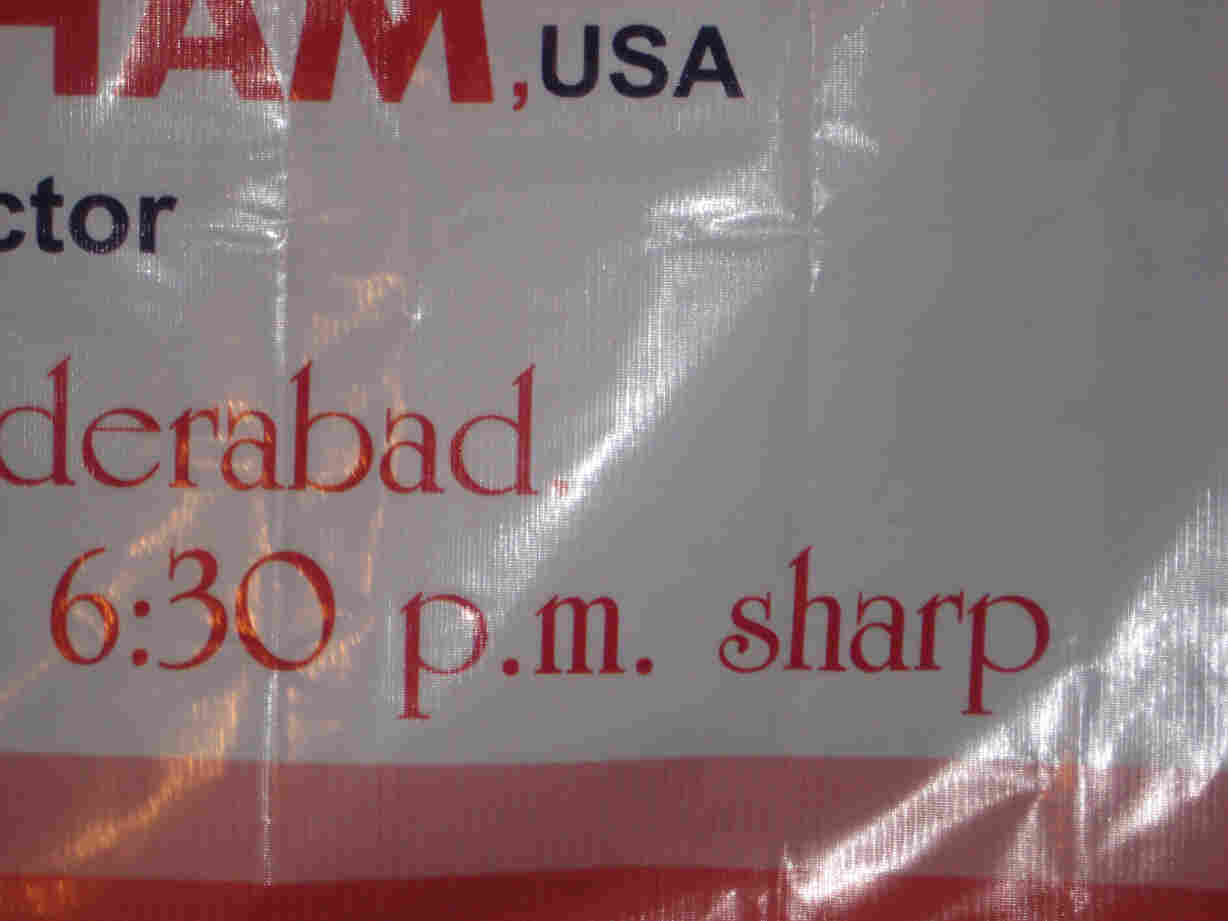 13. Paul Varnum (heading up our video crew from USA) holds the extension cord we were given for our projector!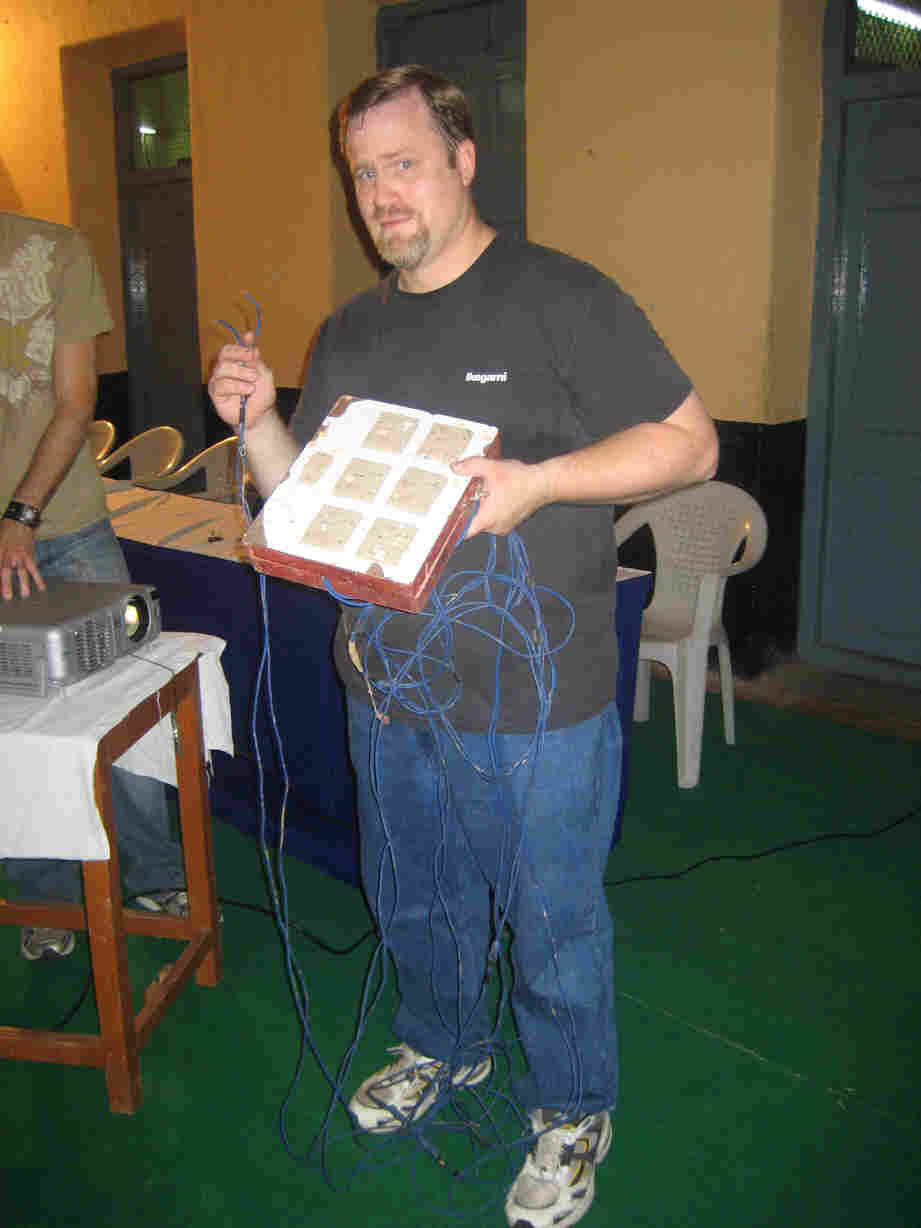 14. A close-up of the end of the extension cord, which they pushed into the socket—and it then blew up one of our projectors! We had to get another projector for the conference!  Oh, the woes of a sin-cursed universe.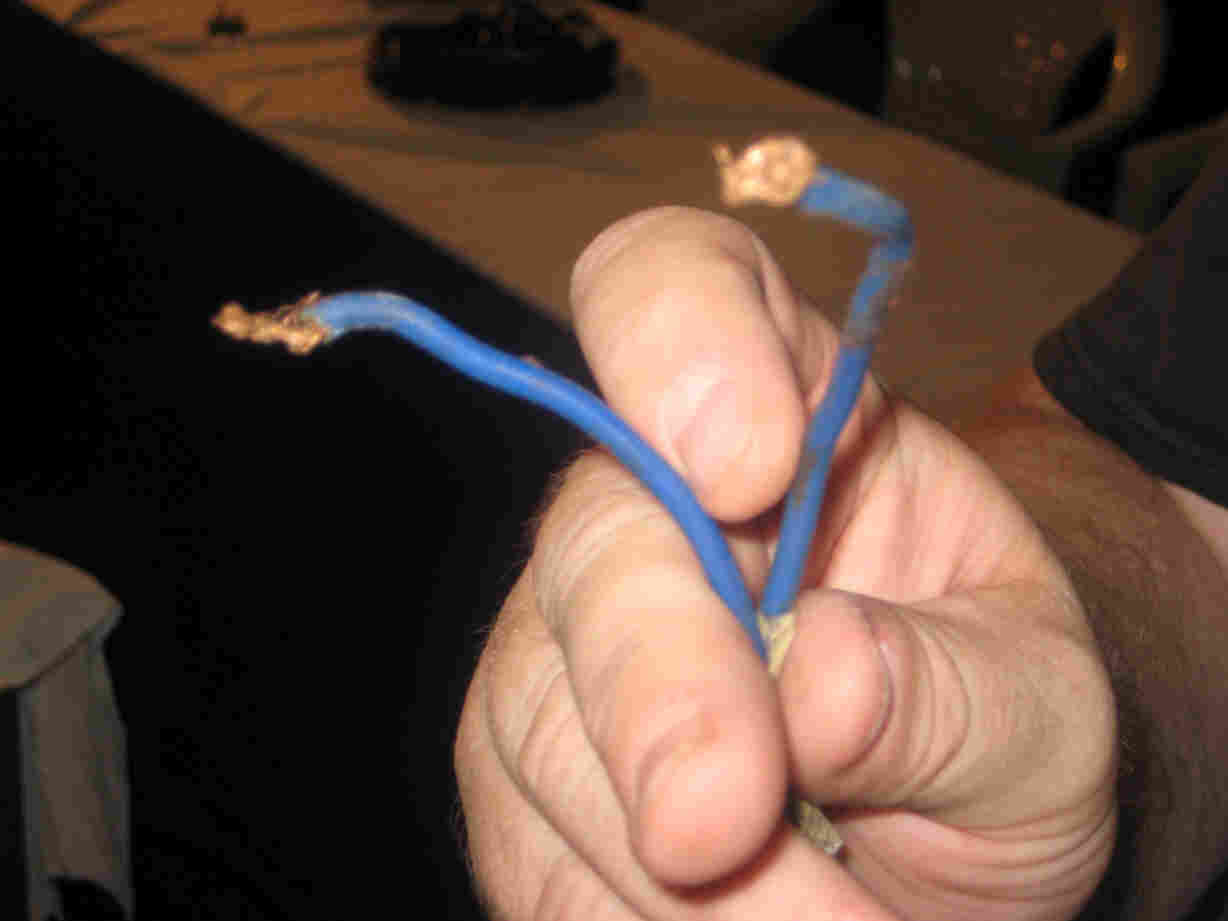 15. A picture of Thursday night's auditorium—taken at 6 p.m. "sharp"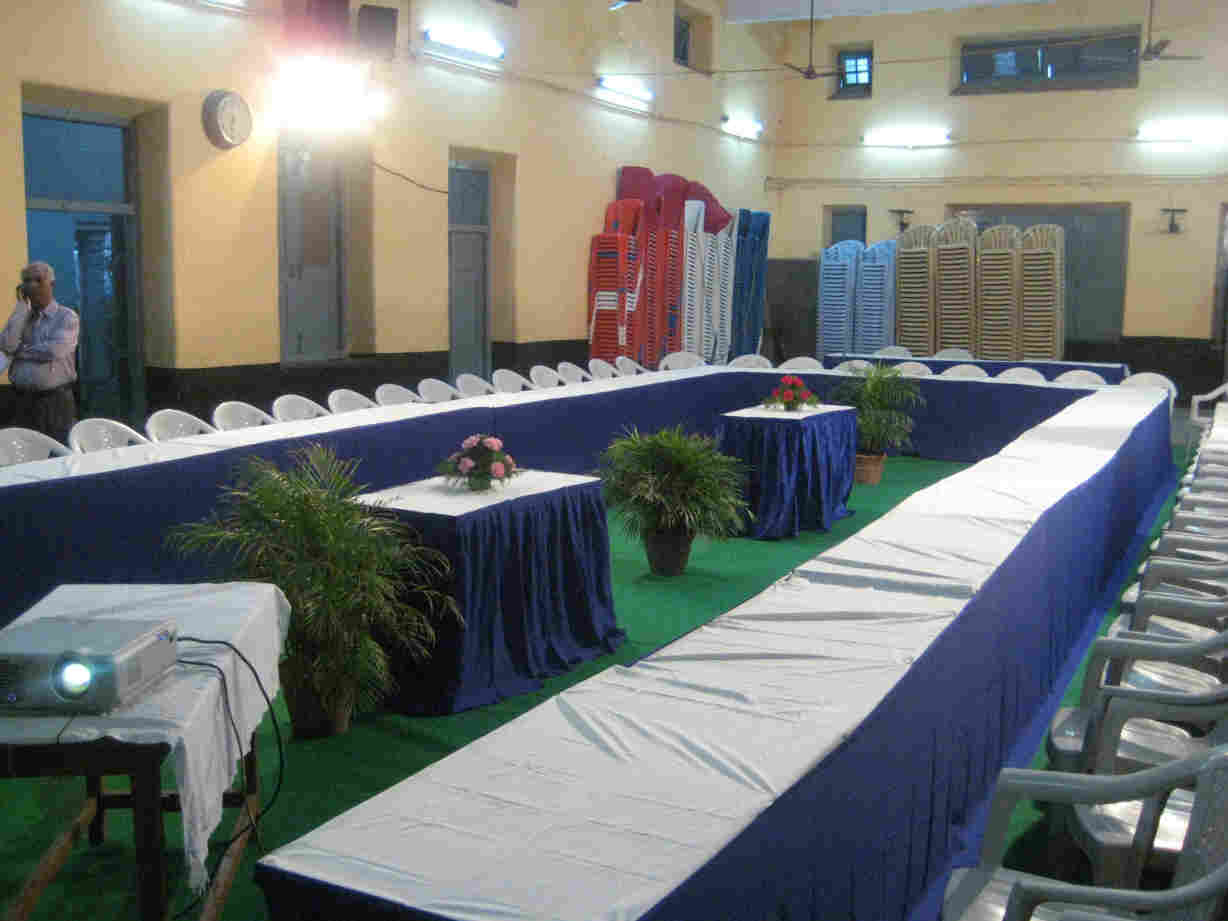 16.  A photo of the former Director General of Police and me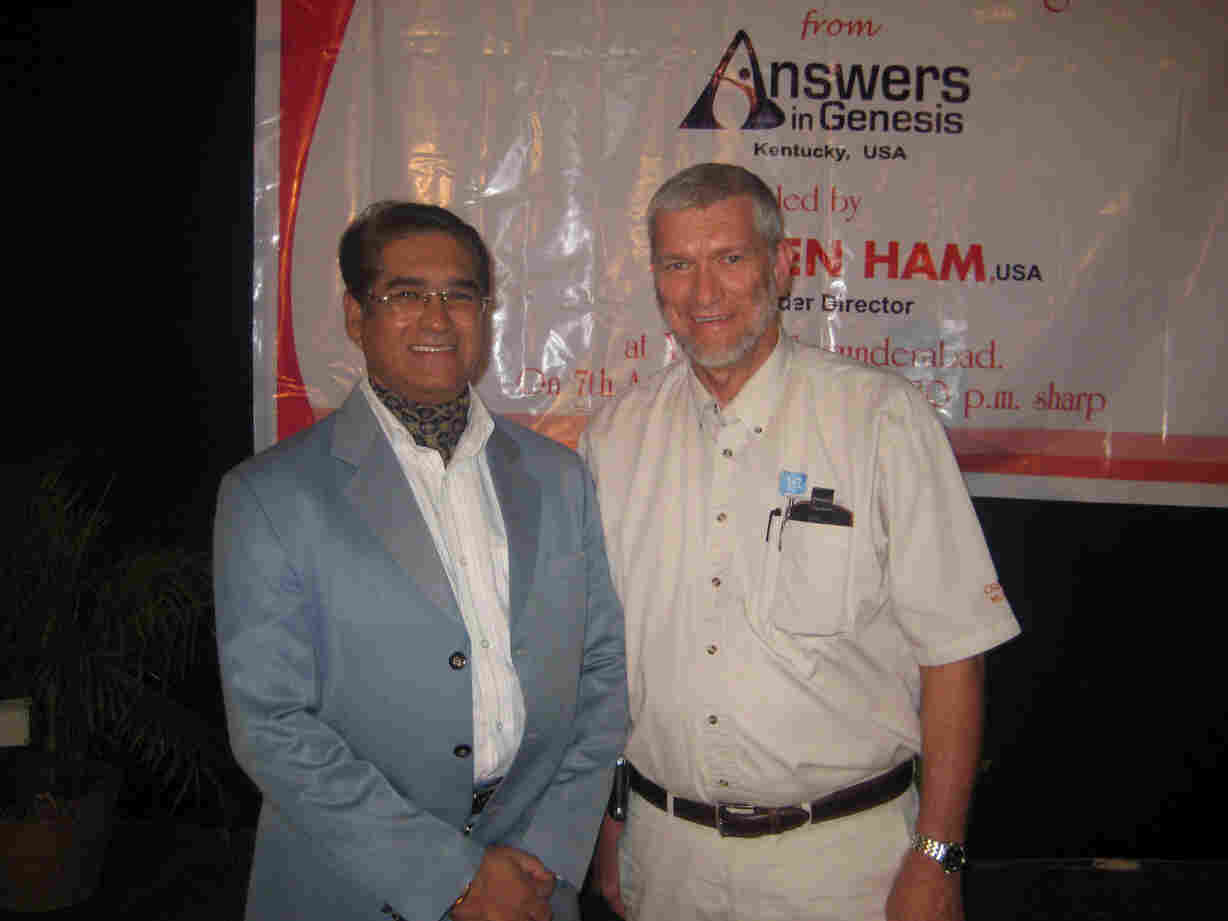 17.  Some of the local organizers with some of our AiG team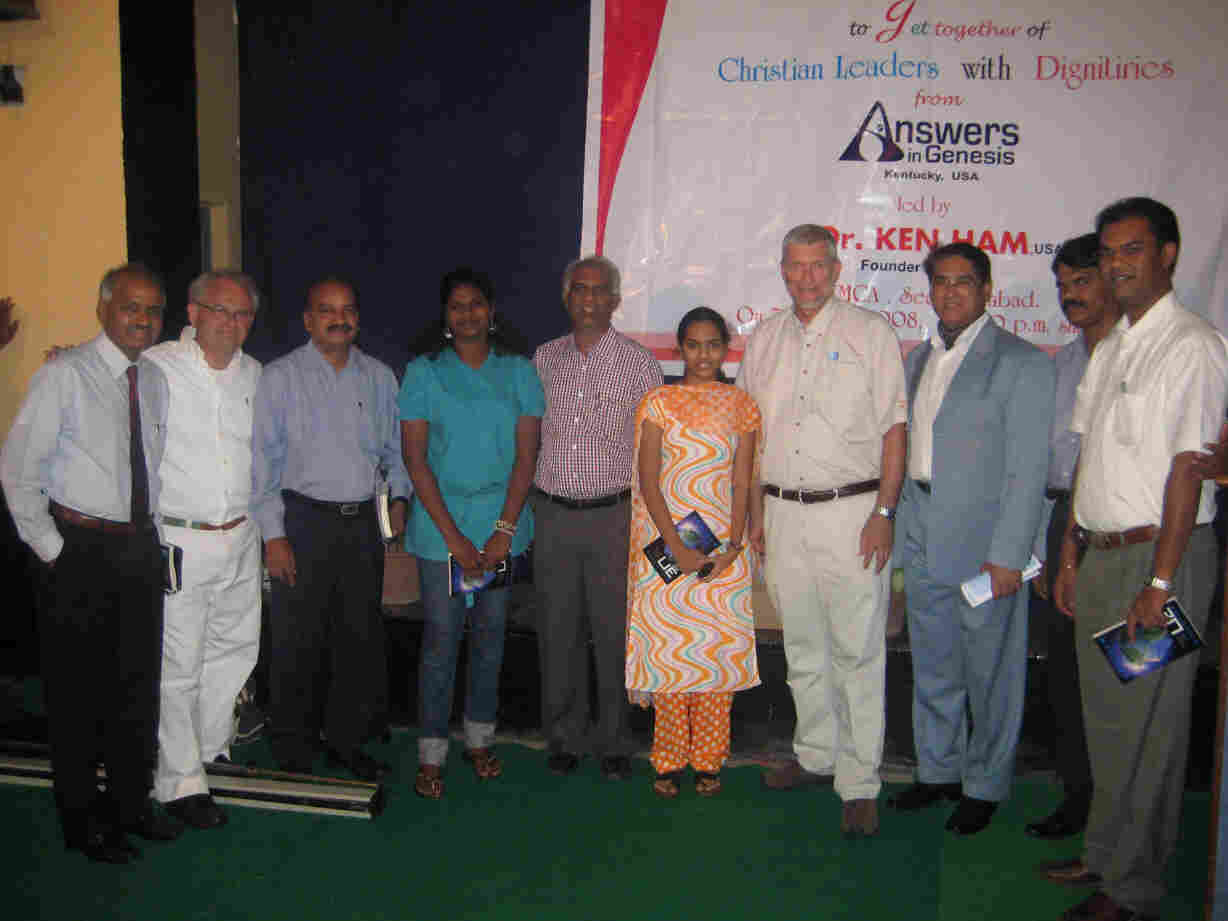 18.  The daughters of one of the organizers and me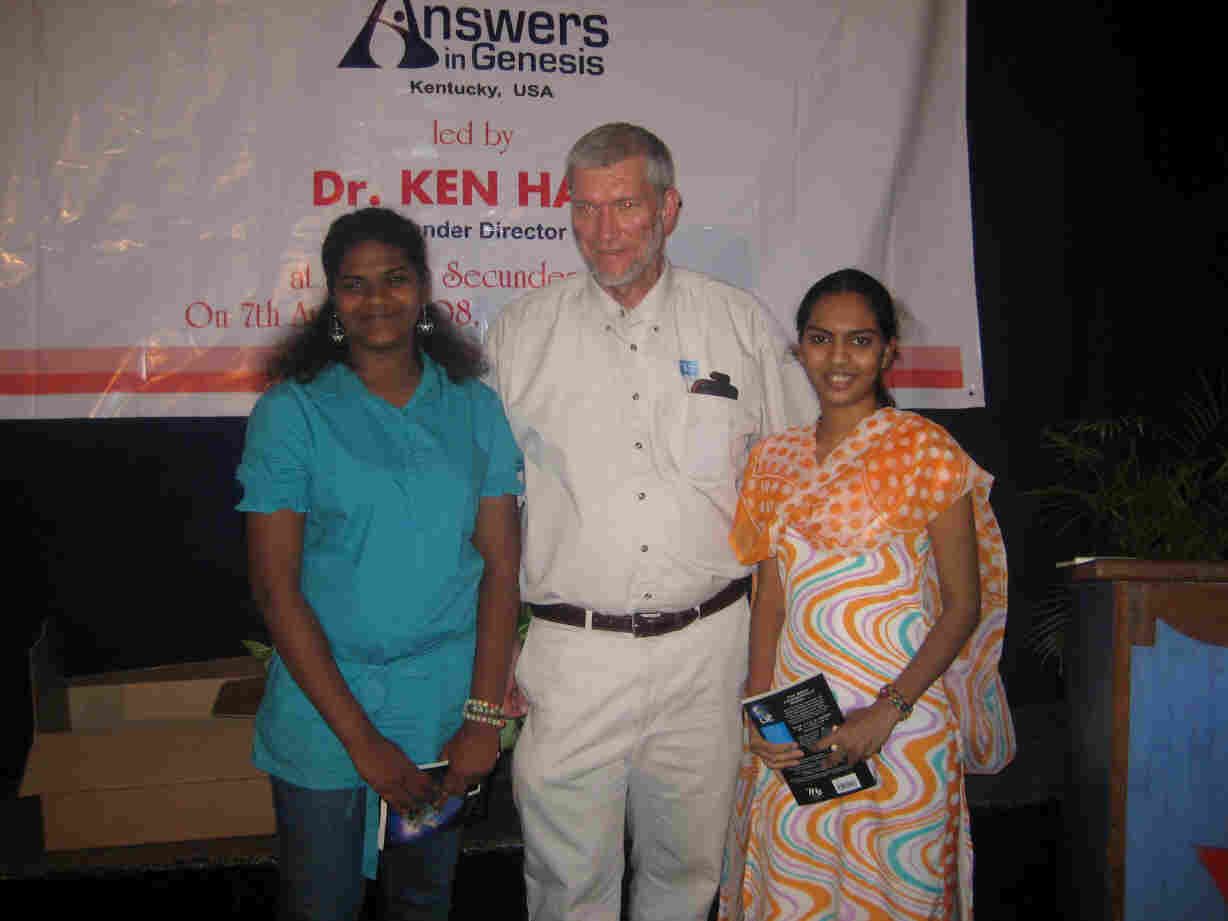 19.  They stayed around for ages asking questions.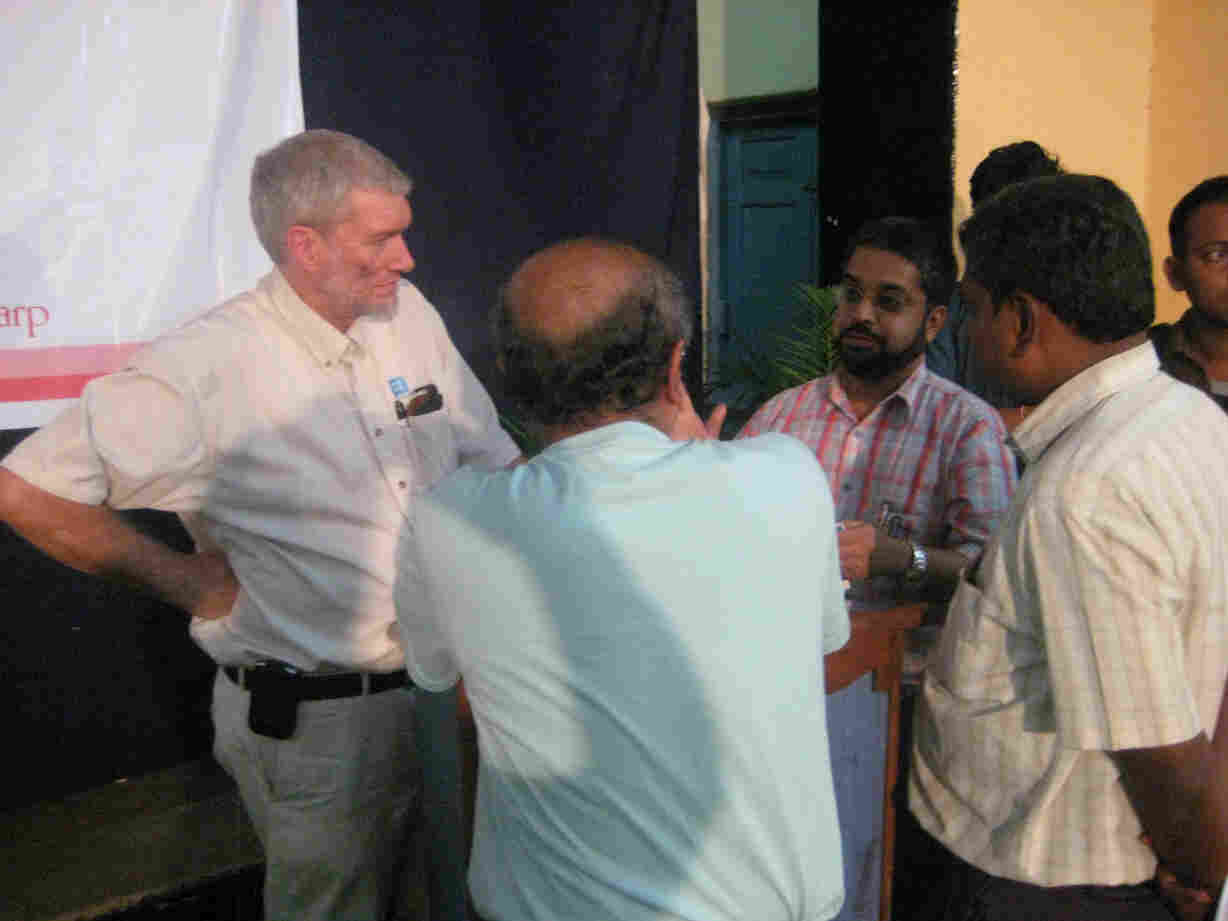 Thursday night was interesting. There was loud rock-type music from one side of our auditorium, the beeping of horns from cars and motorcycles on the road outside (they sound their horns all the time, it seems), and the noise of pouring rain—all while I spoke—but the PA system was loud enough, and they all heard me. The people are used to blocking out such noise.
Well—that is just an intro to the beginning of our trip to India.
Devotion
Never break

(Judges 2:1)  And an angel of the LORD came up from Gilgal to Bochim, and said, I made you to go up out of Egypt, and have brought you unto the land which I sware unto your fathers; and I said, I will never break my covenant with you.

Regardless of our failings, the Lord Jesus Christ will never break His promises to save, preserve, and be with us and one day deliver us into His presence.
Appreciate your
prayers
. . . and thanks for stopping by,
Ken