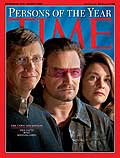 Every year since 19271 and at about this time, the international newsweekly Time magazine names its person of the year. With much fanfare (and with the promotional assistance of many other media outlets), Time annually features a "profile on the man, woman, couple, group, idea, place or machine that-for better or worse-has most influenced events in the preceding year."
While we don't wish to quibble too much over the unusual choice of naming three people ("Good Samaritans" they are called, to use the biblical term), singer/humanitarian activist Bono and entrepreneurs/philanthropists Bill and Melinda Gates (as named on December 18), we did not see any mention of one particular newsmaker who has been making news yet did not end up on any of the prospective shortlists of candidates bandied about in recent days (including Time's own shortlist 2 ). Maybe it has something to do with the fact that the person we're thinking of has been dead for more than 100 years (but is more influential than ever): Charles Darwin.
In 2005, Darwin's name was frequently invoked as the creation/intelligent design/evolution debate raged from coast to coast in America. Whether it was the teaching of origins in public schools (and corresponding school board battles on the topic3), ambitious new museum exhibits promoting Darwin and his beliefs, the efforts by science museums to handle the growing number of creationist visitors asking tough questions about evolution, an increased number of TV programs on evolution or the substantial coverage (some of it quite mocking, though) received by AiG's future Creation Museum (see National media "frenzy"), the "Darwin vs. the Designer" battle played a prominent part in America's culture wars all through 2005.
As Christians are increasingly attempting to reclaim the American culture for biblical truths and are also challenging the secular, evolutionary foundations of much of society, perhaps one day Darwin's visage indeed will appear on the cover of Time as person of the year. Or better yet, his antagonist will be featured in that way: a depiction of the intelligent Designer of the universe. Or as we would call Him: the Creator God of the Bible.