[Spoiler Alert: This review contains some spoilers. Those who wish to have none may want to read this review after seeing the movie.]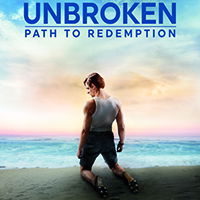 Unbroken: Path To Redemption, releasing in theaters September 14, 2018, is based on the incredible true story of Louis Zamperini, an Olympic runner and WWII soldier and POW. Zamperini's story is told in the New York Times bestseller, Unbroken, and was adapted for film in the 2014 Oscar-nominated film by the same name.
The 2014 movie by actress/filmmaker Angelina Jolie focused on the first half of Zamperini's dramatic life story, depicting many sequences: running as a teenager in the 1936 Olympic Games in Berlin, surviving a military plane crash over the Pacific during WWII, spending 47 days floating at sea, being "rescued" by Japanese soldiers, enduring a few harrowing years in a torturous prisoner-of-war camp, and eventually experiencing liberation at the end of the war in 1945. Unbroken: Path To Redemption, produced by Pure Flix,* Universal 1440 Entertainment, and The WTA Group continues this remarkable journey with Zamperini's return home to the United States.
Zamperini's agony did not end at the close of the war. Soon after returning to safety, he began to suffer from what we now know as post-traumatic stress disorder. Often when he closed his eyes, he was tormented by nightmares and flashbacks to his time under a cruel, violent prison guard. On the outside, everything looked wonderful; Zamperini was a war hero with a bright future, well-known as a former world-class athlete, but inside he was tormented and looking for relief in all the wrong places.
"God is My Enemy"
Christians will be encouraged by this true story as Christ the redeemer is exalted and glorified. Although the gospel message is not explicitly stated, the dramatic change that Christ and repentance brings is impossible to miss and is glorifying to God.
Christians will be encouraged by this true story as Christ the redeemer is exalted and glorified.
Throughout the film, as Louis continues to suffer, he questions God's goodness, even claiming "God is my enemy." Sadly, none of the Christians in the film gave Louis good answers to his questions about suffering. (We encourage believers looking for a biblical answer to this question to read How Could a Loving God…?) However, the overall plot and resolution of the film shows clearly that God is not to blame for Louis' suffering. Rather, Louis himself, and other sinful human beings who have hurt him, are responsible. It's a stirring film.
One of AiG's co-founders, Mark Looy, grew up near Zamperini and met him in the early '70s and heard his thrilling testimony. Mark says: "Zamperini's life continued to be highly dramatic beyond where the Jolie film ended. In some ways, it's as riveting a story as what he went through in WWII as a POW and in the Olympics as a world-class athlete. It's a goose-bumps testimony, and it includes an account of remarkable forgiveness that is astounding."
Notes for Parents
Parents with young children should know that Louis' flashbacks and nightmares, which are kept rather mild, may be intense for younger viewers. There is also quite a bit of drunkenness (but this is always presented as a problem, not something glorified in the film), with some mild violence such as shouting and throwing things. There is little objectionable language, with only one instance of a character angrily swearing at Louis using the "H" word due to his refusal to make any changes in his life. Also, several female characters are shown wearing old-fashioned bikini swimsuits. Please note the film has a PG-13 rating.
An Incredible Ending to an Incredible Story
Unbroken: Path To Redemption is an inspiring story, and a wonderful film to take unbelievers to, especially if they have watched the 2014 film Unbroken and are missing the ending of Louis' extraordinary story. Families and individuals are sure to be encouraged and pointed towards Christ as the answer to their turmoil. We encourage you to go and see this film!
*For full disclosure, AiG has a business relationship with Pure Flix's online streaming service, affiliated with the movie-making side of Pure Flix. See https://answersingenesis.org/blogs/ken-ham/2018/07/09/answers-genesis-content-now-available-pureflix/