When his young daughter faced serious challenges to her faith, Matthew Harding knew he needed to do something, and quickly. So he began telling stories.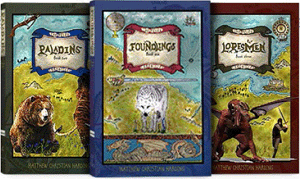 Matthew believes that stories are "an incredible teaching tool," so he used his storytelling talent to teach his children the importance of hiding God's Word in their hearts. He never imagined that his bedtime stories would blossom into full-length novels that God would use to encourage and teach other young people.
The Peleg Chronicles trilogy takes place during the days of Peleg, after the dispersion from the Tower of Babel. Holding true to the Genesis accounts of Creation and the Flood, the books spin tales of dragons, false priests, lords and ladies, swords, witches, and giants—without promoting magic, evolution, or humanism.
Matthew reinforces the fact that he is writing about a real period in earth's history by having his characters refer to biblical people who were alive after the Flood. He also makes them "keepers of God's Word," putting Scripture into their mouths as part of their dialogue. Each book concludes with one or two short Bible studies that are relevant to his stories.
"I pray a lot and I get excited about God's Word, and I have my characters speak it."
How does Matthew incorporate so much Scripture in his books without sounding forced or preachy? "I pray a lot and I get excited about God's Word," he says, "and I have my characters speak it. And I think God has helped me to make it flow naturally. If it's exciting to you, it will be a part of you."
At conventions where Matthew showcases his books, Christian parents and young people are thrilled to have good reading material that doesn't contain humanistic philosophy or occult elements. They tell Matthew that their faith has been strengthened reading about characters who depend on God and revere His Word, and they have been helped in their struggles with fear or pride.
Matthew began with a desire to fill his own children's hearts with the Word of God, but because of his faithfulness, God expanded his ministry to help others become "keepers of God's Word."
Visit www.MatthewChristianHarding.com to learn more about The Peleg Chronicles, dragons, and the Word of God.