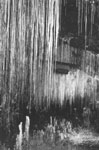 Click here
for larger image.
The picture was taken in late 1987 at level 5 workings in the lead-zinc mine at Mt Isa, in north-western Queensland, Australia.
At that time, the mine itself was only about 55 years old, which therefore is the absolute maximum age for all these stalactites.
About 55 metres (180 feet) above this level there is an aquifer (water source) in fairly porous dolomite, a rock that is usually quite dense. Slow, continuous seepage of lime-saturated water into the old level 5 workings was responsible for these formations.