Simply put, John King is in the ministry of changing hearts. A retired research chemist, John's passion is to tell young people and adults that the Bible can be trusted, from Genesis to the gospel message and beyond. In his retirement, Mr. King's main ministry consists of distributing AiG witnessing materials throughout western Pennsylvania, USA, to change hearts and lives.
Mr. King has already distributed over 12,000 of AiG's "foundation" cards (see sample below), and many thousands of our flood and dinosaur cards (see below) to young people. He has also purchased many AiG books in bulk to pass on to key Christian leaders—as well as skeptics—that he encounters.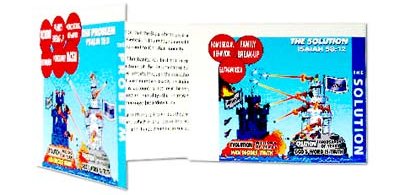 John is so passionate about the effectiveness of "creation evangelism" in reaching souls that he carries AiG booklets and cards (see photo of John, below right) wherever he goes. As he encounters a young person in a store, he will often present an AiG Genesis card—as well as a word of encouragement—to a young person (with the parent's permission).
In the materials he distributes, John makes sure that AiG's website is provided, as well as his own address and phone number if people want to follow up with him. Sometimes he creates labels to stick on the cards to promote special events in the region.
John has introduced his five children to the AiG ministry; in fact, one of them joined AiG and Gospel Literature Services for an evangelistic outreach at the Greek Olympics last summer. So now one of his own children has taken up the "creation evangelism" mantle.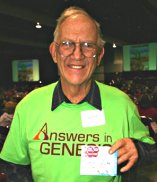 Another effective grassroots effort of his (and of many other AiG supporters) has been a campaign to ensure that our book Refuting Compromise gets into the hands of local church leaders, so that they can recognize and combat compromise in the church over the accuracy of Genesis. In fact, Mr. King purchases AiG books in bulk so that he can use the discounts he receives to buy even more copies, and thus is able to influence many more pastors and other church leaders to reject compromise and accept the full authority of the Bible.
One fascinating "success story" involving Mr. King occurred 2-3 years ago, when John shared a copy of AiG's Refuting Evolution with Mr. Phil McCaffrey. Phil himself was already becoming involved with the Creation Science Fellowship (CSF) of Pennsylvania (which cohosted AiG's major Pittsburgh conference in November). Here is Phil to recount the background:
"John approached me to pass out more books. It was through those books that I helped lead a coworker, Scott Hemphill, to the Lord. While I have taught creation for many years and give tours of the local science museum, John hounded me about giving out material, and one day I finally gave in."
Phil said that John had bought several cases of AiG's Refuting Evolution 2, and encouraged Phil to do the same. Phil gave in to John's tenacious and contagious enthusiasm. And here's what happened, as Phil recounts Scott's conversion:
"Scott was an ardent evolutionist, and a harsh and very outspoken critic of the gospel. l had already passed out an entire case of Refuting Evolution books, but had one book left—which I placed on my desk. I was hoping that the title itself would spark a conversation with a coworker. It not only sparked a conversation but a conversion, as Scott became a Christian by overcoming the "stumbling block and foolishness" of creation."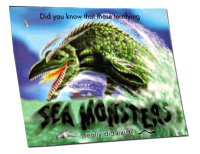 Seeing the impact of John's ministry, Phil, a former combat bombardier in the Navy's A-6 Intruder, was inspired to become more heavily involved in "creation evangelism," and is now the head of CSF's outreach and its speakers' bureau (and, yes, continues to give out AiG material in bulk).
Perhaps Mr. King's example has spurred you to think of ways to impact your community with biblical truths. To assist you, AiG features a wide array of witnessing booklets and witnessing cards (on Noah's Flood as well as dinosaurs). Some supporters have even purchased gift subscriptions of Creation magazine for their local public library.
Another way to impact your community is to host an AiG teaching program—click here for details.