Now there were in the same country shepherds living out in the fields, keeping watch over their flock by night. And behold, an angel of the Lord stood before them, and the glory of the Lord shone around them, and they were greatly afraid. Then the angel said to them, "Do not be afraid, for behold, I bring you good tidings of great joy which will be to all people. For there is born to you this day in the city of David a Savior, who is Christ the Lord. And this will be the sign to you: You will find a Babe wrapped in swaddling cloths, lying in a manger." And suddenly there was with the angel a multitude of the heavenly host praising God and saying: "Glory to God in the highest, And on earth peace, goodwill toward men!" (Luke 2:8–14)
The lights of Christmas can tell a wonderful story . . .
There are families that compete each year to see who can have the brightest display, and, of course, other families that may not be able to afford a small tree. But even though Christmas has become terribly obscured by the sublime, and even ridiculous, most of these displays that light up the nights in December in public places and on homes delight both young and old. And for good reason, whether many intend it or even see it.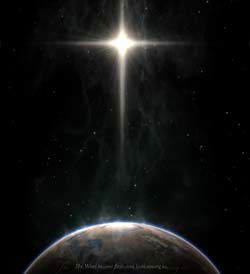 Download desktop background:
(right-click and "Save As")
On the first Christmas morning, the lights that shone weren't from electrons passing through a filament. Rather, the sky was alive with cascading beams of brilliance from a host of angels proclaiming something extraordinary! Even a special star lit the night. The Creator of the world had stepped into history as a tiny baby. First promised 4,000 years earlier (Genesis 3:15), the long-awaited Savior had been born!
As you appreciate the twinkling lights on these December nights, let them remind you of the real meaning of the season. Amid the confusion, don't miss the real Light of Christmas. And pass it on.
"Then spake Jesus again unto them, saying, I am the light of the world: he that followeth me shall not walk in darkness, but shall have the light of life. Let your light so shine before men, that they may see your good works, and glorify your Father which is in heaven." (John 8:12; Matthew 5:16)
Further Reading