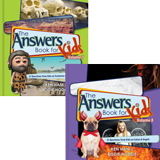 Together with my son-in-law Bodie Hodge, I've written a series of children's books called The Answers Book for Kids. And we've just released two brand-new volumes bringing the series total to eight books. Volume 7 gives kid-sized answers to 22 questions kids have sent us about evolution and millions of years. Volume 8 addresses 22 questions from kids on Satan and angels. These books are a great resource for your kids (and you may even learn something!). Order the whole series or just the two new volumes from our online store.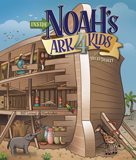 We also have a new board book by Becki Dudley for children ages five and under. Inside Noah's Ark 4 Kids presents answers for kids about how the Ark was designed, what the animals may have looked like, and how Noah and his family cared for all the passengers. This fun book is based on the exhibits at the Ark Encounter and presents the Ark as it actually may have looked—not as a silly, over-loaded boat that's about to sink as is so often presented to children. It's important we use good illustrations for our children so they begin with a proper perspective that God's Word is history!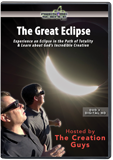 And, hosted by the creators of Awesome Science and the Jonathon Park Adventure Series—two popular children's resources that we carry in our store—comes a brand-new DVD for all ages. The Great Eclipse allows you to experience the 2017 total eclipse along the path of totality over and over again. Featuring AiG astronomer Dr. Danny Faulkner, this DVD explores the incredible design of God's creation, highlights the uniqueness of this celestial event, and why it should lead us to praise and worship our Lord. If you missed the eclipse, or just want to experience it again, this new resource from our online store is for you.
We also have our New Answers Books, volumes one through four, to equip you as parents and Christians to answer the questions young people and others have. I encourage you to consider ordering these for your home or church library.
To learn more about all the exciting new resources at our online store, visit AnswersBookstore.com.
Thanks for stopping by and thanks for praying,
Ken
This item was written with the assistance of AiG's research team.