We were honored by a recent visit from Les Lofquist, the executive director of IFCA International. This is a fellowship of 2,000 Bible-believing churches and pastors worldwide (see www.ifca.org); while it's not a denomination per se, member churches gather annually for a Bible conference, share in the sending of missionaries, among other joint projects. Perhaps the best-known pastor in the group would be Dr. John MacArthur of Grace Community Church in California, who has been a gracious host of Answers in Genesis meetings in the past—and he's become an avid Creation Museum booster. In the photo, taken many years ago, you can see Dr. MacArthur (front row middle, holding his Bible) meeting with other IFCA pastors and other Christian leaders in Kiev, Ukraine.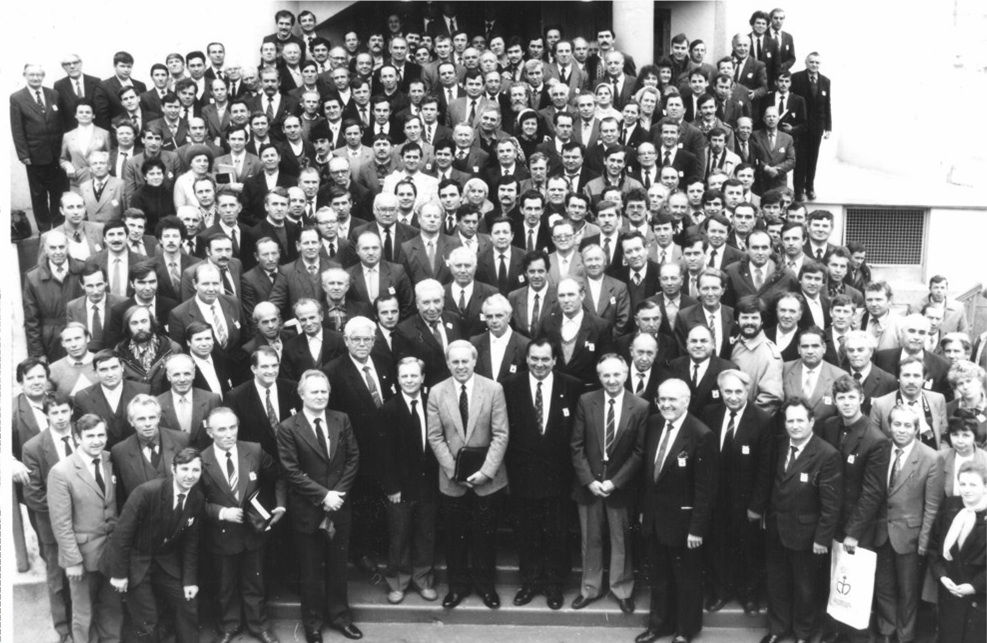 Les and his colleague Bob Kaiser were scouting out the Northern Kentucky area for their 2011 international convention. Les shared with us that the number one reason they chose this area was not just because almost 2/3 of America's population (and thus most of the IFCA pastors) live within 650 miles of this area, but because he wanted to introduce IFCA pastors and other leaders to the Creation Museum. Les and Bob toured the museum and was hosted by Mark Looy during my absence—Mark got saved while attending an IFCA church in the Los Angeles area, Gardena Bible Church, about 40 years ago.
Let's pray that their negotiations with one of the convention centers in the area will lead to their 2011 convention being held here, and thus we would have the opportunity to give hundreds of pastors a Creation Museum tour and faith-upholding materials to take back to their congregations. I have also been invited to give a keynote session.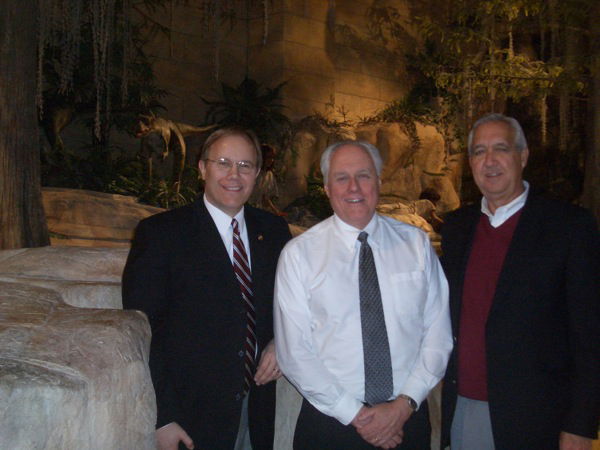 In the photo: Les is on the left, Bob Kaiser to the right, and Mark is in the middle. This photo will also appear in the IFCA magazine called VOICE (March/April issue).
Noah's Ark film wins Jubilee Award
As I reported a few days ago, last weekend Vision Forum ministries held its annual gala awards ceremony of the San Antonio Independent Christian Film Festival. I wanted to give you more background to this unique film festival, and the people behind it.
Vision Forum is under the leadership of Doug Phillips, an enthusiastic endorser of Answers in Genesis and the creation message—and a visionary in helping to equip families to effectively engage our culture.
This film festival is just one of the ways that he and Vision Forum do that. We were honored that the Best Creation Film award for our documentary, Noah's Ark: Thinking Outside the Box, was announced by another man whom we greatly respect: Dr. Voddie Baucham. (Both Doug and Voddie spoke at our national creation conference in Missouri last summer—see previous blog.)
If you don't have a DVD of this film yet, I urge you to get one and share it widely! It features Australian-born ark specialist Tim Lovett, plus Dr. John Whitcomb and me—and lots of footage from the huge ark display at our Creation Museum. You may recall that Dr. Whitcomb was co-author with Dr. Henry Morris of the classic book, The Genesis Flood in the early 1960s. Tim was the lead researcher on the contours of the Ark that we reference in the Creation Museum, and this DVD gets into some of the research and the overall biblical basis. The ark model we feature in the museum—and in this film—is true to the measurements noted in Genesis, and integrates the likely shipbuilding techniques that have been discovered in archaeology and writings from cultures just a few hundred years after the Flood. It's quite intriguing.
Due to previous travel commitments, I was not able to attend the awards ceremony, but Dale Mason, one of our VPs and the one who was in charge of the production, was there to represent us. He informed me that there were over 2,400 people in attendance at the award ceremony, at which Fireproof (starring Kirk Cameron, another AiG friend) and several other films were also recognized. Dale said that he was truly impressed by the quality of work that the youths and families attending the filmmaking conference that week put on display. In fact, he's already had conversations with at least two of the teams he met there for possible co-productions with AiG in the future!
I've attached a photo of Doug Phillips and Dale Mason. Dale is holding the (very heavy!) statue, which we will be putting on display with some of the other awards that God has seen fit to use to help bring attention to the quality of message and craft here at Answers in Genesis. All praise be to God.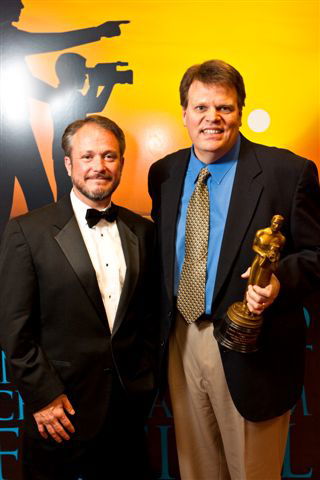 Thanks for stopping by and thanks for praying.
Ken