We were happy to welcome Tony Perkins and his wife Lawana—and their five children—to the Creation Museum on Wednesday. Tony is president of the Washington, D.C.-based Family Research Council, which is one of the more prominent groups in America that defends religious freedom and upholds the sanctity of life and the family unit. You may have heard Tony on his national radio program, "Washington Watch Weekly," or have seen him on one of his many TV appearances on news shows. Tony was in our Cincinnati area to visit family and friends (he used to live here) and to speak at a banquet, and he spent several hours touring the museum—offering high praise for the quality of the museum. He also reunited with AiG speaker Dr. Tommy Mitchell—they once met at a Bible conference in Michigan and have stayed in touch.
Tony is also deeply involved in racial reconciliation, so I gave him a copy of my co-authored book Darwin's Plantation: Evolution's Racist Roots.
Also, today, we welcomed ministry friends Neal Brewer of Georgia and Dr. Steve and Ruth Carter of Pennsylvania (along with their grandchildren, who live in Lexington, KY). Dr. Carter has a creation-speaking outreach based in southern Pennsylvania. Towards the end of the day, I went to the Cincinnati Airport to pick up long-time AiG friend Wyatt Gwin, an American who was a missionary to the United Kingdom for many years and now lives in Georgia. Wyatt had a few-hour layover at the airport before he was to connect on a flight to England. Wyatt has greatly helped us organize speaking tours of the U.K., and it was great to see him.
Last week, we had a different kind of VIP at the museum. He is a Nobel Prize-winner in chemistry—but an atheist, we understand. We are waiting to hear back from one of his Cincinnati-area hosts to get some feedback on what he thought about the museum.
As of this morning (Thursday), we are now over the 370,000 mark for visitor attendance at the museum (in less than 11 months). I have enclosed a photograph of some of the buses that brought groups on Wednesday (including a large Christian school group).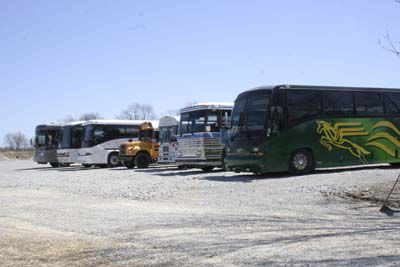 EXCITED ABOUT EXPELLED!
Later today, we will be sending out an e-mail "blast" to tens of thousands of our supporters to urge them to go to the movies this weekend. Here is the text—perhaps it will prompt you to go as well:
I urge you to go to one of the 1,000 movie theaters that will be showing the excellent and entertaining documentary Expelled: No Intelligence Allowed, which starts tomorrow.

I have already attended two previews of Expelled, and I look forward to seeing it again—that's how great this film truly is. It exposes how radical evolutionists will persecute those who don't accept evolution. It gives many examples of scientists and others whose careers have been ruined by the "evolution police," but at the same time manages to be humorous. That's because of its witty host, the actor Ben Stein, and the insertion of funny movie clips.

Stein is not a biblical creationist and comes from a Jewish background, but we have found some common ground with him as he does a masterful job of exposing the scientific problems with Darwinian evolution as well as the ruthlessness of its defenders in suppressing academic freedom. It's not a Christian film, but very much worth your time because you will get a better understanding of the creation/evolution battle of today and how it is at the front lines of the culture war. Plus you will see compelling evidence for design in the universe.

Go to the film's website, and if you don't see one of your local movie houses listed on the site, call the theater's manager and urge that it be shown. Your recommendation can go a long way to getting the film played and having your community see it. Or ask your pastor to call and ask how the church can book a certain showing of Expelled and then fill the theater with church members and guests.

Previews of the film have been met with standing ovations. Go see it for yourself and be prepared to stand up and cheer. (By the way, look for the scene in the film where protesters are picketing our Creation Museum!) For the moment, watch a video clip of Expelled at:
http://www.wingclips.com/cart.php?page=expelled
Incidentally, we will feature a lengthy movie review of
Expelled
on the front page of our website tomorrow (Friday).
DEVOTION
"Will not"

(Psa 10:4) The wicked, through the pride of his countenance, will not seek after God: God is not in all his thoughts.

There is one word to explain the reason why the lost WILL NOT seek God, WILL NOT consider God, & WILL NOT allow God in their mind, & that is PRIDE.
Thanks for stopping by and thanks for
praying
.
Ken