On Thursday back at the Creation Museum (yes, I am still on my speaking tour of the United Kingdom—in London right now), we had yet another Japanese media outlet tour the museum and interview us. Over the past year, several Japanese correspondents have been to the museum and have filed stories. Only a few other countries have shown as much interest in the museum—the U.K., Switzerland (even this tiny nation has been represented by four media representatives in the past year!), Germany, Australia, and Canada.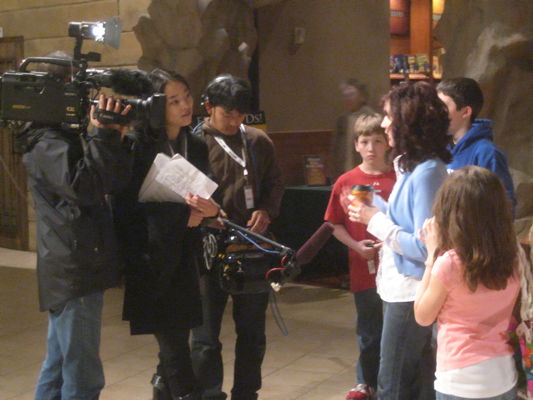 Meanwhile, a film crew from a very large church in northwestern Ohio toured the museum on Wednesday to produce a short video for an upcoming church service. Carl Kerby and Mark Looy of our staff had a great time of fellowship with the teaching pastor (Kyle) and staff from Cedar Creek Church in the Toledo area (a church that has three locations). Dr. Georgia Purdom of our staff was interviewed by the pastor and his video crew. Here is the church website:
http://www.cedarcreek.tv/NewtoCedarCreektv/tabid/54/Default.aspx
EXPELLED
We've posted a couple of web articles about the excellent Expelled film (which comes to theaters on April 18). In addition to reading the review, you should also visit the film's website: www.GetExpelled.com. And then pass the word around your church about this excellent exposé about evolutionists who trample on the rights of people who don't accept "molecules-to-man" evolution. It's a remarkable documentary—and highly entertaining and enlightening, too.
INTERNATIONAL FEEDBACK
Here is an email from a Christian leader from Slovokia who will be attending our International Training Seminar (ITS) for a few days later this month (one of ten such leaders). His English is somewhat broken, but I think you will appreciate his comments anyway:
Hello to all of you,

I am finally able to write down a couple of sentences to greet you all and introduce myself. My name is Jan, and I am 32. I was married to my wife Vanda in October 2000. In November 2006, God blessed us with our twins, Timothy and Naomi. Presently we are living in capital of Slovakia—Bratislava.

I was saved by God's grace alone in May 1994 while a first grader at University of Transport and Communication. Very soon, I had to learn about the issues of evolution and creation, as many hostile classmates were challenging my new faith exactly on this point. At first, I leaned toward theistic evolution, presuming that in this way I can marry best of science and best of Christianity.
Thanks to the books by Prof. Werner Gitt and a couple of other resources, I was led out of falsehood [of] theistic evolution into full and beautiful truth of young-earth creationism. I am grateful to the Lord who opened my eyes to the all-important truth of Genesis. Since that time, my interest in the issues of origins and creation apologetics was constantly growing.

I have a desire to help others so that non-Christians can be saved and Christians be freed from compromised positions that are so common here in my country. To this end, we are presently among others working on the Slovak translation of New Answers Book. Slovaks need those excellent resources. May God be pleased to help us toward this goal.

Let me add that I am totally excited, and travel fever is already starting to build up. Wow, I can still hardly believe that I was chosen for this event. I look forward to meet all of you in person, Lord willing.

Now to my last point. Late in the nights from August till October 2007 when last spare bits of strength were available, I used to work on our personal website describing little bit [of] our family and ministry in English. It was unveiled on Wednesday, October 10th, 2007. You are wholeheartedly invited for a visit at http://sichula.temelios.sk/. At the home page there is an introduction explaining the background and purpose for this website. Be sure to have a look at videos and pictures divided into four subsections.

To watch videos you will need to install free Microsoft Silverlight plug-in. It is very simple and takes 3 minutes in average. The exact process in described in detail at:
http://sichula.temelios.sk/default.aspx?pg=8de5b01d-b0c4-4b2c-8ff8-b6192ae03608.

Committed creationist—Jan
Thank you for stopping by and thank you for
praying
—I will be back to the U.S late in the weekend.
Ken