The large wooden doors shut behind me with a creak and a heavy thud. Outside, the incessant river of life continues to flow as millions of people jam the sidewalks and rush toward red double-decker busses. Beneath the streets, the London Underground moves the masses by the hundreds of thousands—like blood pulsing through the arteries of this vibrant, thriving society.
But inside, I can hear each of my careful footsteps echoing in the dim quiet. I inhale deeply, taking in the aroma of ancient stones and old books. I see rows and rows of ornate pews—seating for more than 3,000—yet I am ushered into the small foyer area where around 30 chairs are set up and where I join a handful of elderly people with their heads bowed. Humbly and faithfully, those beside me say their prayers and listen to a brief message by a man who speaks of hope—but whose tired eyes seem to feel none of it.
It is Sunday. For hundreds of years the faithful have been walking through the heavy wooden doors on this day, at this time, to gather together and share in the timeless rituals of worship, prayer, and proclamation that made this country the bastion of Christendom for centuries. But this morning I realize that I'm part of a funeral. But it is not the funeral of an individual; it is the funeral of an institution. Within months, the older generation will likely disband and the doors of this church will be shut and locked. The candles will never again be lit. The resounding anthem of the great hymns of our spiritual forefathers will never again echo in its passages.
---
Since 1969, 1,500 churches in England have heard that final thud as their doors were shut after their final service after hundreds of years of active life.1
Most of the great churches still stand—grand buildings that just 60 years ago were the hub of vital and vibrant activity. Before World War II (and certainly during those turbulent years), churches such as the one I visited that day were the center of community and spiritual life. But now, the communities' life, such as it is, takes place outside of those buildings. Inside, many of them have become musty, dusty, and dark. The Victorian Society of the UK summarizes the situation in a publication entitled Redundant Churches: Who Cares?
Invariably, it seems, churches become redundant. The country changes around them and for one reason or another they find themselves bereft of the worshippers needed to keep them going. Many, if not most, of the buildings seem eventually to find new uses, but it is not easy to generalize about how often these uses preserve their architectural and historic interest.2
It's not a small concern. Not far from the famous Westminster Abbey in London I found a sign that read: "Advisory Board for Redundant Churches."
"Redundancy." The dictionary defines that word as "exceeding what is necessary or natural . . . needlessly repetitive." That is a disturbing term to describe a former place of worship, don't you think? Who cares about "redundant churches"? It seems not many these days. There are not many left to really care—except for those who see them for their "architectural" and "historical" value. Now emptied of their intended function, many also see the real estate value of these "needlessly repetitive" buildings. A special government agency oversees the distribution and preservation of these buildings. What does that sound like in formal language?
The Redundant Churches Fund has as its object the preservation, in the interests of the nation and the Church of England, of churches and parts of churches of historic and archaeological interest or architectural quality, together with their contents, which are vested in the Fund by Part III of the Pastoral Measure 1983 (1983 No.1).3
In other words, if what's left has some value physically, it is sold or it is preserved. The rest is abandoned or bulldozed. What has become of the buildings worth keeping?
Other former places of worship have been turned into museums, clothing shops, music stores, liquor stores, nightclubs, and tattoo and piercing studios. One is even now used as a Sikh temple, and some have been converted into mosques.
Hundreds of these churches have ended up in the hands of private owners who convert them into offices or renovate them for use as personal homes or cottages.
It would be something of a relief if these former churches simply represented a shift from traditional worship toward more contemporary worship facilities, but that's not the case. The decline of the Church has followed the plummeting spirituality of a nation that has lost its roots—its foundation. England, the country that was once a cornerstone of western Christianity, is now, by and large, a wasteland of lost souls where the word God has many different definitions, with so few these days who would even think of "God" as the Creator God of the Bible.
According to a recent English Church Census:
Regular churchgoers (of all denominations) amount to 6.3% of the total population.
The proportion of churches per individuals is now one church to 1,340 people; the size of the average Sunday congregation, however, is 84.
Between 1998 and 2005, there was an overall decline in regular church attendance of 15%—and the trend continues.
40% of regular churchgoers attend evangelical churches, but even these groups are seeing their numbers decline.4
All in all, only 2.5 percent of the population is attending Bible-based churches.
One United Kingdom news source in 2003 stated:
Holy Week has begun with an expert prediction that the Christian church in this country will be dead and buried within 40 years. It will vanish from the mainstream of British life, with only 0.5 percent of the population attending the Sunday services of any denomination, according to the country's leading church analyst . . . only 7.5 percent of the population went to church on Sundays and that, in the past 10 years—billed by the churches as the "Decade of Evangelism"—church attendance dropped by an "alarming" 22 percent.5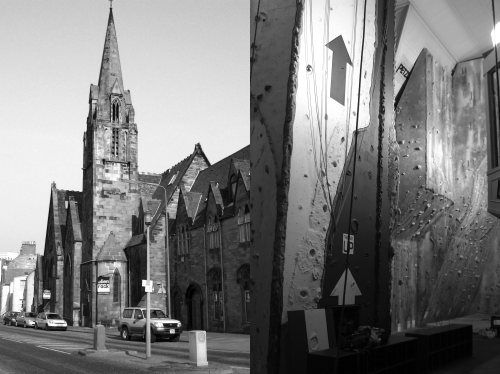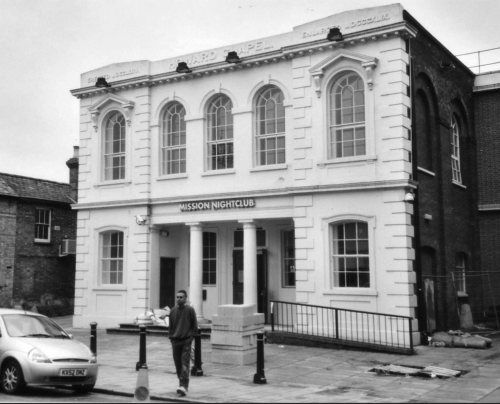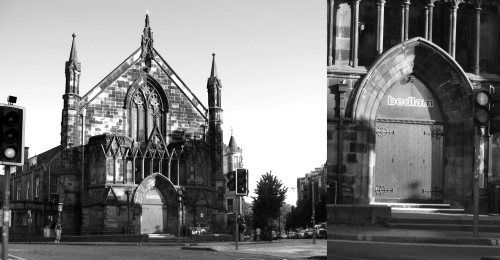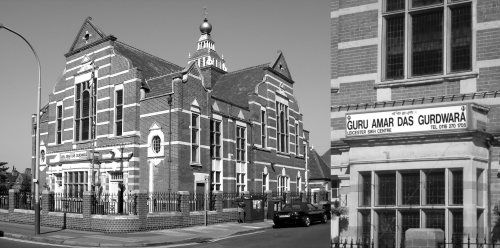 Another article in 2004 claimed: "Attendance at Britain's mosques has outstripped the number of regular worshippers in the Church of England for the first time. . . ."6 I recently attended a church a couple hours north of London. It was a totally traditional Baptist service, but it was clear that it was a gathering of remnant believers from many backgrounds. It was a refreshing and unique sight to see excited people as the organ blasted out "The Old Rugged Cross"! Certainly, pockets of new life can be found, yet much of it is "imported." Since 2001, Africa has supplied the single largest pool of new British citizens, and many of the new arrivals bring with them the Pentecostal worship style that has drawn millions of Africans to Christian churches across the continent in the last several decades.7 Other Bible-believing bodies of worshipers are holding their own and doing their best to reach out to the masses in this nation that now must be considered "post-Christian."
Empty churches now stand in the cities and the countryside as monuments to the triumph of the new religion of secular humanism. Hollow shells of buildings shadowing streets filled with hollow souls, the disease was the result of a predictable spread of ideas that seemed harmless enough to start with, and then mutated into a plague that killed the soul of an entire nation in two generations—and this same disease is being spread around the world. For instance, a news source in Australia quotes a university professor as saying, "Within the next 10–20 years, most of the main-line churches will be appropriately down on their knees praying for their own survival."8
Across the Atlantic, in the "One Nation Under God," the seeds of a free and God-fearing nation were planted only 250 years ago. Today, few people are aware of the spiritual epidemic that has wiped out the land of our Christian forefathers. England was the home of our great spiritual ancestors—many of the greatest preachers, teachers, and evangelists of the last 200 years.
Few people are aware that the same epidemic has reached our own shores, spreading like an unstoppable virus.
When it comes to churches in America, our research shows that many are Already Gone.
A Heart for the Church
It is estimated that Ken Ham, president of Answers in Genesis and the new Creation Museum, has given more than 4,000 talks on the accuracy and authority of the Bible since 1973 (he started speaking full time in 1979)—plus has granted several hundred interviews with the world's media (NY Times, Washington Post, all the major US TV networks, the BBC several times, etc.).
Ken has given more biblical messages in various venues than an average pastor will give in a lifetime of sermons.
Among the many hundreds of churches in which he has spoken (in more than 20 countries), Ken has also spoken in some of America's largest and most influential churches—and thus has had his finger on the pulse of the church's health since moving to America in 1987:
Calvary Chapel Costa Mesa, Calif. (Pastor Chuck Smith)—three times
Harvest Christian Fellowship, Calif. (Pastor Greg Laurie)—three times
Saddleback Comm. Church, Calif. (Pastor Rick Warren)
Grace Community Church, Calif. (Pastor John MacArthur)— twice
Thomas Road Baptist Church, VA (Pastor Jerry Falwell)—twice
Bellevue Baptist Church, TN (Pastor Adrian Rogers)—twice
First Baptist Church of Woodstock, GA (Pastor Johnny Hunt)—twice