Camp Quest, an evolutionist/atheist camp for young people, launched by attorney and "Genesis nemesis" Ed Kagin of Kentucky, has now headed north to Minnesota, USA, after holding camps in Kentucky and Ohio for several years.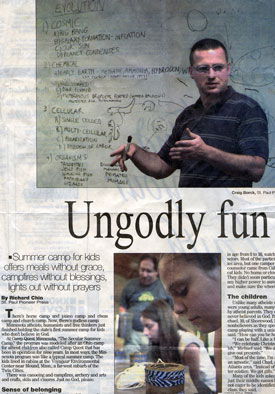 A Grand Forks, North Dakota newspaper recently reported1 on this unique youth camp, held across the Dakota border in Mound, Minnesota. Advertised as a "free thinking" camp, "Camp Quest" boasts that the young people who attend will have the opportunity for free inquiry—except that God will not be allowed in the equation. The newspaper, under the headline "Ungodly fun," also indicates that certain humanist "values" will be shared.
A 15-year-old camper was quoted by the paper as having a mother who was "an atheist activist, vigilant about keeping religion from creeping into public schools." The teen further remarked that "after 9/11, there were some signs like 'God bless the USA' and she got those down immediately … She [also] got the religious holidays taken off the school calendar."
One bit of good news came out of this news story: only 11 children (ages 8–16) attended, the paper reported.
Meanwhile, Answers in Genesis is pleased to report that throughout a typical year, it will conduct several dozen student meetings and children's workshops, reaching tens of thousands of children, ages K–12, with the true values that are found in the absolute authority book, the Bible. The message these students are hearing is that the Creator God, the author of the Bible, has laid down His absolute truths from Genesis to Revelation. They also learn that God loves His people so much that He has given us the Bible so that believers can lead a purposeful life, not a hopeless one that is the promise of the atheistic, evolutionist worldview that is exclusively presented to the young people at the camp.
Attorney Kagin, one of the founders of these atheist camps as we noted earlier, aggressively and vociferously opposed the Creation Museum construction project in Northern Kentucky. In his opposition, he often referred to the damage such a museum might inflict on future young visitors.
For a listing of student meetings (led by Ken Ham and Buddy Davis for grades K–12) and children's workshops (taught by Buddy Davis and Stacia McKeever for ages 4–10) that AiG conducts around the US, go to the events section of this website (events featuring these speakers are also listed on their biography pages).