I consider it a privilege to have been included in the Answers in Genesis–USA outreach team (12 people in all) that recently returned from Ocean Springs in southern Mississippi. I had been following the hurricane relief effort via the daily posting on the AiG website, and had been touched by the generosity of all who donated to make the trip to the Gulf Coast possible [eventually totaling about $50,000, praise God].
When I first received the call asking if I could join the relief team, did I ever make some quick changes to my schedule! But I was excited about being able to help minister to those whose lives had been changed forever. Little did I know that it was my life that would be changed.
As a physician, I deal with issues of death and suffering on a daily basis. I spend much time counseling my patients regarding the circumstances surrounding their illnesses. Yet all my training had not prepared me for the devastation we encountered in southern Mississippi after Hurricane Katrina. The extent of the destruction was overwhelming. Even now as I look back on the events of those six days, I am having difficulty putting the images into words.
All who have followed the activities of the AiG team in Ocean Springs via the daily blog have seen photos of the aftermath of hurricane Katrina, but these photos cannot convey the extent of the damage.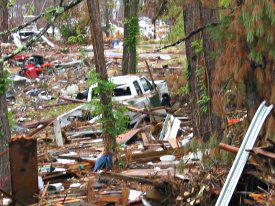 Nearing our destination after nightfall on a Thursday evening, we could not appreciate the terrible toll the storm had taken on the community. Friday morning we were out early to get the truck full of school supplies unloaded. En route to the school facility, we had our first glimpse of the storm damage. Rows upon rows of shattered homes, street after street of debris, destroyed bridges, school buildings with walls missing, and roofs with no house underneath changed our initial excitement about being there to disbelief. The good-natured joking among the team members gave way to silence, and heads were bowed in prayer.
If this were the end of the story, it would be a very unhappy tale indeed. However, the Lord did show His love and provision clearly and often as the hours and days passed. We were blessed by the many who seemed to come from nowhere to help unload and distribute the school supplies. Was it just "coincidence" that it seemed to be raining everywhere except at the school when the unloading was taking place? Within two or three minutes of completing the task, a pouring rain began, much to the delight of the weary team members. What a wonderful God we serve!
What an honor it was to get to know Pastor Barnett and his lovely wife. (It was Pastor Barnett's church—First Baptist of Ocean Springs—where AiG was scheduled to conduct a seminar, but because of Katrina resulted in the program being cancelled.) He and his wife are the blueprint for what a Christian couple ought to be. They went out of their way to make us feel at home, all the while trying to cope with the headaches (and sometimes heartaches) of keeping their church running, managing many other volunteers, making sure everyone was fed, gently touching each life with which they came in contact and somehow keeping their sanity. Their love for the Lord and their love for each other was evident in everything they did.
As we prepared for the trip, I was asked to bring the Sunday morning message at Pastor Barnett's church. This gave me great concern. How could I possibly bring words of comfort to those who had suffered so much? What could I tell them about death and suffering? They had been living through it. The Lord in His own timing, however, brought me a peace about this message. And of course, being an AiG speaker, I knew to begin with Genesis and explain how we messed everything up when we sinned in Adam.
We spent Saturday talking to many of the townspeople (and videotaped some of the conversations). As I spoke with these folks, I felt the Lord dealing with my heart. The testimonies we heard were touching and inspiring. Hearing these people talk as they stood in front of their wrecked homes and declared the goodness of God would inspire even the hardest heart.
There was the story of the 85-year-old man and his wife who didn't have flood insurance, for in the entire history of the community, there had never been a flood in that area of town. He broke into tears as he recounted how he had to take his first handout, a hamburger, because he didn't have anything left. In the next sentence he spoke of his loving God and how He had kept them both safe.
There was the couple who had only moved into their home three months before the storm. Their new home was destroyed, but this wasn't the only problem. The husband was in a wheelchair; his speech was garbled due to his illness. The husband, you see, suffers from Lou Gehrig's disease, a severe degenerative disorder of the nervous system.
To see how he might answer (and to open a conversation), I asked him, "How could God let this happen to you?" He replied simply, "Why not?" And you know what? That's the right answer! Because we are all sinners who committed high treason against our Creator (Genesis 3), and because we are all condemned to die, and we live in a fallen world—why not us?
The most important thing is that each of us commit our lives to the Lord knowing that when we do die, we will spend eternity with the Lord. None of us deserve anything from the Lord. But our Sovereign God is in control—and nothing happens that He is not aware of. As Job learned, God's ways are higher than ours—God has reasons for things even if we don't understand them. As one of our supporters said to us, "God has yet to make His first mistake!"
Then there was the single mom who was trying, by herself, to pull furniture and moldy drywall out of her home. We happened by and offered her some soap and shampoo. She broke into tears as if we had given her precious gold and silver, and we had a time of prayer with her.
One of the more affluent members of the community told me, "The Lord didn't do this to me; all I lost was some material stuff. The Lord sent His Son to die for me; what more could I ask of Him?"
After spending the day with these people, I realized that rather than ministering to them, I had been ministered to. I came away from the meetings with feelings both happy and sad; happy, that these wonderful people had put their trust firmly in the Lord of creation, but at the same time sad, as I realized that there would be little I could do to make their road ahead any easier.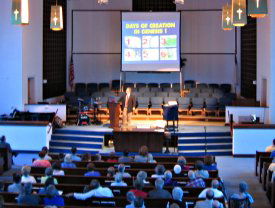 I brought the message on Sunday morning. The service was attended by many visitors from the community. This provided an opportunity to explain how a loving God could allow death and suffering, and how He showed His love by sending His Son to redeem us. When we understand the true history of the world, we recognize it's not God's fault that there is death and suffering—it's our fault! Several made professions of faith in our Lord Jesus Christ. My prayer is that He will use my meager efforts to touch the hearts of those who seek answers.
My hope was to be able to in some small way help those who had lost much. As it turned out I was the one who in the end had been given a great gift: the gift of seeing godly people lean on Him during difficult times. Their testimony will always be a source of inspiration to me.