(This article may not be suitable for young children.)
You've had an abortion. You've worked in an abortion clinic. You were the abortion doctor. Whatever the case, you might wonder if God can forgive you. The answer to any wrongdoer, no matter how grievous the sin, is yes.
Only by acknowledging our sin and repenting from it can we find forgiveness and eternal peace in Jesus Christ, the Creator who made us all in God's image and declared the killing of innocent human life a heinous act (Genesis 9:6).
In Psalm 103:12 the Bible tells us, "As far as the east is from the west, so far does he remove our transgressions from us." That's a promise for anyone who turns to God for mercy. It's one thing to make sure we advocate for life and protect the innocent, but we also need to celebrate the Creator's grace and encourage those who have sinned.
Never Too Late for Forgiveness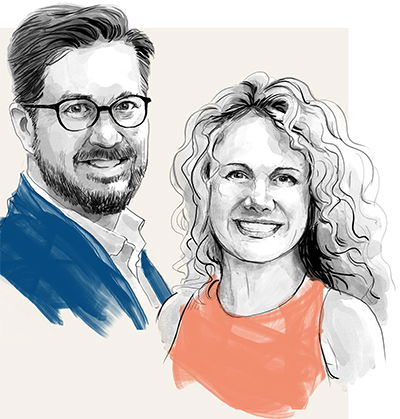 Jeff and Tricia Bradford
"Can you imagine the weight I carry by admitting that we would have a beautiful 26-year-old daughter, named Sarah, in our lives right now if it wasn't for my decision to go to the abortion clinic?"
Jeff and Tricia Bradford's story is a typical hometown love story. After college, they met at a local gym and began dating. Eventually, Jeff proposed, and the couple wondered whether peonies or roses should decorate the aisle of their garden wedding. But all their wedding plans came to a quick halt when Tricia learned she was pregnant. Within a week of learning the news, Jeff and Tricia found themselves at a Planned Parenthood clinic.
Tricia remembers sitting in the waiting room and being handed a questionnaire. "The very first question asked us to define abortion, and I didn't know how to define it. I asked Jeff, and he said to say it was a form of birth control."
Jeff remembers the clinic being "a cold, dark place." "Nobody was there to counsel and say, 'You two are engaged to be married, and this is your baby.' Instead, I made the decision to have the abortion, not wanting to embarrass our families by coming to the wedding pregnant," Jeff explains.
Jeff and Tricia married, but they never talked about the abortion. They both had a head knowledge about God, having attended churches on a few special occasions, but they didn't know him personally. This went on for several years. Jeff was working as CEO of his own company when one of his employees invited him to church.
The simple invitation was the turning point for the Bradfords. They heard the gospel clearly and soon trusted Christ as their Savior. For the next nine years, the couple served in the church. Jeff says, "When we started serving, we began to really grow our faith in the Lord not only as our Savior but as the Lord of our life." After several more years passed, however, Jeff and Tricia realized they were ministering to everyone else and neglecting their own marriage.
The couple decided they needed help and visited a Christian counselor.
As they sat through counseling, Tricia began crying uncontrollably. She realized her tears and pain were from her abortion 26 years earlier.
"Entering counseling was the beginning of our healing. It took something that was so dark and something we had suppressed for years and brought it into the light for the first time. When we realized the gravity of what we had done, we at first thought we had committed an unforgivable sin."
For Jeff, the realization that he took the life of his own daughter was one of the most painful experiences.
"God created us men to be protectors, serve others, and to love and fight for the 'least of these.' I allowed my selfishness, fearfulness, and ignorance to get in the way of protecting my wife and daughter."
Today, Jeff looks at his four children and always remembers one is missing because of his tragic decision.
"When God dropped the scales from my eyes, I saw what abortion really is. I witnessed firsthand the devastation it causes men, not just women, as we come to grips with our abortions."
After Jeff realized the evils of abortion, he wanted to find a way to serve.
"I wanted to help other men and women realize that from the moment of fertilization, we are created in God's image and are unique human beings. Although we all fall short often, the Lord forgives our sins when we come to him and repent."
Jeff now works for Human Coalition, a national rescue system working to prevent abortions. One of his favorite stories is about a girl named Robin.
Seven years ago, Robin was planning to have an abortion. After meeting with Human Coalition and building a relationship with Jeff and Tricia, she chose life for her daughter. But the blessings multiplied.
"God in his providence has brought tremendous healing and redemption for us and others."
"Recently, Tricia was eating lunch where Robin waits tables. Robin came over and whispered that her coworker who was waiting on Tricia was pregnant and planning on having an abortion. Robin later walked up and explained how Tricia (and I) had helped her and how grateful she was to have her daughter. The waitress ended up choosing life, and to top it off, we were able to host her a baby shower."
Stories of women choosing life encourage Jeff that there is hope for everyone, even in our worst circumstances.
"When we expose our sin, repent, and begin to love and serve others, God can use it for his glory. God in his providence started us on a wonderful journey to share our testimony and story with others in a way that has brought tremendous healing and redemption for us and others."
Hope for Even a Planned Parenthood Manager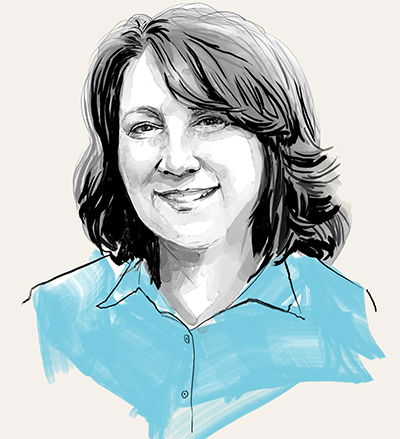 Sue Thayer
For 18 years, Sue Thayer worked as a manager at a Planned Parenthood clinic in Storm Lake, Iowa.
"When I began working for Planned Parenthood, I was convinced that I was serving my community."
Sue grew up in a secular home, and her family never talked about abortion. When she saw a job posting to work in a Planned Parenthood clinic, the high pay immediately grabbed her attention.
"I remember the interviewer asking me what I thought about abortion. Even though I didn't have any biblical understanding at the time, I thought abortion was wrong. I told the interviewer that, and I remember her telling me, 'Until a fetus is viable outside the womb, it's not considered murder.' I still have no idea how I got the job."
Within a year of working at the clinic, Sue was required to drive three hours to Des Moines, Iowa, and spend the day watching surgical abortions.
"During an 8-hour day, I watched between 25 and 30 surgical abortions. In the first one I observed they had me stand with my back against the wall by the door. They told me most people faint the first time they watch it. I couldn't see much, but I could hear the suction machine, which was enough. I didn't faint, so they let me get closer at the foot of the bed."
After every abortion, clinic workers go to the utility room next door to make sure everything came out of the uterus. She remembers seeing three arms in one jar.
"I asked the lady I was shadowing why there were more than two arms. She said, 'Oh it was twins, and no, we don't tell the mother. It only upsets them more.'"
As Sue made the three-hour trek back to Storm Lake, she knew what she had witnessed was wrong.
"I justified working at Planned Parenthood because my own clinic didn't perform abortions. In fact, like most other rural Planned Parenthood locations in Iowa, we rarely had any medical professional present at all. A nurse practitioner would stop by for two to three hours per week to see clients and sign off on birth control prescriptions. The idea of us performing abortions seemed impossible."
Now, as an adoptive parent of three children and a foster mother of 130, Sue remembers encouraging women who visited the clinic that there was always foster care and adoption.
"But if we were low on our abortion quota, I couldn't say that. We'd try to get them to the clinic in Des Moines."
In 2007, everything changed when Sue's manager introduced the idea of webcam abortions. The plan was to turn every Iowa clinic into an abortion clinic by having a doctor in a remote location talk to the women by video on how to use abortion pills.
Nonmedical staff, such as Sue, would then perform invasive ultrasounds with minimal training. Her manager told her, "If you are breathing, you can do this. It helps if you've played a video game. It's just like running a joystick." Staff members were also sworn to secrecy until 500 to 1,000 webcam abortions were successfully performed.
Prior to this announcement, God was already at work in Sue's heart. She began attending church and listening to Christian radio. Slowly she realized that God says the unborn child is fully human (Jeremiah 1:5) and that she was working for an organization that was destroying life.
God showed Sue her need of a Savior, and then he immediately went to work on her heart to change how she viewed her work and purpose. "I asked the Lord for forgiveness, and I was directed to the verse in Genesis that says we are created in God's image (Genesis 1:27). It hit me at that moment that every life matters. From the moment of fertilization, there is unique DNA created by God with a purpose and plan."
After becoming a Christian, Sue refused to perform the ultrasounds and was fired. More than that, she took her clinic to court for fraudulent billing practices, claiming Planned Parenthood was failing to report kickbacks on the abortion drugs. From her position at a small clinic in smalltown America, she was suddenly thrust into the national limelight. But she stood her ground. Once she spilled the beans, the Storm Lake clinic eventually closed its doors. Her testimony was a black eye against the abortion giant.
Sue vowed to do everything she could to save future babies from abortion. She now manages a pregnancy crisis center in her small town.
"When a woman comes into the center who is considering abortion, she almost always changes her mind once she sees her baby on the ultrasound and hears his or her heartbeat." She once justified "family planning" because it supposedly protected kids who would not be taken care of. Now she spends her life doing all she can to defend every unborn child that she can. Yet another story of God's redemption, even in the darkest of places.
A Healed Heart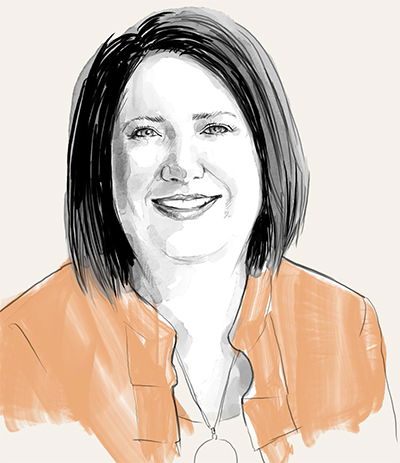 Camille Cates
Nearly one out of four women in the United States will have had an abortion by the time they are 45. Many of those women are your friends, neighbors, and yes, even women you know at church.
Camille Cates is one of those women. From the time she was a child, Camille attended church. She knew the account of Adam and Eve, Moses parting the Red Sea, David slaying Goliath, and the rest. But for Camille, they didn't seem like ordinary people with real problems.
"All the people in the Bible felt like superheroes to me. I didn't realize until I got older that they were just like me: sinners saved by grace. I knew the truths in the Bible, but I didn't know how the Bible applied to me."
While attending middle school, Camille was envious of all the popular girls who had boyfriends.
When she got to high school, she started receiving attention from boys, which made her feel special and wanted, just like the popular girls in middle school.
Looking back on her high school days she now realizes, "Anybody can have a relationship. But do they know how to have a God-honoring one? Nobody taught me what that looked like."
Camille calls herself the average Christian teenager in contemporary American culture. "I was floating through life, one foot in church, one foot in the world. I wasn't in God's Word even though I heard it multiple times a week. It didn't resonate with me."
By the time she was 15, Camille had become sexually active, which eventually led to an unexpected pregnancy at age 17. When her mom found out, she asked Camille if she wanted to have an abortion. Even though she was young, Camille knew she wanted to have her baby. Despite her parents' initial hesitation, they supported Camille, and she soon gave birth to a daughter, Lauren.
Camille finished high school and started college courses while also working a couple of part-time jobs.
"Even though God had extended me a lot of grace, I had yet to be discipled. I still didn't fully understand how God wanted to change me, and I just continued to crave a romantic relationship. It's what I was living for instead of living for Christ."
A few years later, Camille found herself in yet another relationship, and she once again found herself pregnant. One night she was working at one of her part-time jobs, and her boyfriend was at home babysitting her daughter. Her world was turned upside down when her distraught mom ran into her workplace in a panic and told her they needed to go to the hospital right away. Something had happened to her daughter, Lauren.
"That 24-hour period was a blur. Social services took me aside at the hospital and told me my boyfriend had sexually assaulted and shaken Lauren to death. All I could think about was the horrible trauma my daughter had experienced at the hands of a wicked man, and I was carrying that man's baby."
After the family had said their goodbyes to Lauren and before they had even left the hospital, Camille's parents were pressuring her: "You have to have an abortion now. There is no other choice."
No choice? Camille recalls not knowing what to do. "I was walking so deep in sin and had nobody to show me how to walk through this with the Lord. Without Christian mentorship, I sank deeper and deeper into a pit." She didn't stop to consider the sovereignty of God and his working all things, even tragedy, together for our good with the intention of conforming us to the image of Christ like Romans 8:28–29 tells us.
Four days after they buried Lauren, Camille flew to Dallas, Texas, where her parents thought nobody would know them, and Camille aborted her second child. Eventually, she decided to move to Dallas in hopes she could start over and forget about the pain of the past. But that's not how God works.
"You carry your heart with you. All the same stuff that I was wrestling with in my hometown of Amarillo was waiting for me in Dallas. My heart was still rebellious and hurting, and I hadn't repented of my sinful choices and turned to the loving grace and mercy of Jesus."
As the one-year anniversary of Lauren's death approached, Camille received a call. It was her parents telling her the capital murder trial of her ex-boyfriend was delayed again, dashing hopes that she could just put this all behind her. The Lord had other plans, as he always does when we haven't resolved the pain and sin of our past.
"I didn't have any closure. I remember being in Dallas in yet another bad relationship, and I was done. I moved back home. One night I cried out to the Lord. I knew my lifestyle wasn't going to satisfy me. I had been chasing after every relationship except the one that I had neglected with God. But I knew I finally wanted only God and God alone."
It wasn't long after her repentance and return to Christ that Camille met the man who is now her husband.
"He already knew about my abortion but still wanted to pursue a relationship with me. God used that to show me more about the broad reach of the gospel. He still loved me and wanted me regardless of my past. That's just like God. When Eve was deceived by the serpent (2 Corinthians 11:3) and sinned against God, she hid from God, and he went looking for her. I was a Christian led astray and hiding from God."
Even after Camille got married and once again became active in her church, she still hadn't come to terms with her first daughter's death. The murder had occurred in 1992. It wasn't until 1996 that the trial finally arrived.
"When someone you love is hurt, you want justice. But on this earth, you'll never get perfect justice. Even though he had assaulted and murdered my daughter, I realized I had aborted his baby. I was no different than he was. Abortion is violent and murder. I saw that we both needed Christ. I now pray for him daily. For him to come to Christ would truly be the ultimate way for our just God to deal with his sin." Camille also realized she'd never dealt with the guilt of her abortion.
"I desperately wanted a baby when I got married. I wanted to fill that ache from losing my daughter Lauren and the child I aborted. I was scared to death God wasn't going to let me have another baby. But I learned to entrust these things to God, who in his sovereignty gave me three more children."
This journey to finding hope and healing in Jesus for the pain and sin of her past began at a conference when she grabbed some pamphlets at a booth hosted by Healing Hearts, a biblically based ministry that helps women heal from abortions and other tragedies. She soon began attending an in-depth Bible study for women seeking hope in Christ.
"God always makes a way of escape and turns our stories of ruin into stories of grace."
"Most post-abortive women and men struggle with shame, guilt, and condemnation. Yet there is hope, freedom, and healing in Christ. We do not understand suffering and sin properly without understanding how it started with the rebellious choices of a real Adam and Eve, who sinned against God in the same way we all do. Their sin separated them from the holy Creator, and they could not do anything to save themselves. But he could restore them—through the sacrifice of his righteous son, Jesus, on our behalf."
Camille has been serving with Healing Hearts Ministries International since 1999. Through her work, she counsels other women who have experienced trauma and helps teenagers discover God's promise of a new life in Christ, just as she once did.
"For those wanting an abortion, it often looks like there is no way out. Mistakenly, I thought there was no way God could make anything good come from my situation. I thought abortion was the only option. But God always makes a way of escape and turns our stories of ruin into stories of grace."
Answers magazine.
earned a degree in communication print journalism from Liberty University and spent four years working as news writer for Liberty's News and Media Relations Office. She now writes and edits for