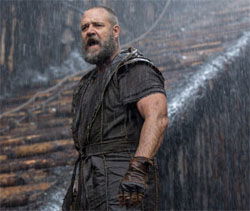 Actor Russell Crowe was hoping that his new film Noah would be a blockbuster biblical epic.
Don't let the movie trailers fool you. Appearances to the contrary, Noah's cleverly edited promos do not reflect the film's wholesale departure from the Genesis account of the Ark. Early previews tell of a deranged Noah, a witch-doctor-like Methuselah, and bizarre extrabiblical elements, such as rock-like creatures (apparently fallen angels) who help Noah build the Ark.
Despite negative feedback from several Christians who viewed a rough cut, director Darren Aronofsky remained adamant about not altering it. Unsuspecting moviegoers may be plopping down several bucks to watch the film because trailers suggest it is faithful to Genesis. But beyond the bizarre additions, the reviews reveal a rough cut that contradicts several key historical truths taught in Genesis 6–9.
The details are posted at answersingenesis.org/shipwreck/.
In the Hollywood Hopper
Hollywood is increasingly looking to the Bible for inspiration to churn out money-making films:
a film on Pontius Pilate, with reports indicating it will star Brad Pitt
Resurrection, depicting the period after Jesus's death
Exodus, a drama about Moses, with Christian Bale in the role
a second Moses-based movie, Gods and Kings
Mary, Mother of Christ, called "a prequel to The Passion of the Christ"
The Redemption of Cain (after he killed his brother Abel), starring Will Smith
Son of God, a film based on the hit TV miniseries The Bible, scheduled to be in theaters as we go to press.