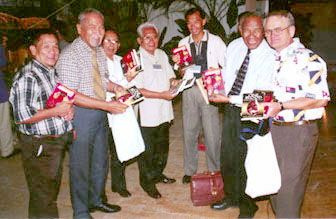 AiG's book One Blood—the Biblical Answer to Racism (which also answers the question, 'Where did all the "races" come from?") has been getting an extremely warm reception wherever it's read around the world, including the Philippines recently.
AiG has already donated hundreds of copies of this book—and thousands of copies of a booklet that summarizes the major points in the book—to mission groups and missionaries worldwide. Not only does the One Blood book provide biblical and scientific answers to the 'race' question, but it also uses this fascinating topic to present the gospel to all people groups—who are all descendants of the first man, Adam, and who are inheritors of his sin nature and are in need of salvation.
AiG has entered into a strategic partnership with Gospel Literature Services (GLS) of Schaumburg, Illinois, which freely distributes millions of Bible-teaching and Gospel-proclaiming materials around the world each year. Its international director, Dr. David Crandall, recently returned from a visit to the Republic of the Philippines, where he presented copies of One Blood and AiG's The Answers Book to grateful leaders of the Association of Fundamental Baptist Churches of the Philippines. The AFBCP is comprised of almost 3,000 churches in that nation of many islands.
Dr. Crandall spoke to about 350 AFBCP pastors and 3,000 delegates in early May, where he made the announcement of his new alliance with AiG to distribute a tidal wave of Bible-honoring materials throughout the Philippines. (See the photo, above, of denominational leaders who were elated to obtain free copies of both books, donated by AiG through GLS.)
AiG will be working with Dr. Crandall to donate even more books and booklets to the AFBCP churches in the Philippines, including materials to the 12 Bible schools associated with the AFBCP. In addition, a partnership with GLS is being finalized in distributing free gospel-proclaiming material at the Sydney Olympics this summer, including a specially produced AiG booklet.