AiG Store Makeover
Check out the fresh design and user-friendly features from the makeover of our online store! Want to browse through the store on your smartphone or tablet or within Facebook? No problem with our responsive design that automatically adjusts to your device of choice. Wonder if the item you're considering is part of a series or pack? The new site reveals combos that are better together. It will also show you the bio and other works of the author.
When purchasing bulk quantities for a church or group, you'll love the revised major categories and quick order forms. VBS and Answers Bible Curriculum, for example, have their very own pages within the store. Simply scroll through the order form list, select a quantity for each item, and then add all of them to your cart at once. Voilà!
No worries if you need to add more than 20 items to your cart. Thanks to the improved infrastructure of our servers and ecommerce system, you can add hundreds and hundreds of items to your cart without causing frustrating errors at checkout. (But you might want to run such a major purchase by your spouse first. …)
Oh, and check out how much faster the new store is—you won't be twiddling your thumbs! While you're shopping, you may notice that our proprietary discount system allows us to offer far more creative discounts than in the past. So whether you're Christmas shopping or checking out new releases, have fun browsing faith-building resources!
Attention Smartphone Users
Get ready for the launch of an AiG mobile app for iPhone and Android phones. This app should be available by the end of November, followed a couple months later by a web-based app that will work for any smartphone. This new app will feature concise answers to questions about the Bible and science, quick access to videos and books, witnessing tools in digital tract form, and the latest postings from the AiG website. What a handy tool to carry in your pocket!
In Store: Deadly Deception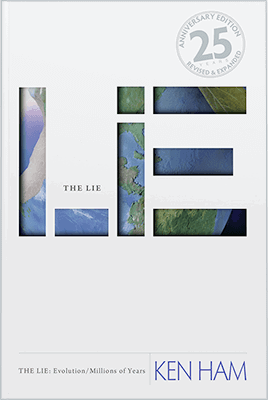 "You will not surely die." The woman had never heard a lie before, and this one made the forbidden fruit seem so enticing. The cunning serpent appealed to her appetite, her aesthetic eye, and her desire for wisdom. Upon eating the fruit, Adam and Eve experienced the shame and separation from God sin brings.
"That serpent of old, called the Devil and Satan, who deceives the whole world" (Revelation 12:9)—he still lies today. Christians are warned to beware of his schemes (2 Corinthians 2:11; 11:3). And one of the most effective deceptions of our time is the lie of molecules-to-man evolution.
Ken Ham freshly exposes that lie in the 25th anniversary edition of his book The Lie: Evolution/Millions of Years. Revised and expanded, this book even more clearly addresses the essential dilemma between creation and evolution: Will we trust God's Word or man's word?
The serpent's first words to Eve, "Has God indeed said . . . ?" cast doubt on the Word of God. Satan uses the same tactic today. If we can't trust the first few chapters of the Bible but must reinterpret them through man's ideas of millions of years, how can we trust the rest of the Bible and its redemptive message?
With new appendixes and updated material for the twenty-first century, The Lie: Evolution/Millions of Years cuts straight into the rotten fruit of the lie of evolution. Once you get a taste, you'll be ready to warn others!
Question of the Month
I like your series about supposed contradictions in the Bible, but they don't seem to be in any real order. Is there some list I can see of all the Bible verses you cover?
Yes, there is! We recently created an organized list of Bible passages addressed in the Supposed Bible Contradictions web series. You can peruse this new Scripture index anytime.
So if you're reading in Matthew 12 and are puzzled by the mention of the unpardonable sin of "blasphemy against the Spirit" in verse 31, you can go to the index and easily find the AiG article. Simply click on "Matthew" and then click on the Matthew 12:31 article, "The Unforgivable Sin."
Whether you're answering a skeptic or satisfying your own questions, this index will guide you in the right direction to solve a number of seeming contradictions in God's inerrant Word.
(Have a question for InSite? Let us know! Be sure to mention that your question is intended for InSite.)
Did You Know?
Nearly 27,000 hits came in a single day to the AiG article "Dinosaurs and the Bible." Why did this article by Ken Ham from way back in 1999 receive such a spike in visits? Well, the topic of dinosaurs is always popular, but this time the article was linked from the social news site Reddit.com, where users share links and vote to influence the popularity of a link. What a testimony to the impact of simply sharing a link.
So, whether you're on Reddit, Twitter, Facebook, or another social media site, remember to use that outlet to shine the light of God's truth—such as through sharing AiG articles and media. At the bar over each article or media item on answersingenesis.org, you'll find several buttons to help you easily share AiG content on social media networks including Reddit—just click on "ShareThis."