Answers Outreach Gets a Spring Cleaning
Not too long ago, we launched a completely overhauled version of our Answers Outreach site, a place for you to keep track of all the Answers in Genesis events taking place across America and the United Kingdom. We also told you to expect some important updates in the future.
As promised, those updates have been coming steadily ever since, including some much bigger changes recently. Consider it a "spring cleaning" of the most-requested features.
You may already know that the Answers Outreach site gives you a quick view of all the upcoming events as a list or on an interactive map. You can also keep up with our speakers, request an event, or sign up to become a video conference coordinator.
As much as we love the site, however, we wanted to make it easier for you to find exactly what you're looking for. So, how does a completely overhauled event search and improved user experience sound?
The main change you'll notice on the site is the enhanced search tool on our Conference Calendar page. You can now search for events by who's speaking, which makes simple work of finding out when and where you can hear any of our Bible-affirming scientists, researchers, or speakers.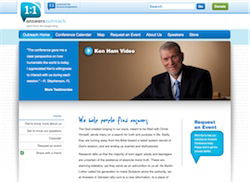 We've also added a quick way to search via your location (zip code, city, or state). Type it in and go. If there's nothing in your area right now, sign up for our event newsletters. That way, we'll do the work for you and tell you when we've scheduled something near your location.
Beyond that, we've made a few tweaks we hope you won't notice. That is, we hope you'll be too busy zipping around the site to notice the small changes we've made to make the site easier to navigate and find what you need.
If you haven't already, surf over the Answers Outreach site and take it out for a spring drive. As always, we welcome your feedback in continuing to make Answers Outreach—or any of our sites—work better for you.
And, as always, keep watching InSite to see what else we're sprucing up this spring.
In Store: Taking on Satan
Some of the most common questions asked at Answers in Genesis and to the church as a whole—next to evolution and millions of years—relate to Satan, the origin of sin and evil, and the Fall of humanity.
In particular, Satan and the origin of evil are hot topics in today's culture because the world continues to attack the reality of Satan and claims that evil doesn't even exist. And the church, for the most part, has few lay biblical resources on the subject to counter such claims. Rarely do resources take questions like these back to the Curse in Genesis 3 and make them relevant today.
But that's exactly what Bodie Hodge set out to do in his new book, The Fall of Satan: Rebels in the Garden. Based on years of research and a popular web series, this timely and easy-to-understand book tackles some of the toughest questions on this difficult topic:
Who is Satan?
Why would God, who is not evil, allow evil to continue to exist?
Shouldn't Eve have been shocked that a serpent spoke?
Did the serpent originally have legs?
When did Satan rebel?
Was the forbidden fruit an apple?
Who were the Nephilim?
Each question answered in the book is a genuine question that has been asked many times over. To answer them, you'll carefully consider what the Bible says, since it is the only completely reliable source of information about Satan. While Scripture offers only a few glimpses of Satan and angels, there's still much we can discern.
Prepare to stand on the authority of God's Word with this exciting look at the rebellion that still impacts us today.
Question of the Month
Why are there more than eight people building the Ark on large banner of your Ark Encounter website?
Even in the small details, the AiG web team strives to preserve biblical accuracy as far as possible. In this case, the web banner for the Ark Encounter site upholds what we believe to be an accurate portrayal of the Ark's construction.
Tim Chaffey, one of our writers, recently discussed this topic in more detail:
It is true that only eight people were on board the Ark during the Flood. Genesis 7:13 states, "

On the very same day Noah and Noah's sons, Shem, Ham, and Japheth, and Noah's wife and the three wives of his sons with them, entered the ark.

" This number is confirmed by the Apostle Peter in the New Testament, who stated that only "eight souls" were saved from the Flood (1 Peter 3:20; see also 2 Peter 2:5).
Notice that the Bible tells us how many people were on board the Ark, but it does not tell us how many people were involved in building it. God told Noah to build it and gave him specifications regarding the Ark's construction materials (Genesis 6:14), size (Genesis 6:15), and cargo (Genesis 6:18–21).
Click over to How Many People Built the Ark? to find out more about who may have helped build the Ark.
(Have a question for InSite? Let us know! Be sure to mention that your question is intended for InSite.)
Did You Know?
Did you know that your support for Ken Ham has been overwhelming and much appreciated? Since the decision to remove Ken from speaking at certain homeschool conferences, we've received dozens of encouraging emails from you. Also, Ken's Facebook page grew from around 5,500 to nearly 9,000 as of this writing—with many of you offering supportive comments there, too. Thank you for your continued prayers and support. [As a bonus, the article concerning this controversy has been one of our most-viewed articles of the year.]
About InSite