In fact, tracing one's genealogy is second to gardening when it comes to American's best loved hobbies. Thanks to rapid advances in technology, the average person can now use DNA testing to trace his or her own family history. No longer are genealogist enthusiasts limited to church records, newspaper clippings, and government censuses.
Interest in human DNA has skyrocketed since scientists completed the map of the full human genome in 2003. According to a February 6, 2006, Newsweek article, tens of thousands of Americans have swabbed their cheeks and mailed in their DNA to companies nationwide for testing. The Genographic Project, sponsored by National Geographic and IBM, is one of many organizations that allows individuals to explore their own ancestral genetic journey using DNA testing. But this group isn't your run-of-the-mill DNA testing services. Over the course of five years, this $40 million project seeks to find new knowledge about the history of human migration by collecting 100,000 samples from people around the world.
For around $100, you can participate in the project. Your personal DNA analysis will show you how the mutations in your genes identify you as a member of a specific haplogroup or clan. You can even choose to anonymously contribute your genetic results to the Genographic Project's database. Last July, the staff at a popular secular magazine, Vanity Fair, published each staff member's haplogroup in the masthead of their special Africa issue after participating in the project.
How DNA Testing Works
While 99.9% of our genome is identical, it's the variations found in the 0.1 percent that distinguish us from each other. Geneticists study the two parts of the genome that remain relatively unchanged as they are passed down: the mitochondrial DNA (mtDNA), which is passed from mother to children (but is only passed on through daughters), and Y-chromosome DNA, which is passed down from father to sons.
Occasionally, mutations (spelling mistakes in the language of DNA) occur in the mtDNA or the Y-chromosome as the DNA is copied and passed from one generation to the next. Beginning with an individual, these mutations serve as a marker, or genealogical road sign, and are passed down to that person's descendants. Geneticists use these markers from people all over the world to put together one very large mtDNA or Y-chromosome DNA family tree. Trace the markers backward, and you can eventually trace back to the approximate geographic region where that person and his or her descendants first lived.
Not surprisingly, when it comes to tracing our roots back to our original ancestors, there is some disagreement between evolutionary scientists and creationists on the timescale and geography of when and where they lived. Consider the following quote from Spencer Wells, population geneticist and the director of the Genographic Project: "You got your DNA from your parents, who got it from theirs, and so on, for millions of generations to the very beginning of life on earth. If you go far enough back, your genome connects you with bacteria, butterflies, and barracuda—the great chain of being linked together through DNA" ("Out of Africa," Vanity Fair, June 12, 2007).
Like many modern geneticists, Wells starts with the assumption that we all came out of Africa after humans branched off from their ape-ancestors approximately 5 million years ago. However, the Bible tells us that we were created in the image of God about 6,000 years ago and that the human population dispersed from Babel with many likely settling in Africa.
What's Your Haplogroup?
According to many population geneticists, everyone belongs to a haplogroup or an ancestral clan. This branch of a family tree includes genetic markers that all have inherited from a single ancestor. These markers can be traced back to the group's most recent common ancestor. Finding out your haplogroup helps you determine the geographic location from which your ancestors migrated.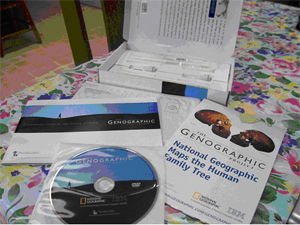 For instance, according to geneticists with the Genographic Project, today around 20 percent of the lineage from eastern African mtDNA belong to haplogroup M1. Haplogroup B "likely arose on the high plains of Central Asia between the Caspian Sea and Lake Baikal." This group makes up around 17 percent of people from Southeast Asia and around 20 percent of the entire Chinese gene pool.
I recently decided to have my DNA tested with the Genographic Project. For $99.95, I received a participant kit that included the following items: a DVD about the project, a map that showed ancient migratory paths, a consent form, and two cheek swabs and vials. The procedure for collecting my DNA was simple and painless. I just scraped the inside of both cheeks for 60 seconds and placed the swabs into separate vials that contained a unique identification number. This number was also used to track my test results. The only personal information I was asked to provide was my gender, which lets the laboratory know to check for mtDNA for women or Y-chromosome DNA for men.
About two weeks after mailing in the kit, I was able to track the progress of the DNA testing by entering my kit identification number on the Genographic Project's website. About six weeks later, the final results were available on their website for viewing, downloading, and printing.
After receiving the results from your testing, you can also choose to add your information to the large database kept by Family Tree DNA, a company that helps families research their family roots through genetic genealogy. They can help you overcome dead ends in your genealogical research, find out more about your ancestor's homeland, and find out if you are related to another family with the same surname.
When I received my results, I received a map that showed the supposed direction my maternal ancestors took as they left their homeland in East Africa and dispersed among the continents. While the interpretation of this migratory path (including dates and starting point of Africa) reveals many evolutionary assumptions, I did find the results and the testing process intriguing.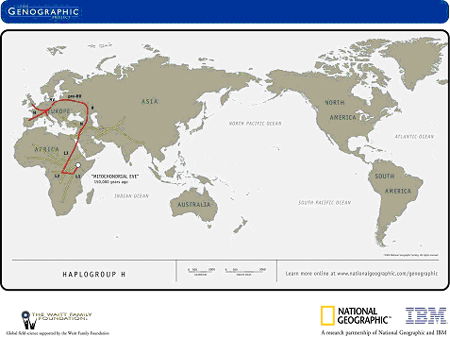 Starting with "Mitochondrial Eve" in Africa between 150,000 to 170,000 years ago, the map showed the path taken by various people groups in my ancestral line as they continued to branch off (including haplogroups Eve, L11/L0, L2, L3, N, R, pre-HV). The path then led up to my family branch on the tree, haplogroup H.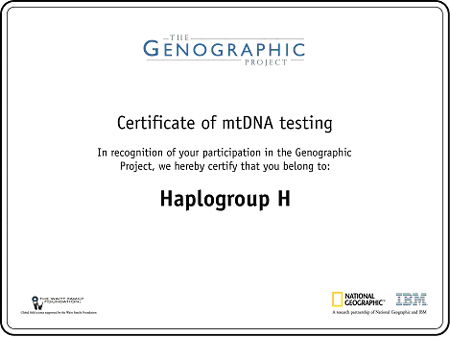 According to the Genographic Project's interpretation of my ancestors, their migration began "about 15,000 years ago after the ice sheets had begun their retreat [and] humans moved north again and recolonized Western Europe. By far the most mitochondrial lineage carried by those expanding groups was haplogroup H. Because of the population growth that quickly followed this expansion, your haplogroup now dominates the European female landscape." The results go on to say that today this haplogroup comprises 40 to 60 percent of the gene pool of most European populations.
The research my own family had completed confirmed that my maternal ancestors had European roots, so this was no surprise to me.
The Bible—It Reveals our True Past
While most geneticists interpret the origin and divergence of human population based on evolutionary assumptions, it shouldn't surprise us that nuggets of truth about our real past are being revealed through DNA studies. Even though most of the geneticists in this field leave out the true author of the story when interpreting their results, they can follow the "clues" God has given that confirm His Creation. When we evaluate scientific findings using the best "clue"—His Word—we know all people descended from Noah and his wife, his three sons, and their wives, all of whom came from Adam and Eve. Genesis 11 tells us the rest of the story—we came out of Babel, not out of Africa.
For more information on using DNA testing to trace your roots, see Trace Your Roots with DNA by Megan Smolenyak and Ann Turner.