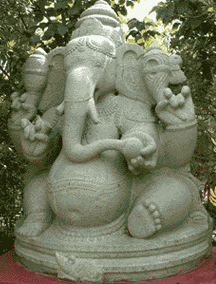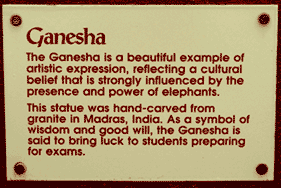 As you walk through the gates of the Tulsa Zoo in Oklahoma, USA, as I did a few months ago, you are soon met with a reminder of the religion of some native American Indians. A large globe declares: "The earth is our mother … The sky is our father."
As you pass by the zoo's elephants, "Ganesha," the Hindu god of wisdom, is prominently featured. Below the statue is a sign that states
"The Ganesha is a beautiful example of artistic expression, reflecting a cultural belief that is strongly influenced by the presence and power of elephants. This statue was hand-carved from granite in Madras, India. As a symbol of wisdom and goodwill, the Ganesha is said to bring luck to students preparing for exams."
There are many other religious images at the Tulsa Zoo, and of course, there are the typical zoo exhibits that present evolution (even very outdated evolutionary ideas) as fact.
We often hear from Christians around the world who are sick and tired of this sort of indoctrination in zoos, especially those that are public facilities supported by citizens' tax dollars.
In Tulsa, Oklahoma, Dan Hicks and numerous other citizens complained to the Tulsa Parks Board (who oversee the zoo) that Christianity was discriminated against at the zoo. By allowing Hindu, Native American and New Age religions with their symbols/idols at this facility, the zoo was discriminating against Christianity and other religions not mentioned, Dan and others said, and that they had the right to have displays representing their beliefs.
Although Dan told me that the staff at the zoo vehemently opposed this, the Tulsa Parks Board nevertheless has just agreed (Tuesday) with Dan's position and has approved a display presenting the text of the Bible's Creation Week (Genesis 1:1–2:3)to be displayed prominently at the zoo (along with the creation views of other religions).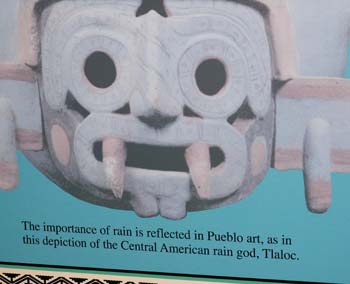 Such battles as this one represent a foundational change that has occurred across America and many other western countries. Not that long ago,Christian symbols were often prominently seen in public places; America, after all, was founded on the Bible. However, as generations of people were educated to believe in evolution and thus came to reject the Bible's history, the foundation of many people's worldview changed to reflect this. Progressively, people began to reject the Christian worldview (and thus Christian morality) and replaced Christianity with the religion of secularism (i.e., man determines truth) and other pagan religions (Hinduism, New Age, etc.).
Sadly, it has taken a long time for Christians to wake up to what has happened. But more and more Christians are being fired up across the US to be real soldiers in the spiritual battle raging around us.
AiG, according to Dan, had a significant part to play in this grassroots Oklahoma battle. At a recent AiG conference in Tulsa attended by hundreds of people, local Christians asked me to challenge those present to sign a petition which would be presented to the Parks Board—and people clamored to sign the petition! The mayor of Tulsa, Bill LaFortune, is strongly backing this effort.
We need more people like Dan Hicks (he is the head of the local creation group Southern Plains Creation Society) who are willing to boldly lead the battle (yes, and even to endure some ridicule) to tell people the truth concerning the creation of the universe.
Yes, it will only be one small display among many at the zoo, but remember:
"So shall My word be that goes forth from My mouth; It shall not return to Me void, But it shall accomplish what I please, And it shall prosper [in the thing] for which I sent it" (Isaiah 55:11).

Also: "For the word of God [is] living and powerful, and sharper than any two–edged sword, piercing even to the division of soul and spirit, and of joints and marrow, and is a discerner of the thoughts and intents of the heart" (Hebrews 4:12).

"So then faith [cometh] by hearing, and hearing by the word of God" (Romans 10:17, KJV).
Pray that the approval of this display will not be challenged and that God's Word concerning creation will be a witness at the Tulsa Zoo.