What do you get when you combine 34,900 Legos from Denmark, 150 school-aged children at an innovative summer camp in Illinois, and a few experienced architects who believe that Genesis is literal history?
Harvest Bible Chapel near Chicago came up with something for the record books: a scale model of Noah's Ark.
At last year's "High 5" summer camp, leaders decided to try something very unusual. The children helped build a 1:37 scale Ark that measured 12 feet long, 2 feet wide, and 1.5 feet tall (3.7x0.6x0.5 m).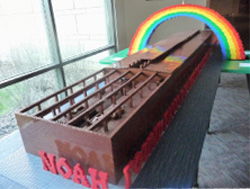 To allow a look inside the Ark, the builders left a section open to reveal the lower, second, and third interior decks. They also added a rainbow and the words of Genesis 6:8, "But Noah found favor with the Lord."
The Ark remained on display for several weeks at the church campus in Elgin, Illinois, and it landed them a listing at WorldRecordsAcademy.org for "the largest Lego model of Noah's Ark."
The lesson? God really did command Noah to build a massive ship, approximately 450 feet (137 m) long, designed to withstand the ravages of the year-long worldwide Flood. We—and the land animals around us—are the descendants of the eight who survived on the Ark.