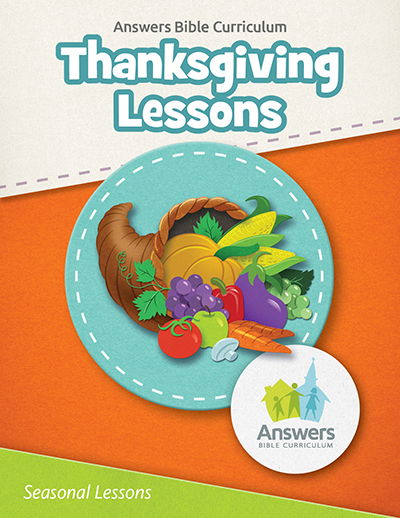 The first lesson, "Giving Thanks to God," teaches that all good gifts come from God, and he alone is worthy of glory, honor, and praise. We can thank God for who he is and what he's done when we praise him in worship and prayer. The second lesson, "Giving Thanks in All Circumstances," shares that God has commanded us to give thanks in all circumstances, the good and the bad times. Knowing and trusting in God and his promises can help us be grateful at all times.
You can choose either lesson to use this year. The downloadable lessons are available for Pre-K through Adult and contain everything you need, including the teacher guides along with posters, games, seasonal activities, activity sheets, and more!
Find these free seasonal lessons, as well as free Christmas and Easter lessons, through our US store at AnswersBibleCurriculum.com/thanksgiving.
Answers Bible Curriculum is a unique four-year Sunday school curriculum for all ages that is chronological and emphasizes apologetics, biblical authority, and doctrine. It's powerful! I urge you to use it in your church year-round.
Thanks for stopping by and thanks for praying,
Ken
This item was written with the assistance of AiG's research team.