This designation was given to us by the National Oceanic and Atmospheric Administration (NOAA) and by representatives from the National Weather Service Office in Wilmington, Ohio. During a brief ceremony last week, they acknowledged AiG's Department of Public Safety and the Ark Encounter team for their efforts in making us StormReady.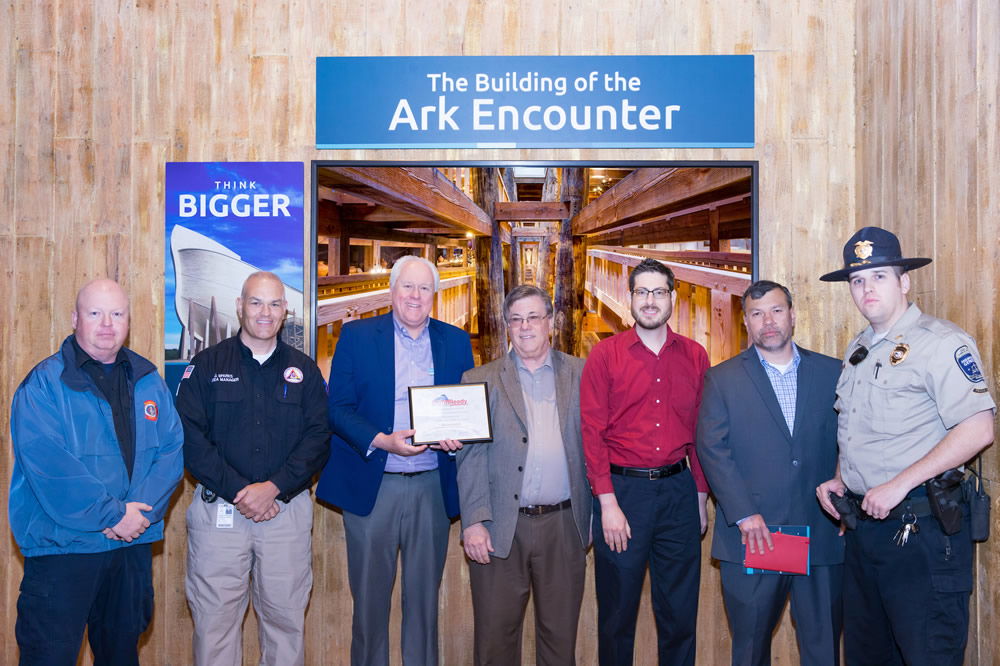 In the ceremony, Kenneth Haydu, meteorologist in charge at the Weather Service in Wilmington, shared more about the StormReady program and why it's so important:
The United States experiences some of the most severe weather in the world, with more than 10,000 severe thunderstorms, 2,500 floods and 1,000 tornadoes each year, which leads to hundreds of deaths and nearly $15 billion in damage in an average year. The StormReady program was designed to help arm America's communities with the communication and safety skills they need to protect lives and property by taking a proactive approach in improving hazardous weather operations. The main benefit is improving the timeliness and effectiveness of hazardous weather warnings.

StormReady communities and attractions are better prepared to save lives from the onslaught of severe weather through advanced planning, education, and awareness. No community is storm proof, but StormReady can help communities save lives.
Guests are afforded an increased layer of safety during their visit at the Ark Encounter. You can come to the Ark Encounter and weather almost any storm.
Being recognized as a StormReady Supporter highlights a cooperative effort between the Ark Encounter and the National Weather Service. This means necessary information, in the form of severe weather reports and warnings, will flow more easily between the two groups. So even during inclement weather, Ark Encounter guests can relax knowing they will be well taken care of.
Special recognition at the ceremony went to AiG Officer Josh Alsip and Mark Looy, AiG's CCO, who accepted the award on behalf of AiG, also acknowledged were the efforts of Officer Darin Powell, head of AiG's Department of Public Safety.
We appreciate the efforts of all our team members to better serve our guests! Plan your visit at ArkEncounter.com.
Thanks for stopping by and thanks for praying,
Ken
This item was written with the assistance of AiG's research team.