Dinah Harris Mysteries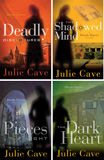 If your teenager enjoys mysteries or detective stories, consider the Dinah Harris Mysteries series by Julie Cave. This intriguing series now includes four books—with the recent release of The Dark Heart. In these stories, former FBI agent Dinah Harris solves mysteries, and along the way readers learn biblical answers to tough questions such as creation/evolution, biblical authority, racism, eugenics, and more—all against a backdrop of God's amazing grace and redemption.
Noah: Man of Destiny and Resolve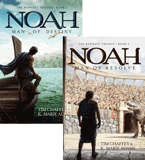 Tim Chaffey, the content manager for our Ark and Creation Museum, along with K. Marie Adams, has written the first two books of The Remnant Trilogy. These action-packed books look into what life may have been like for Noah as God shaped him into the man who would eventually preserve humanity. This series takes an imaginative but respectful look at what may have been the history of this great hero of the faith.
The Truth Chronicles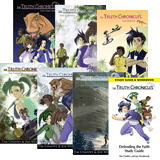 For younger readers, aged 9–15, we have The Truth Chronicles, also written by Tim Chaffey along with Joe Westbrook. These six novels take four teenagers back in time to learn that the history in God's Word really is true and can be trusted. Readers will encounter dinosaurs, Noah's Ark, ancient Egypt, and more in this exciting series.
These fiction works are excellent additions to the many resources we offer to help your children and teens build a biblical worldview. I encourage you to visit our online store to see more faith-affirming resources.
Thanks for stopping by and thanks for praying,
Ken
This item was written with the assistance of AiG's research team.