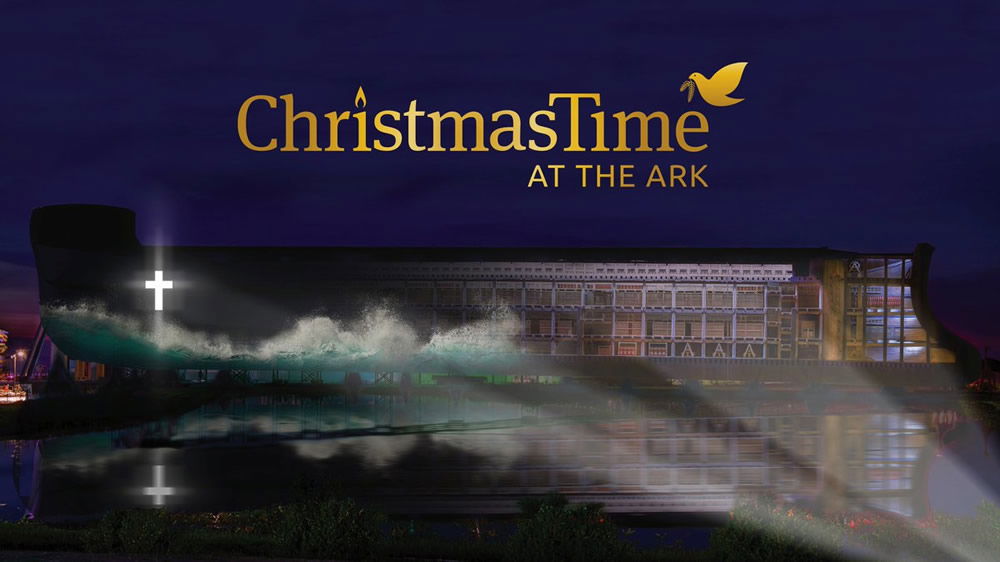 ChristmasTime will be a very different experience from ChristmasTown 45 minutes away (which features a gorgeous garden of lights, a live nativity, and much more), so you'll want to visit both. ChristmasTime at the Ark will feature thousands of lights, fireside concerts, fair trade shopping, delicious food options (such as a special holiday buffet in Emzara's Restaurant, smoked brisket, and gourmet hot dogs), goats in sweaters, camel rides, and lots more.
The main attraction—making it truly unique from any Christmas program—will be an incredible projection show called Encounter the Wonder. This 10-minute, 15-laser projection show will play on the side of the massive, life-size Ark. How many other places will you find a 510-foot-long screen? This will be unique—nowhere else can you see such a program as it's displayed on the side of Noah's Ark! If you've seen Disney World's program projected on the castle, you have an idea of what this will be like.
It will be a jaw-dropping display that will boldly promote the gospel.
The program will feature a cut-away of animals going up the ramp, the waters rising, and, of course, the birth of our Savior and his death and resurrection. It will be a jaw-dropping display that will boldly promote the gospel. You'll want to bring all your unsaved relatives and friends. And, like ChristmasTown at the Creation Museum, this event is free! You only pay a $10 parking fee (tickets are required to enter the Ark itself and visit the three large decks of world-class exhibits or experience any of the other ticketed events).
Want to take advantage of Kentucky's beautiful fall weather and get an earlier start on your Christmas shopping? Well, beginning November 1 the Ark grounds are open to the public on normal operating days for the cost of parking only, through February 28, 2018. Come shop; experience the zoo and rainbow-lit Ark; and enjoy a buffet meal at Emzara's restaurant or purchase food at one of our many other venues like the Smoke House BBQ, Shem's Snack Shack hotdogs, Zofar's flatbreads, and more. (Please note: ChristmasTime program dates are only December 8–23, 2017, and again December 26, 2017–January 15, 2018. The Ark is closed Thanksgiving, Christmas Eve, and Christmas Day.)
You can learn all about ChristmasTime at the Ark in this Facebook Live video I recorded with Ben Wilt, the director of our video production team, and Dan Anderson, the VP of operations for the Creation Museum and Ark Encounter.
I encourage you to make plans to enjoy ChristmasTime at the Ark Encounter and ChristmasTown at the Creation Museum. Plan your visit at ArkEncounter.com/christmas and CreationMuseum.org/christmas.
Thanks for stopping by and thanks for praying,
Ken
This item was written with the assistance of AiG's research team.