Bill Nye, "the Science Guy," is getting his own film—Bill Nye: Science Guy. This documentary, funded on Kickstarter, is supposed to be "A film for science. A film for the cosmos. The full access, exclusive film about Bill Nye." The page for the premiere of the event describes it as,
Bill Nye is retiring his kid show act in a bid to become more like his late professor, astronomer Carl Sagan. Sagan dreamed of launching a spacecraft that could revolutionize interplanetary exploration. Bill sets out to accomplish Sagan's mission, but he is pulled away when he is challenged by evolution and climate change contrarians to defend the scientific consensus. Can Bill show the world why science matters in a culture increasingly indifferent to evidence?
Based on that description, it doesn't sound like a film for science—it's a film to promote evolution and man-made climate change as fact. A number of well-known atheists are listed as featuring in this movie—and so am I! In addition to his movie, Nye will also have his own TV show again, Bill Nye Saves the World, on Netflix this spring. Although we don't know for sure, it's very likely this show will also dedicate time to defending evolutionary ideas and drastic man-made climate change.
Free Showing of Nye/Ham The Second Debate
Bill Nye: Science Guy is premiering March 12, 2017. We decided, in response to this film, to have our own documentary event. We will be showing Nye/Ham The Second Debate via live stream on March 13, 2017, at 8 p.m. ET. This event will be streamed through my Facebook page and Answers in Genesis' YouTube channel. Before the film begins, I will give a short introduction, and I will also make comments at the end of the showing.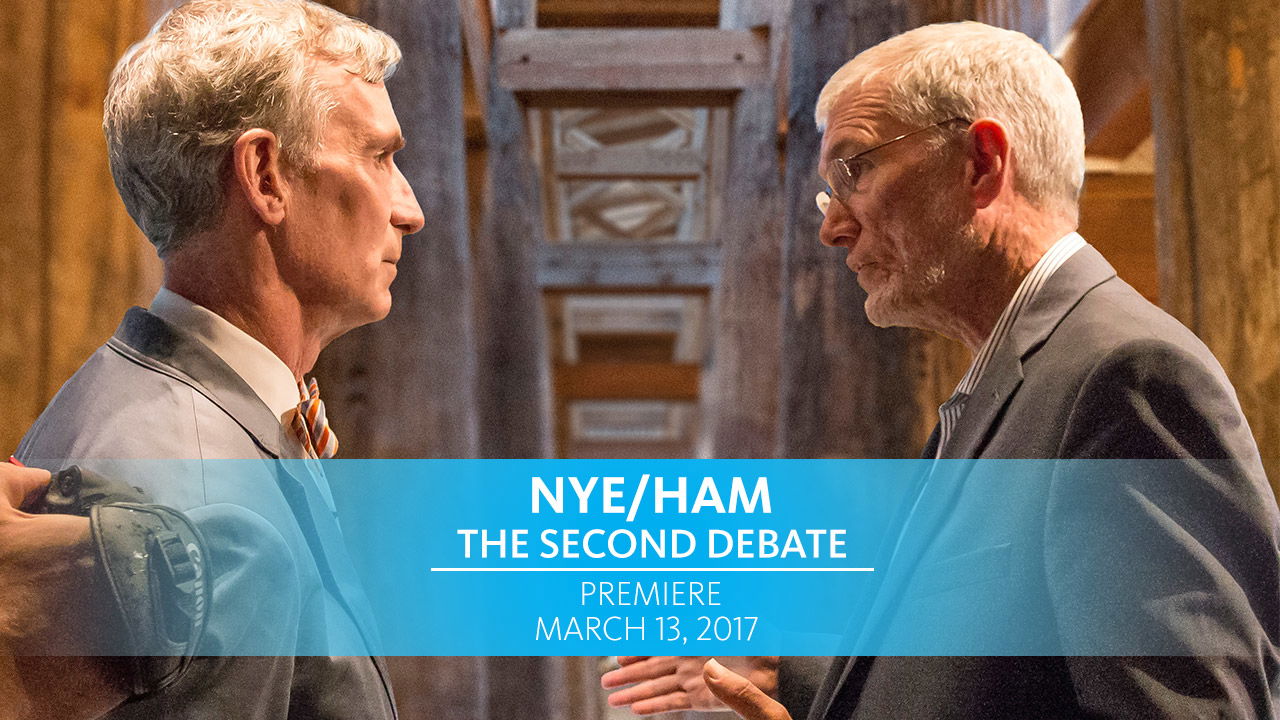 Nye/Ham The Second Debate features Bill Nye and me touring the Ark Encounter—or "Ken Ham's antiscience Ark Park," as the movie website describes it—on July 8, the day after it opened. Nye came with his own film crew to gather footage for the Bill Nye: Science Guy documentary. We also brought our film crew and recorded the entire lively, but cordial, two-hour impromptu debate. This unedited exchange is now available on DVD from our online store, but, in response to Nye's documentary, we will be showing the entire video for free and archiving it on YouTube so anyone can watch.
I encourage you to invite friends and family members to watch this second debate via live stream.
I encourage you to invite friends and family members to watch this second debate via live stream. I was able to present the gospel to Bill and even pray for him during our time at the Ark. And I also responded to his many comments and questions about our various exhibits, giving answers from God's Word as well as from science.
Learn more and watch the live stream on our website. And please share this link with others! We want as many people as possible to join us for this special event.
Thanks for stopping by and thanks for praying,
Ken
This item was written with the assistance of AiG's research team.