The school where you choose to spend your college years will have a major impact on your faith, family, and future. Young people often come home from college (even many Christian colleges) doubting God's Word and often end up leaving the church and the faith.
There are so many options for schools and programs that it can be overwhelming. And if you're a parent of someone who is heading off to college in the near future, you're probably concerned about making sure that your child receives a God-honoring education that will build them up in the faith, rather than tear them down and teach them to doubt God's Word. This is especially important in a day and age when so many Christian schools have compromised on God's Word.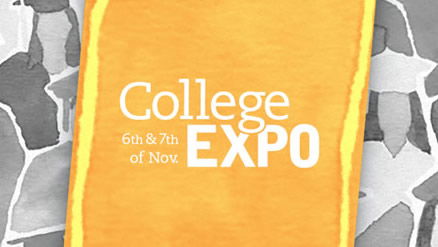 To help you and your young person to choose a Christian college that offers excellent academics but also reaffirms God's Word from the very beginning, we're holding our fifth-annual College Expo. Rather than tearing down your child's faith, the over 20 colleges featured in our expo will strengthen and encourage your child to follow the Lord and trust His Word.
This special two-day expo is taking place here at the Creation Museum near Cincinnati on November 6 and 7, 2015. You'll hear from AiG's own Dr. Georgia Purdom, Dr. Terry Mortenson, and Bryan Osborne on the topics of fossils, the big bang, and the relevance of Genesis. Christian colleges and universities from across the nation will be present to answer any questions you have. This expo is a tremendous opportunity to learn more about God's Word and America's leading—and biblically sound—Christian colleges. And the best part is this event is free for high school students, prospective college students, and their parents or chaperones. And each high school student receives free admission to the Creation Museum, and parents and family get a discount rate when accompanying their students. You'll also have a chance to win a $500 scholarship. This is an event that prospective college students won't want to miss.
Now, if you aren't able to come all the way to Northern Kentucky to attend our College Expo, you can always browse our creation colleges website anytime. This newly updated website features over 40 schools (and it's growing!) who have undergone a thorough review process to be listed. Every school's president has signed a core document called the Tenets of Creation that affirms their commitment to true biblical authority. And each school also has the opportunity to show its depth of commitment by also getting signatures from other key leaders in the schools. I encourage you to check out this website as you or your teen consider which Christian college or university to attend.
Thanks for stopping by and thanks for praying,
Ken
P.S. I encourage you to watch the movie A Matter of Faith, a movie about a Christian girl who is quickly influenced by her freshman-year biology professor in college, with your teen as you begin the application process. It is a movie that defends the Bible from the very beginning and will encourage you to think wisely about choosing a college, seminary, or university.
This item was written with the assistance of AiG's research team.