Never been to our Creation Museum in the Cincinnati area? I will bring you to the museum—at an upcoming virtual event!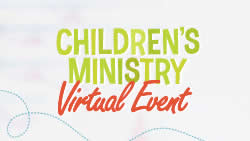 We just completed our fifth annual Children's Ministry Conference this past weekend. What a great opportunity to learn from some of the thought-leaders in children's ministry and biblical apologetics. But if you didn't have an opportunity to attend, we have a very special way for you to hear much of the same great information online with the Children's Ministry Virtual Event. Or if you already attended the event, you can now share the same information you just learned with the entire children's ministry staff at your church. The virtual conference is happening Wednesday, September 23 from 12:00 PM to 5:00 PM Eastern Time. Your registration for this event allows you and your team to watch it live and/or watch it later at a time that works for you. This could be used as an exciting tool to train your children's workers.
Included in the virtual event, I will take you on a personal tour of the Creation Museum.
You'll hear from many of our AiG speakers, like Bryan Osborne and Bodie Hodge, plus some special guests, including Eric Hovind and Ryan Frank. I will speak, too, on topics like compromise, the 7 C's, volunteers, dinosaurs, and engaging ministry workers.
Find out more information about the unique conference conference and register here.
Thanks for stopping by and thanks for praying,
Ken
This item was written with the assistance of AiG's research team.