Well, as we start the new year, I am reporting that the atheists have been at it again: attacking Christianity and promoting their godless religion. And this time, they did it in Wisconsin's capitol building. Not long ago, the group "Atheists, Humanists, and Agnostics at the University of Wisconsin–Madison" added a sign to Christmas displays in the building.
The sign features a large creature made of spaghetti noodles and meatballs, and the text around the creature reads, "Behold the Flying Spaghetti Monster. He boiled for your sins! Be touched by his noodly appendage before it is too late!"
I really hate to even include the sign—but I wanted you to see it so that you can understand how vehement they can be in attacking Christianity. They are really shaking their fist at God.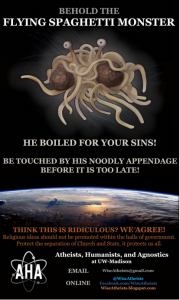 Now, this sign is a shocking attack on the God of the Bible and, more specifically, on our Savior Jesus Christ. The "Flying Spaghetti Monster" is the "deity" of the supposed religion Pastafarianism. Adherents don't take religion seriously, and they often parody biblical creation.
World magazine reported that the sign earned the Wisconsin Department of Administration what is called the 2013 Ebenezer Award, which is given by the Becket Fund for Religious Liberty to "the most ridiculous affront to Christmas or Hanukkah celebrations."
The atheist group said the sign "is a protest against public displays on government property that acknowledge the roots of the Christmas season—or any other holiday." But specifically, it's a protest against the Christmas season. And you see, the roots of the Christmas season—as we were recently reminded—are in the birth of Jesus Christ, the God-Man.
Scripture tells us that God the Son came to earth in the form of a man to take the place of fallen man on the Cross. He lived a perfect life, died a criminal's death, and rose again on the third day. God offers salvation from sin freely to all who will believe the gospel and repent of their sins.
The "Flying Spaghetti Monster" is a blatant mockery of the beautiful sacrifice of our Lord, and it is a testament to how our culture is becoming more anti-Christian all the time. I encourage you to pray for the atheist group at the University of Wisconsin–Madison, that its followers might hear the gospel and believe.
The sign is also a reminder that atheists have nothing positive to offer, so they just attack Christianity.  It's really their way of trying to "suppress the truth" of God's existence (Romans 1), a truth that is obvious from the creation and is within each one of us (God put it within every human).
By the way, word is getting out that I will be debating a famous evolutionist at our Creation Museum in February. Details are coming soon on our museum website.
Thanks for stopping by and thanks for praying,
Ken