It's always encouraging to me when I receive letters of support about our ministry at Answers in Genesis and the Creation Museum. Recently, I received a letter from a family who had toured the Smithsonian in Washington, DC. Their children were shocked at how the Smithsonian pushed evolutionary ideas and millions of years, and they called it the "Evolution Museum." They visited the Creation Museum shortly after that.
Read their letter below—I hope you find it as encouraging as I did.
Dear Sirs,

I took my family on a trip to see Washington D.C. recently and we enjoyed many sites. However, when we walked through the Smithsonian Museum of Natural History, my children were offended by the overwhelming message of evolution. My twelve-year-old son was visibly upset and after about an hour; he wanted to leave.

I remembered some of my friends had commented on a "Creation Museum" a couple of years ago, so I texted them and asked if it was a good experience. After receiving positive responses, I got online, and found you guys and planned our trip to visit you while we continued walking through what my kids were then calling the "Evolution Museum".

The next day, we pulled into your parking lot, and frankly, I was nervous. We had just come from the world's premier museum and were about to enter a privately owned, small, creation museum in Podunk Kentucky. We were not disappointed. Our experience was tremendous. The astronomy exhibit, the ark, and the fossils, were all of supreme quality similar to the Smithsonian, which we had seen the day before.

Understanding the controversy between the religion of evolution and the religious aspects of creation and historical science vs. observational science has helped our kids realize the difference between what they observed at the two museums.

Congratulations on a fine institution.
We praise God for the impact that the Creation Museum is having on the lives of believers and unbelievers, and we pray that our exhibits continue to challenge those who see them to think critically about the claims of evolution and, ultimately, to see the truth of God's Word and the gospel of Jesus Christ.
Make sure you visit the Creation Museum website and find out about our all NEW Christmas Town (Live Nativity, spectacular garden light display, zip line in the dark across the lake, and lots of GREAT food). "New Christmas Town" will be held every Friday and Saturday evening in December—entrance is free (there is a charge for the zip line, camel rides, entrance to the museum and planetarium, and of course the food).
Great Meetings in Bolivia!
Here are two photos from the two major seminars in Santa Cruz, Bolivia, that
Dr. Terry Mortenson
and I have had the privilege to lead, along with our Spanish translator and AiG speaker, Joe Owen.
On Thursday evening, 1,700 people turned out! Some of them had to stand in the back and on the sides of the auditorium: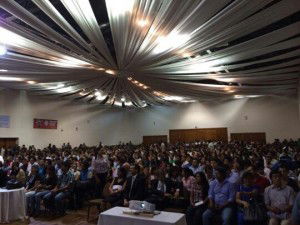 Friday evening, we had 3,000 in attendance at my talk and there were another 2,000 last night at a different location (sadly 500 people had to be turned away). Here is a photo of me talking to a group of people after my talk last night: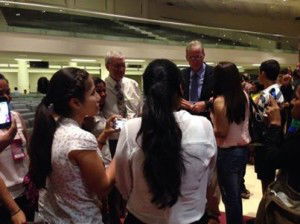 Friday morning, we had more teaching sessions and I was interviewed on a Bolivian nationwide TV program first thing in the morning: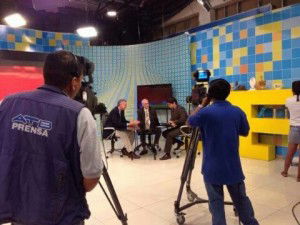 Praise God for these incredible outreaches! I will report more on our Bolivian meetings a little later on this blog.
Thanks for stopping by and thanks for praying,
Ken