Last weekend as I was preparing to fly back to America from Australia, special friends of AiG and our Creation Museum came by to pay a visit. Most of you are probably familiar with the children's outreach called Awana. Awana is a ministry that helps parents and churches educate children and teens to follow Christ and have them be discipled through Bible-affirming resources. It was founded more than 60 years ago by our good friend Art Rorheim, and it is estimated that more than two million children and teens have participated—in more than 100 countries.
Awana is best known for its clubs in churches. In this outreach, young people who attend those churches (but also neighborhood children who are invited to participate) can further be taught gospel truths. I have been encouraged to learn from Awana leaders that the vast majority of the young people who have participated in Awana for six or more years are still attending church. You see, as the coauthor of a book called Already Gone, where we document why almost two-thirds of our young people growing up in evangelical churches will leave the church when they become adults, that is good news from Awana.
In this photo, you can see Jack Eggar and his wife Dona at the museum. Jack is the president and CEO of Awana.
In the photo, he is pointing to a name on a list of museum charter members (which can be found on a wall towards the end of the Creation Museum). He is pointing to Dona's mother, Pat, who was supporting the museum even before it opened.
The verse that Pat wanted to put next to her name comes from Isaiah 46:4:
Even to your old age, I am He, And even to gray hairs I will carry you! I have made, and I will bear; Even I will carry, and will deliver you.
For more information about the children's outreach of Awana, go to
www.awana.org
. Here is
the link to Jack's bio
on the Awana website.
Also visiting last Saturday was a long-time supporter of AiG, Pastor Bill Boldt of Southern Heights Baptist Church of Lexington. He was here with his wife Diane and grandson Jordan. See the photo below.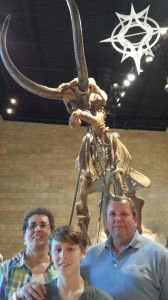 Bill used to live two hours away, but even then managed to visit the Creation Museum over 40 times. He estimates that he has personally brought about 500 guests here!
I was told that on that Saturday when our special guests visited, museum attendance was quite strong. Given the fact that school has already started throughout most of the United States, I was pleased to learn that over 1,100 visitors toured the museum on Saturday. To plan your visit, and to see all the new activities and exhibits at the museum—like a large zip-line course, a new exhibit on dragons, a world-class insectorium, and so on—go to www.creationmuseum.org.
Flood Interest
On Wednesday evening, some of our ministry friends in California had the opportunity to watch a sneak preview of the big-budget movie "Noah," starring Australian actor Russell Crowe. It will be released in 2014. Now, we're not at liberty to reveal much of what was shown Wednesday (in addition, it was not a final cut of the movie), but we can say that the filmmakers took a lot of liberty with the Genesis account of the Flood. But the 2014 release of such a major film mirrors the interest that the U.S. population has in the Ark of Noah, and that should help us in drawing more attention to the Ark we will be building. For an update on what's happening with our Ark Encounter project, featuring a full-size Noah's Ark to be built in northern Kentucky and south of Cincinnati, go to
ArkEncounter.com
.
Thanks for stopping by and thanks for praying,
Ken