As I'm half-way through my speaking tour of England and Northern Ireland, I have just taken note of my 2012 calendar and what awaits me in the United States over the next few months when I get back home. I will be a keynote speaker at many special events. While I continue speaking at AiG-sponsored events in churches and other venues around America, I am often privileged to be a part of conferences organized by other groups. Here are a couple of these conferences that I want to draw to your attention.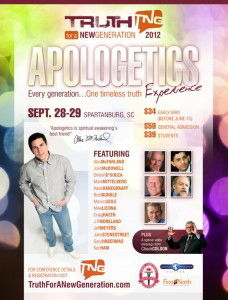 1. In September, the "Truth for a New Generation" conference will hosted by Dr. Alex McFarland in South Carolina. Alex tells me, "The Truth for a New Generation Conference engages not only Millenials, but it's for all age groups as everyone will learn how to defend a relevant Christian faith in today's culture."
Although I may disagree with the views of some of the speakers regarding Genesis, I am glad to be able to present our creation and gospel message at this September 28–29 conference. (I will speak on Saturday.) AiG's Dr. Terry Mortenson will be there to present a break-out session. So I praise the Lord for this open door.
See the ad about the conference, which appeared in World magazine, and then go to truthforanewgeneration.com for the complete schedule.
2. I will be speaking at the "Proof of God" conference in October in Orlando, Florida. This conference will help attendees know what we as Christians believe and why. On October 12–13, I will join Creation Today's Eric Hovind and other speakers for a two-day conference which will revolutionize the way you prove your faith. Find out more on their website.
Other Special Meetings
Our good friend Gerry Cauillouet is hosting another one of his unique outreaches for those who like to be in God's great outdoors. Gerry's ministry is called—yes—"God's Great Outdoors," which is an evangelistic outreach to outdoorsmen. On August 18, Gerry will be hosting his "Fossil Hunt Adventure" at Caesar Creek State Park in central Ohio. (However, I will not be speaking there.) This will be a fossil dig, co-hosted by Dr. John Whitmore of Cedarville University, a creationist geologist and paleontologist. Dr. Whitmore will be there to help the participants identify the fossils that are found; smaller fossils can be kept.
Because the event is being held in Ohio, Gerry is encouraging participants from around the country to come in a day early or stay a day later to visit our Creation Museum near Cincinnati, Ohio. For more information on Gerry's unique ministry and his fossil hunt, go to www.ggoutdoors.org.
And here is a link for you to share with your pastor, elder, or deacon, giving you information about our "Answers for Pastors" conference next month. Dr. Johnny Hunt (former president of the Southern Baptist Convention) and I will be speaking, along with some excellent AiG speakers.
Lastly, come back to this website in a few weeks to find out about next year's "Answers Mega Conference" for the family, to be held in Sevierville, Tennessee (near famed Gatlinburg). When we were there two years ago, about 2,900 people turned out. Because this family conference is located in one of the most family-friendly areas of America (the Great Smoky Mountains), we're making sure that our conference will have more options than last time for young people. I suggest marking down the dates on your calendar now and plan to attend: July 22–26, 2013.
Thanks for stopping by and thanks for praying, including for our remaining UK speaking tour and Olympics outreach,
Ken